Ankara:
Turkish President Recep Tayyip Erdogan has once again raised the Kashmir issue in the United Nations General Assembly. He said that India and Pakistan became independent 75 years ago, but there is no peace between them yet. He also wished for lasting peace and prosperity in Kashmir. Erdogan has already spewed venom on Kashmir. But, every time India has strongly criticized the rhetoric of the President of Turkey. From the very beginning, India has been describing the Kashmir issue as a bilateral matter and has opposed any third party interference in it. Despite this, Erdogan has not deterred from his antics. A few days back, he had met Prime Minister Narendra Modi during the Shanghai Cooperation Organization meeting in Samarkand. Then there was a possibility that maybe now the relations between Turkey and India will be better. But, Erdogan spoiled the positive atmosphere created between the two countries by raising the Kashmir issue.
Pakistan-Turkey increasing defence, trade and diplomatic ties
Pakistan and Turkey have been strengthening mutual relations very fast for the last few decades. This has increased further after Erdogan came to power in Turkey. Both countries are conducting several exercises annually in the waters and in the sky. Apart from this, Pakistan has also purchased a frigate from Turkey for the Navy, the delivery of which has also started. Pakistan and Turkey have also recently finalized the deal for attack helicopters. Apart from this, Turkey's Bayraktar TB-2 drones have also been seen at the forward base of the Pakistani Air Force. Pakistan has also emerged as a big market for Turkey. Both the countries are supporting each other on religious grounds as well. Turkey had tried to put a gun on Pakistan's shoulder to become the leader of the Islamic world, but this plan could not succeed due to the anger of Saudi Arabia.
How Turkey and Pakistan's friendship started
The friendship between Turkey and Pakistan began in the era of the Cold War. Both these countries were allies of America in the ongoing proxy war against Russia. America used these two countries the most against Russia. Due to their active role, Russia not only had to withdraw from Afghanistan after conceding defeat, but also had to change its aggressive policy in Europe and the Mediterranean. Turkey and Pakistan are also almost equal in strength. The biggest similarity between these two countries is their religion Islam. Turkish President Recep Tayyip Erdogan is trying to become the new caliph of Islamic countries. For this he chose Pakistan as his biggest partner. This is the reason why Turkey and Pakistan are currently blindly trusting each other.
How Turkey became a close friend of Pakistan
Turkey considered Pakistan as its friend since the 1947 India-Pakistan partition. The main reason for this was the establishment of both the countries in the name of Islam. Because of this, the Turkish leaders started considering Pakistan as their biggest friend. Another reason was the closeness of both of them to America. Islam played a major role in Pakistan's acceptance among Turkish religious groups such as Kurds, Albanians and Arabs. Despite the secular thinking of Mustafa Kamal Pasha, Pakistan and Turkey came together in the name of Islam. The rise of Islamic parties in the 1970s led by Nekmetin Erbakan further cemented the role of Islam in Turkish politics. As soon as these parties came to power, the role of Islam in Turkey's foreign policy increased significantly. For this reason, in 1994, Pakistan and Turkey signed the Treaty of Eternal Friendship.

Not India, Pakistan will give Bayraktar drones causing havoc in Ukraine, Turkey's poisonous statement
Pakistan is buying arms in large quantities from Turkey
Turkey is currently at number four among the countries supplying arms to Pakistan. But, arms trade is increasing very fast in both the countries. Pakistan buys most of the weapons from its all-time friend China. In 2018, the Pakistan Military of Technology (TOT) with Turkish state-owned defense contractor firm ASFAT Inc. had signed an agreement for four Ada class warships under the Magnum project. Apart from this, Pakistan has also signed a deal with Turkey to purchase 30 T-129 ATAK helicopters. Pakistan has also bought Turkey's TB-2 drones. Apart from this, both the countries are working together on the project of making fifth generation fighter aircraft.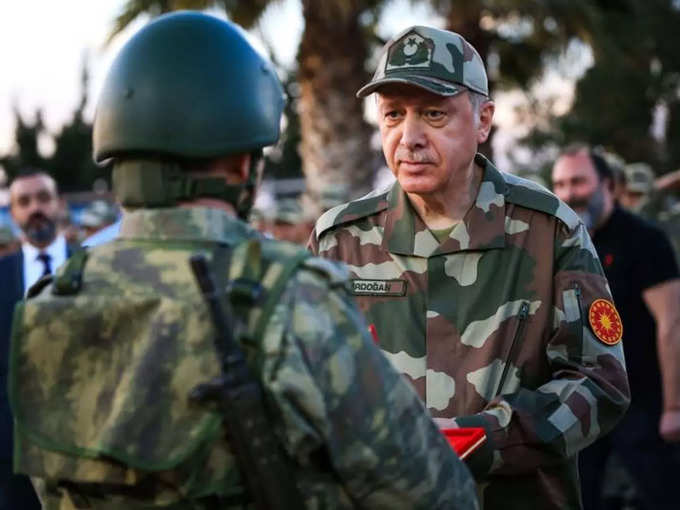 Turkey-Pakistan trust each other blindly
Turkey-Pakistan trust each other blindly, without distinction of rules and regulations, truth and falsehood. Recently, when there was a border dispute with Greece in the Mediterranean Sea, Pakistan had declared Turkey's support without hesitation. Pakistan even sent its navy for maneuvers to prove itself in favor of Turkey. In return, Turkey openly supports Pakistan on the Kashmir issue. Turkish President Erdogan has been continuously raising the Kashmir issue in the United Nations. Erdogan once told the United Nations that the Kashmir issue is as important to Turkey as it is to Pakistan.