Jerusalem/Tel Aviv/Washington (HS). Tension has increased in the Middle East due to the war that broke out after the barbaric attack on Israel by Palestine's notorious terrorist organization Hamas on the 7th of this month. The entire world is shocked by the attack on Gaza's Al-Ahli Arab Hospital on Tuesday night. Hundreds of innocent people have lost their lives in this attack. The United Nations Human Rights Chief has strongly criticized this. He has said that this is unacceptable. Meanwhile, US President Joe Biden has left for Israel. More than 4300 people have died so far in this war that broke out between Israel and Hamas. This information has been given in media reports.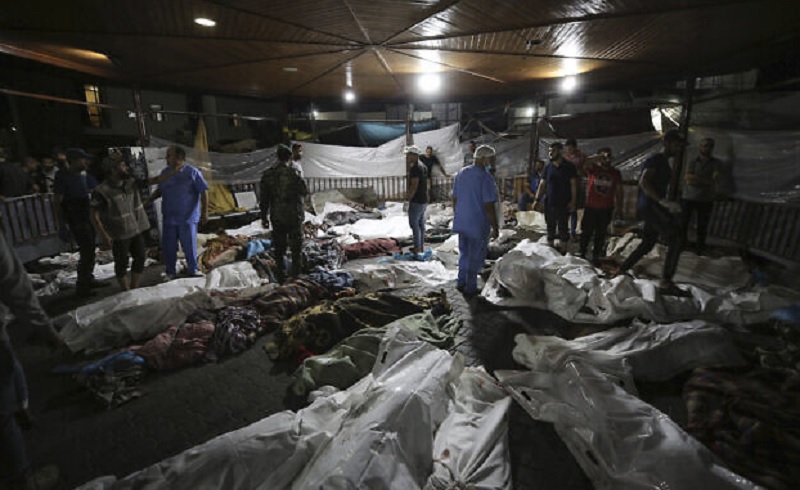 Summit cancelled: According to media reports, tension has increased in the entire Middle East after the attack on the hospital in Gaza. The attack has derailed US diplomatic efforts to garner support for Israel's right to defend itself. The summit of Arab leaders with US President Joe Biden in Amman, Jordan has been canceled. Jordan's Foreign Minister Ayman Safadi has made this announcement. Despite this, Biden is reaching Tel Aviv today to express support and solidarity towards Israel.
Allegations and counter-allegations on the attack: Media reports say that Hamas and Israel have blamed each other for the attack on Gaza's Al-Ahli Arab Hospital. Saudi Arabia, United Arab Emirates, Bahrain, Egypt, Jordan and Turkey have also accused Israel of bombing. Israeli Prime Minister Benjamin Netanyahu has blamed the barbaric terrorists of Hamas for this attack.
Whose claim is true: Reports say that immediately after the hospital explosion, Hamas blamed Israel. He held the Israeli army responsible for this. After this, the Israeli army issued a statement denying these allegations and said that the explosion was caused by a mistaken rocket launch by the Islamic Jihad group. Hamas leader Ismail Haniya, in a dramatic statement, held America responsible for the attack. Haniya said the massacre at the hospital confirms the enemy's cruelty and its fear of defeat.
No words… UN human rights chief Volker Turk said in the statement that he has no words for this incident. Hospitals are sacred places and they must be protected at all costs. We do not yet know the full extent of this genocide, but it is clear that the violence and killings must stop immediately.
Death toll: According to media reports, the Hamas-controlled Health Ministry in Gaza initially said that at least 500 people were killed. This figure was later revised to between 200 and 300. It has been reported that Lebanese protesters have vandalized the United Nations building in Beirut.
Two Israeli women soldiers of Indian origin martyred: Media reports say that so far 286 army soldiers and 51 police officers have been killed in this war. Two Israeli women soldiers of Indian origin were martyred in the attack. Their names are 22-year-old Lieutenant Orr Moses and Border Police Inspector Kim Dokarkar. Both the women officers were martyred during an encounter with Hamas terrorists who had come from Gaza.