-USS Gerald R. Ford, the Navy's newest and most advanced aircraft carrier, Biden said – he is completely with Israel
Tel Aviv/Jerusalem, October 11 (HS). After the attack on Israel by the Palestinian terrorist organization Hamas on the 7th of this month, the entire Gaza Strip has turned into a battlefield. The Israeli Defense Forces (IDF) said on Tuesday evening that four days of the war against Hamas had been completed. We have lost more than a thousand of our citizens in this war. More than 2,800 people have been injured. 50 people are missing. Probably he has been taken hostage by Hamas. This information has been given in media reports.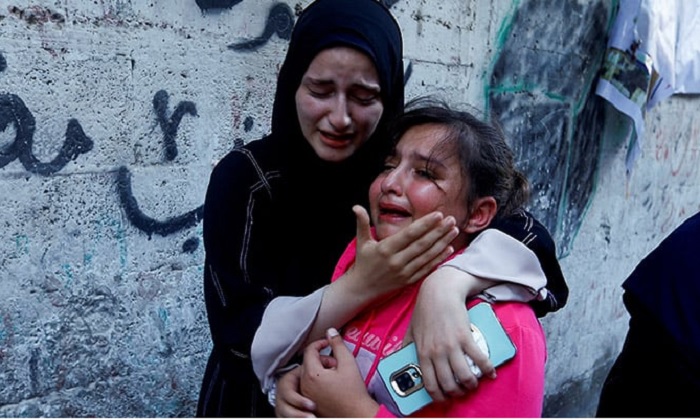 According to media reports, more than three lakh Israeli soldiers have surrounded the Gaza Strip. Air strikes continue on the strip. Bombs are being bombed on the positions of Hamas terrorists. So far, more than 1,500 terrorists and civilians have been killed and 4,600 have been injured in Israel's air-to-land attacks in Gaza, which has a population of 2.3 million, under the influence of Hamas. Among the dead are 260 children and 230 women. Those killed on Tuesday included Hamas' financial affairs chief Jawad Abu Shamla, another terrorist leader and three journalists.
According to reports, the Israel Defense Forces has admitted that the American plane carrying military equipment reached Nevatim airbase in southern Israel on Tuesday evening. Reports say the US has given Israel the USS Gerald R. Ford, the Navy's newest and most advanced aircraft carrier. It also has about 5,000 sailors. This warship is capable of conducting surveillance in addition to cruise and destroyers.
According to media reports, Israeli President Benjamin Netanyahu spoke to US President Joe Biden on telephone for the third time on Tuesday. Netanyahu said that Hamas is worse than ISIS. He should be treated the same way. After this, President Biden, in a televised address from the White House, strongly condemned Hamas as a terrorist group. He said Hamas militants have killed more than 1,000 civilians, including women, children and the elderly. These also include 14 Americans. He vowed to provide all kinds of help to Israel during this period.