Flipkart Big Diwali Sale 2023: Before Diwali on online shopping company Flipkart Big Diwali Sale It has started. This sale will run from November 2 to November 11. Customers are getting very good offers in this. Be it phones or any other electronic items or gadgets, all are available at very cheap and good offers. If you are also planning to buy a phone with a great camera, then this deal can be no less than magic for you.
Buy SAMSUNG Galaxy S23 Ultra 5G cheap
Samsung's most powerful and expensive Samsung Galaxy S23 Ultra 5G phone is available on Flipkart at a very cheap price. This phone, which comes with Cream color with 256 GB storage and 12 GB RAM, is available at a discount of 30 percent. After this offer, you will get it for Rs 104999 instead of Rs 149999. Here users are getting Rs 45000 cheaper. This phone competes with Apple's expensive iPhones. Not only this, the company is also giving the option of EMI along with bank offers to its users. Users can benefit from this.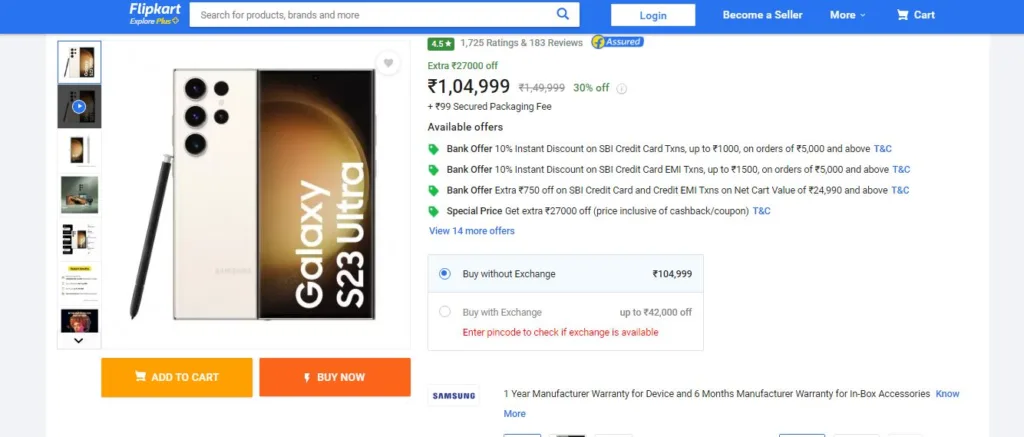 SAMSUNG Galaxy S23 Ultra 5G Features
| | |
| --- | --- |
| feature | SAMSUNG Galaxy S23 Ultra 5G |
| ram | 12 GB RAM is available. |
| storage | 256 GB storage is available. |
| display | 256 GB storage is available. |
| camera | 256 GB storage is available. 200MP, 10MP, 12MP, 10MP and 12MP Front Camera is available. |
| Battery | 5000 mAh Lithium Ion Battery is available. |
| processor | Qualcomm Snapdragon 8 Gen 2 Processor is available. |
| Sim | Dual SIM facility is provided. |
| Operating System | Operates on Android 13. |
If your budget is very low then you can also avail the exchange offer of Rs 42000, but keep in mind that this offer is for a limited time and its benefit will be available only to those people who fulfill all the terms and conditions of the exchange offer.
Disclaimer: The above information is given here for information only. DNP News Network or the writer does not endorse any offer, product or discount. To avail the offer, visit the official website. Keep in mind that DNP News Network or the writer will not be responsible for any financial loss.
Subscribe to our YouTube Channel 'DNP INDIA' now for all the news of the country and the world. You can also follow us on FACEBOOK, INSTAGRAM and TWITTER.