Highlights
Coalition forces led by Saudi Arabia destroy a camp of Houthi rebels
Saudi Arabia continues airstrikes against pro-Iranian Houthi rebels
America caught 1400 AK-47 rifles being sent to Houthi rebels in Arabian Sea
Riyadh
Coalition forces led by Saudi Arabia have destroyed a Houthi rebel camp in the Yemeni capital Sanaa in an airstrike. Saudi Arabia has been conducting airstrikes against pro-Iranian Houthi rebels. Saudi coalition forces said it destroyed the rebels' weapons warehouse. Just a few days ago, the US seized 1400 AK-47 rifles being sent to Houthi rebels from a fishing boat in the Arabian Sea.
According to the Saudi Press Agency, Houthi rebels were trying to send weapons to the al-Tashrifat camp and in response to this, an immediate air strike was carried out. Civil war has been going on in Yemen since 2014 and pro-Iranian Houthi rebels are waging war against the government there. Houthi rebels have captured most of the northern part of the country. These rebels often carry out drone attacks on Saudi Arabia.
Yemen: Big blow to Houthi rebels, 43 fighters killed in Saudi coalition forces attacks
Two Saudis killed in missile attack by Houthi rebels
Saudi Arabia has suffered heavy losses in the attack by Houthi rebels. Saudi Arabia has long accused Iran of providing deadly weapons to Houthi rebels. Hezbollah is training Houthi rebels. Iran has denied these allegations by Saudi Arabia. On Saturday, two Saudis were killed in a missile attack by Houthi rebels. It was the first death of its kind in three years.
After this Saudi Arabia started a major military campaign against the Houthi rebels. Earlier, a major smuggling of AK-47 was caught in the Arabian Sea adjacent to India. The US Navy said recently that its Fifth Fleet during a patrol has recovered 1,400 AK-47 rifles and ammunition from the North Arabian Sea. These rifles were hidden on a fishing boat. The big thing is that this boat was roaming in the sea without registration in any country. The Navy has claimed that these AK-47 rifles were being sent to Houthi rebels in Yemen. Suspicions have been raised that they have been manufactured in Iran.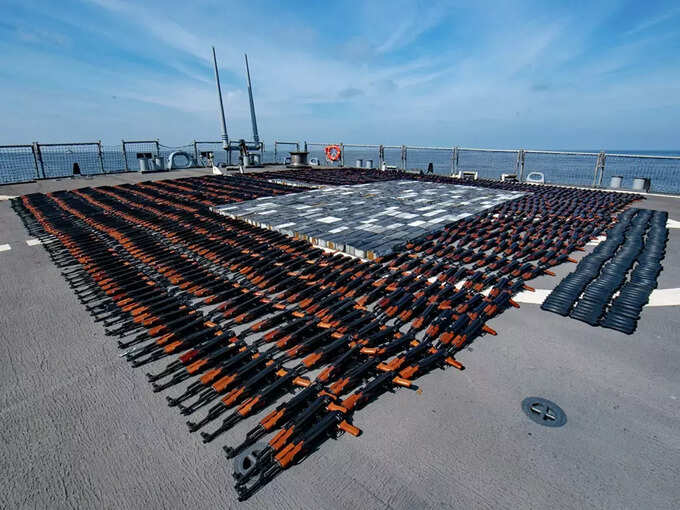 Assault rifles, light machine guns found from Iranian ship
Officials had said that they feared that the ship would threaten commercial shipping and their navigation. In such a situation, after removing the crew and weapons from the ship, it was sunk in the sea. On February 11 this year, the US Navy's guided missile destroyer USS Winstern S Churchill made a major seizure of weapons from a stateless ship off the coast of Somalia, in accordance with international law. Many other weapons were found in it including AK-47 assault rifles, light machine guns, rocket-propelled grenade launchers and heavy sniper rifles.
.