Highlights
Turkey's currency lira continues to decline, the crisis on the economy escalates
Market panic due to fear of Erdogan's risky new economic policy and rate cut
Turkey's currency has devalued nearly 40 percent this year
Istanbul
Turkish President Recep Tayyip Erdogan has found it difficult to advocate radical Islam. Erdogan, who is vowing friendship with Imran Khan in the name of Islam, is also taking Turkey on the path of Pakistan. The Turkish lira fell as much as 7 per cent against the dollar on Monday on Erdogan's risky new economic policy and prospects of a rate cut. Turkey's economy has suffered a major setback due to the continuing fall in the lira for the past one year. Not only this, due to being on the watch list of FATF, Turkey is also facing difficulties in bringing in external investment.
The value of one dollar reached 13.83 lira
Currently one dollar is worth 13.83 lira. Turkey's central bank has announced its fourth market intervention in two weeks due to continued devaluation in the lira. Turkey's import-export and foreign exchange reserves are also showing a negative effect due to the rise in the dollar. Due to the increase in inflation in the economy, the burden of inflation is falling on the general public.
India gave a tough answer to Turkey in UNGA, Erdogan raised Kashmir issue, Jaishankar surrounded Cyprus
Erdogan has removed even the Finance Minister
Erdogan fired Turkey's finance minister in early December for failing to stop the lira's continued devaluation. According to an announcement published in the Official Gazette, Erdogan has made Nureddin Nebati the Finance Minister who was the first deputy minister. Turkey's currency has devalued nearly 40 percent since the beginning of this year.

How is Turkey laying thorns in India's path? The Inside Story of Erdogan's Pakistan Love
Erdogan blaming high interest rates for inflation
Erdogan has consistently argued that high interest rates lead to inflation, while this is the opposite of conventional economics. The President has removed three central bank governors since 2019 due to the difference in interest rates. Last week's data showed the central bank's international reserves fell to $22.47 billion. Turkey's sovereign dollar bond fell 0.8 cents in the 2034 mark, according to data from Tradeweb.

Recep Tayyip Erdogan News: Erdogan is haunted by the fear of a coup, cursing former officers of the Turkish Navy
Turkey's economy in trouble due to US sanctions
Turkey's economy is going through a crisis these days due to US sanctions. Joe Biden was the first to announce economic sanctions on Turkey after his swearing-in. Turkey is part of the US-led military organization NATO. It has procured the S-400 air defense system from Russia. Turkey has tested this system, after which the US imposed economic sanctions on Turkey.

Turkey's economy in the trough against France-America, Erdogan said – will save the country from evil powers
Erdogan's love for Pakistan is not hidden from anyone
Turkish President Recep Tayyip Erdogan's love for Pakistan is not hidden from anyone. Erdogan is trying to make himself the new caliph of Islamic countries with the help of Pakistan and China. This is the reason why he keeps spewing venom against India every day. When the United Nations General Assembly was organized last year, Erdogan raised the issue of Kashmir and said that Pakistan's right on it.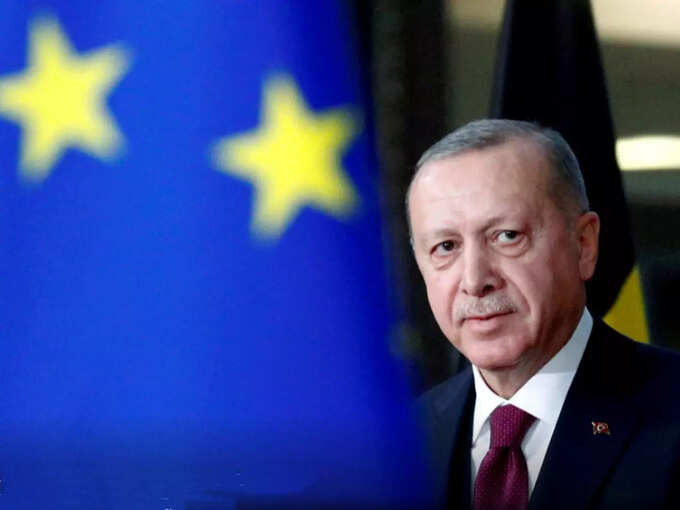 Recep Tayyip Erdogan
.