Tel Aviv/Jerusalem/Sanaa/Washington (HS). On Wednesday, the 26th day of the war on Gaza Strip, there is a fierce battle between Israeli security forces and Palestinian terrorist organization Hamas. Israel's Army and Air Force killed Ibrahim Biari, one of the perpetrators of October 7 and the dreaded commander of Hamas (Central Jabaliya Battalion) in the tunnel. Earlier, Hamas commander Nizam Abu Ajina, who was involved in this barbaric crime, has been killed. Israel destroyed dozens of strong positions (tunnels) of Hamas by firing missiles and rockets overnight. Meanwhile, the communication system in Gaza has again come to a standstill. This information has been given in media reports.
A report has claimed that Israeli soldiers have captured the main post of Hamas in Gaza and killed 50 terrorists including some of its commanders. Israel Defense Forces (IDF) confirmed this on Wednesday morning. The IDF said nine of its soldiers were killed in the ground fighting. There was a clash between Israeli forces and Hamas terrorists on Wednesday morning in Jenin, West Bank. Israel bombed the houses of many dreaded Hamas terrorists.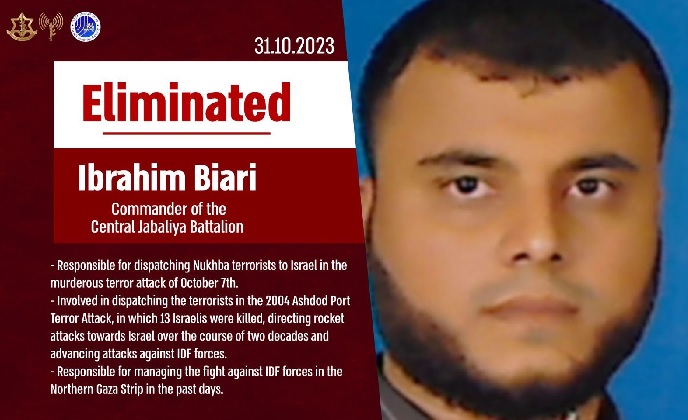 Some reports say that in response to Yemen's Houthi rebels, the Israeli army shot down a surface-to-air missile. The Israeli army has caused major damage to the Hamas command. Israel is selectively killing Hamas terrorists involved in the brutality of October 7. At the spot where Commander Ibrahim Biyari was killed, a large crater was left and there was massive damage.
Meanwhile, Palestine's leading telecommunications company Paltel has said that the international access it had earlier received has been stopped again. Due to this, internet service has come to a standstill throughout Gaza. A report says that the Rafah border on the Egyptian border could be opened for seriously injured Palestinian civilians. The British Foreign Office has given this information to the British citizens stranded in Gaza.
A report from Yemen's capital Sanaa said that pro-Iranian Houthi rebels have warned Israel that there will be fatal consequences if it does not stop the war against Hamas. We will continue to attack it with drones and missiles. The rebels issued a statement to this effect on Al-Masirah TV. The statement claimed that it fired hundreds of missiles at Israel on Tuesday. On this, Israel has said that it shot down Houthi missiles. America has reacted to this announcement by Houthi rebels. State Department spokesman Matthew Miller said in Washington that if anyone is thinking of joining this conflict, they should not do so.
Pentagon spokesman Brigadier General Pat Ryder has confirmed that Israel has shot down missiles fired by Houthi rebels. Israeli military spokesperson Lieutenant Colonel Jonathan Conricks has said that the killing of Hamas commander Ibrahim Biari in Gaza's Jabaliya attack is a big success for us. It was hidden in an underground tunnel.