Israel has refused any ceasefire in the ongoing war with Hamas. Because of this, all routes out of Gaza have been closed. The UN and some other countries are demanding a ceasefire so that humanitarian aid can reach the Gaza Strip. After several days of debate and Biden's visit to Israel, the Rafah crossing opened today (21 October).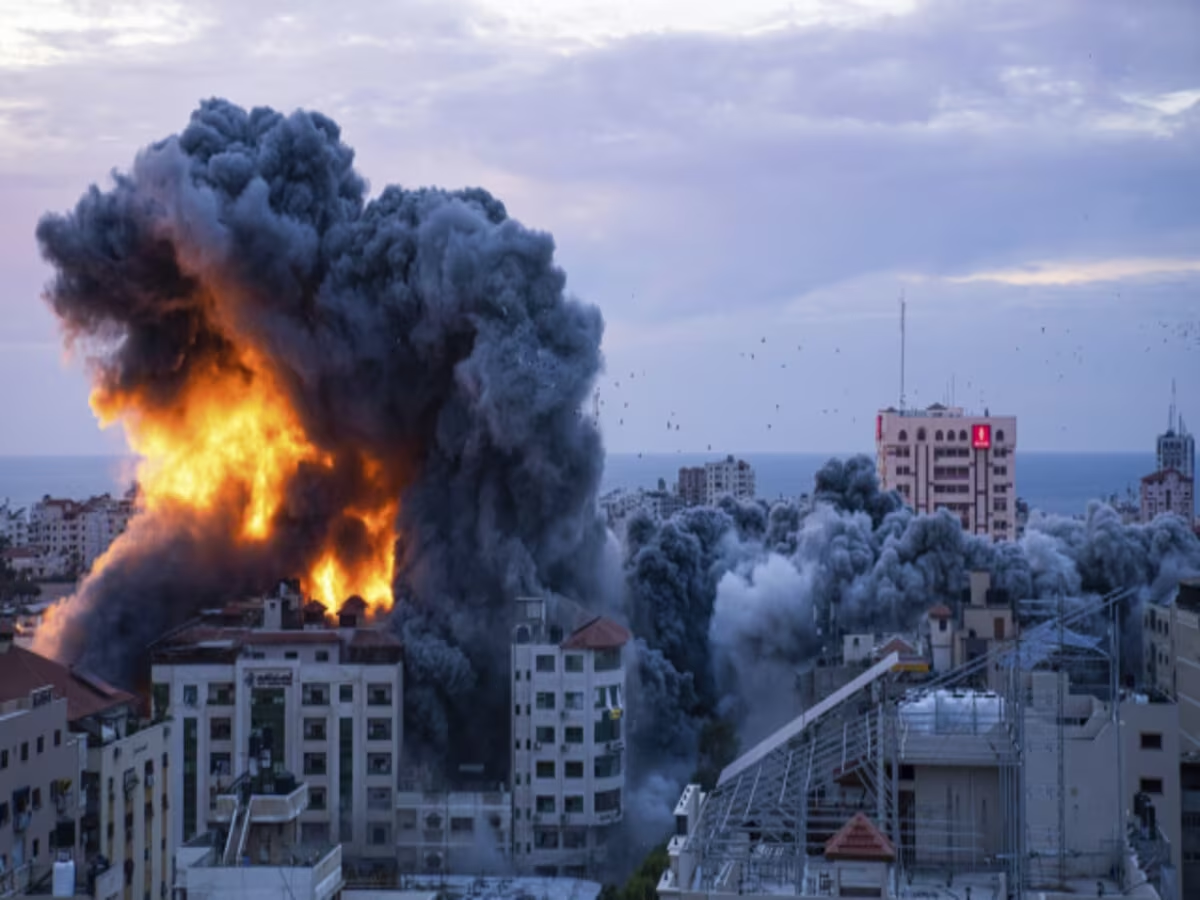 According to Israel, by crossing this border, foreign citizens can also go from Gaza to Egypt, due to which there is a possibility of stampede. At present, only 200 trucks will provide help to the people rendered homeless in the bombing through this route. Many trucks filled with relief materials have started reaching Gaza. Israeli army is bombing here. Due to this, relief material is not reaching Gaza. There is only one way in and out of the Gaza Strip, which is called the Rafah Crossing. Israel has no control over this.
History of Rafah Crossing
On 1 October 1906, an agreement was signed between the Ottoman rulers and the British government. Under this, it was agreed to draw a border line between Palestine and Egypt. This border was from Taba area to Rafa city. Egypt was under the Ottoman Empire at that time, while Palestine was under British rule.
Peace agreement between Egypt and Israel in 1979
In 1979, Egypt and Israel agreed to reinstate the 1906 agreement. Under this, Egypt got control over the Sinai Peninsula (Sinai area). Israel got control of Gaza. After the agreement, Israeli forces started leaving Sinai.
After the withdrawal of the Israeli army from Sinai, the Rafah crossing got the status of international border. At present, the Rafah border between Gaza and Egypt was fully opened in 1982. For this the Camp David Agreement was signed. However, Palestinians were confused about the border occupied by Israel for many years.
Gaza-Jericho Agreement of 1994
The Gaza-Jericho Agreement was signed in 1994 after the first uprising in Palestine (called Intifada in Arabic). This created a new system to give autonomy to Palestine. Under this, it was decided that both Israel and Palestine would be able to use the Rafah border. The PA (Palestine Authority), which is in power in Palestine, got some rights related to security and investigation. However, the truth is that most of the rights related to border crossing security remained with Israel.
Not only this, Israel also had the right to allow or not allow anyone to cross the Rafah border. Later this part of the Gaza-Jericho Agreement was declared invalid and it was replaced by the Oslo-2 Agreement. A year after this agreement, the then Israeli Prime Minister Yitzhak Rabin was assassinated in Tel Aviv. Rabin was assassinated by a radical Jew who was against the agreement.
Ariel Sharon visits Al Aqsa Mosque in September 2000
In 2000, Israeli leader Ariel Sharon reached Al-Aqsa Mosque in Jerusalem. This is the third largest mosque of Muslims. Jews claim that Al-Aqsa is actually their sacred religious site, the 'Temple Mount'.
However, Sharon's Al-Aqsa visit sparked tremendous anger in Palestine and became the reason for the second rebellion. Due to this, Rafa crossing once again got embroiled in controversies. In 2001, Israel banned Palestinians from traveling through the Rafah border. Israel again took control over it. This sequence continued till 8 September 2005.
Some relief in 2005
In September 2005, a new agreement was signed between Israel and the Palestine Authority on using the same Rafah border as a route. This was called the Agreement of Movement and Access (AMA). However, this time also Israel got the right to close this Rafah border if it wants. Israel also got the right that if it wants, it can stop any person from coming and going.
Then, on June 25, 2006, a new incident occurred. Palestinian fundamentalists kidnapped an Israeli soldier Gilad Shalit. In response, Israel closed the Rafah crossing. Palestinians could not use it for a year.
After some time, Hamas took control of Gaza Strip and due to this the 2005 Agreement (AMA) was put on hold. Because of Hamas, there is no way to reach Gaza. Hamas was actually a part of the Palestine Authority. It is a radical and violent group and had captured Gaza after separating itself from the Palestine Authority. After this, this route between Egypt and Gaza kept opening and closing till 2009.
Arab revolt of 2011
This is from 2011. At that time Hosni Mubarak was the President of Egypt and he was strongly against Hamas. There was a rebellion against him in the country and he had to leave the chair. After this the Rafah border opened again, but this relief could not continue for long. At that time Mohammed Morsi was the President of Egypt. General Abdel Fattah al-Sisi of his own army overthrew Morsi. The special thing is that Sisi was a supporter of Hamas and because of this this border was closed again.
Corona era
When Covid struck in 2020, this time Hamas closed this border. The special thing is that this step was taken by Palestine or Hamas. Before this, Israel had been doing this work. In 2021, when the effect of Corona started reducing, Hamas and Egypt held a meeting in Cairo. In this it was decided to reopen Rafa Border.