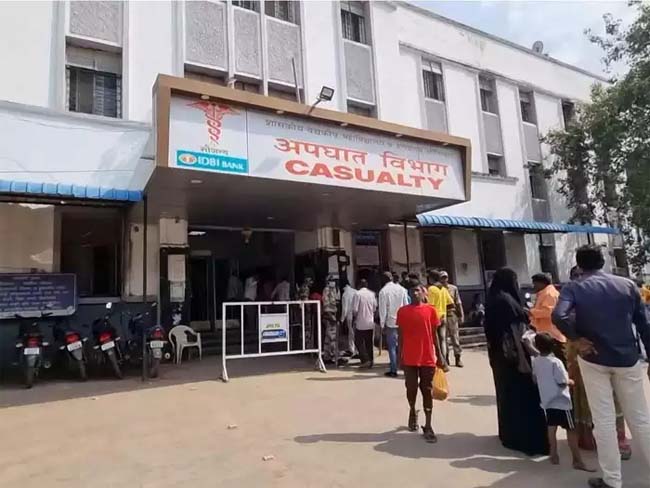 Ten died in the government hospital of the valley and seven in Nanded.
Mumbai (Hindustan Reporter) In the last 24 hours, 17 people, including two newborns, have died in two hospitals in Mumbai. Of these, ten patients, including two newborns, have died in the Valley Government Hospital located in Chhatrapati Sambhajinagar and seven patients have died in Shankarrao Chavan Hospital located in Nanded. Medical Education Minister Hasan Mushrif has ordered an investigation into the incident.
According to the information, there is a shortage of medicines in the Valley Hospital located in Chhatrapati Sambhaji Nagar district and the patients have to buy medicines from outside. Patients not getting medicines due to lack of money is also said to be the main reason. There are a total of 1177 beds in this valley hospital, while these beds actually accommodate 1500 to 1700 patients. 60 to 70 deliveries take place every day in this hospital. The number of out-patients at Valley Hospital ranges from 1500 to 2000 per day. Also the daily OPD patients are around 200. Ghati Hospital, which handles such a large number of patients, has stock of medicines for the next 15 days. The number of deaths of patients in hospitals is increasing due to lack of medicines.
It was told that similarly in Nanded's Shankarrao Chavan Hospital, seven patients have died in the last 24 hours, whereas here 31 patients have died in the last 48 hours. Therefore, here also the health system has reached the level of ventilator. The incident of death of patients in Nanded is also being investigated.
On the deaths of people in hospitals, Maharashtra Medical Education Minister Hasan Mushrif said on Tuesday that these cases will be thoroughly investigated. All the patients came to the hospital very late, so not all of them could be saved. But after investigation of the case, strict action will be taken against whoever is found guilty.
Mushrif said that as soon as he received information about this, he spoke to the hospital administration. The hospital administration said that the main reason for the death of patients is to bring them to government hospitals due to lack of money after being admitted to other hospitals. Still the matter is being investigated.
Source: dainikbhaskarup.com
: Language Inputs
This post is sourced from newspapers, magazines and third-party websites. For more information please check NewsDay Express Disclaimer.