Highlights
MIUI 13 launched
Equipped with many features
Here's the complete roadmap
New Delhi. Along with the Xiaomi 12 series, the Chinese smartphone maker has also launched MIUI 13. This new MIUI version will provide better user experience. Three new privacy-focused features will be provided for MIUI 13 users which will include face verification protection, privacy watermarking and electronic fraud protection etc. So let's know the roadmap and features of MIUI 13.

MIUI 13 Update Roadmap:
The stable version of MIUI 13 will be made available for Xiaomi 11 Pro, Xiaomi 11 and Xiaomi 11 Ultra in China by the end of January 2022. At the same time, this update will be already installed on Xiaomi 12, Xiaomi 12 Pro and Xiaomi 12X.
big news! Jio users do not make these mistakes, otherwise your bank account will be empty
Xiaomi has confirmed that global users will receive the MIUI 13 update from the first quarter of 2022. The first batch of models to receive the update include Mi 11, Mi 11 Ultra, Mi 11i, Mi 11X Pro, Mi 11X, Redmi 10, Redmi 10 Prime, Xiaomi 11 Lite 5G NE, Xiaomi 11 Lite NE, Redmi Note 8 (2021), Xiaomi 11T Pro, Xiaomi 11T, Redmi Note 10 Pro, Redmi Note 10 Pro Max, Redmi Note 10, Mi 11 Lite NE 5G, Mi 11 Lite and Redmi Note 10 JE.
Apart from MIUI 13, MIUI 13 Pad has been launched which will be available for Mi Pad 5 Pro and Mi Pad 5 in late January.

Features of MIUI 13:
MIUI 13 is designed to be Xiaomi's most advanced custom skin for smartphones and tablets. It also gets a new system font 'MiSans' which claims to provide a clear vision. It also gives a convenient reading experience. Apart from this, MIUI 13 is also providing preloaded dynamic wallpapers and themes to enhance the personalization.
Smartphone will become cinema! If you recharge these prepaid plans, data-calling as well as OTT benefits
The overall system app liquidity has improved from 20 to 26 percent in MIUI 13. On the other hand, MIUI 12.5 Enhanced Version is claimed to offer 15 to 52 percent better liquidity in terms of third party apps. Xiaomi has made available the Mi Smart Hub on MIUI 13 to help users find nearby devices and easily share and access content such as music, displays and apps across multiple devices.

MIUI 13 Pad also launched:
Apart from MIUI 13 for smartphones, Xiaomi introduced MIUI 13 Pad for tablets at the event. The tablet version enhances multitasking through gesture support and an improved taskbar. MIUI 13 Pad allows users to grab any app from the corner and drag it inward to open multiple apps on the same screen.

These room heaters fit on the wall like an AC, available with huge discounts on Amazon
Keyboard shortcut support has been provided for MIUI 13 Pad Xiaomi tablet. In addition, the new software offers the ability to sync clipboard data between MIUI 13 and MIUI 13 Pad devices. This is similar to how you can sync clipboard data between iPhone and Mac or iPad.
Xiaomi launched MIUI Watch, MIUI Home and MIUI TV as its new operating system versions for smartwatches, smart home devices and smart TVs respectively. The main objective of introducing the new software was to provide a smooth and natural flow of content between the devices.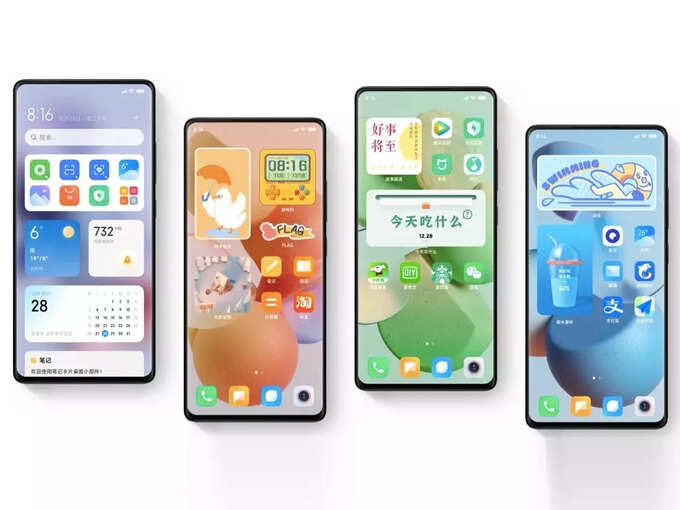 .