Amritsar . Congress leader Rahul Gandhi reached Amritsar on Monday and paid obeisance at the Golden Temple. After this, he did the service of washing utensils in the langar hall. During this time he is wearing a blue colored scarf on his head. Earlier, when he had come to India during the Jodo Yatra, he had worn a turban. This visit of his has been kept private. There is no political program during this period. In view of this, Congress leaders of Punjab did not come to welcome him etc. Before his visit, security arrangements have also been tightened by Punjab Police.
Visit amid alliance tussle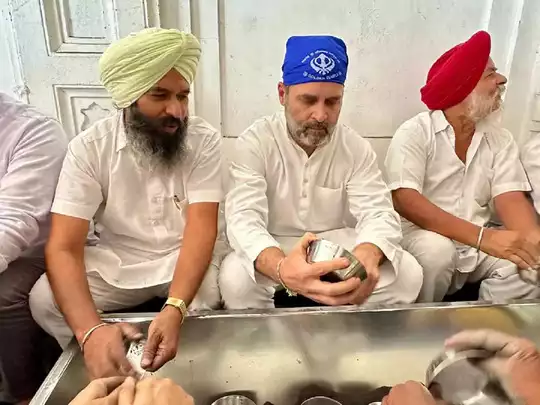 This visit of Rahul Gandhi is taking place at a time when Punjab Congress is furious over the arrest of Congress MLA Sukhpal Khaira in the drugs case. Congress says that this arrest was made to take political revenge. Khaira was caught in an almost 8 year old drug case. Congress and Aam Aadmi Party are included in the INDIA alliance. In such a situation, there is a tussle going on between the two parties in Punjab regarding this alliance. This is Rahul Gandhi's first visit to Punjab after the formation of INDIA alliance. Congressmen of Punjab are continuously opposing this alliance.
Had also visited Amritsar during Bharat Jodo Yatra
Earlier, Rahul Gandhi had come to Amritsar during the Bharat Jodo Yatra. Although Amritsar was not included in his route during the Bharat Joda Yatra, he still unexpectedly reached Amritsar before the Yatra started in Punjab. He reached Darbar Sahib wearing a turban. Then he only paid obeisance at the Golden Temple.
Akali Dal said- Rahul Gandhi should also go to Akal Takht
Shiromani Akali Dal Badal leader Virsa Singh Valtoha said that Rahul Gandhi should also visit Sri Akal Takht Sahib. Which was blown up by Rahul Gandhi's grandmother Prime Minister Indira Gandhi with a tank cannon. He said that he would consider Rahul Gandhi a sympathizer of Sikhs only when he condemns his grandmother's actions as wrong. He said that we do not want this show off.
Congress said – do not link the tour with events or politics
Congress MLA Sukhwinder Kotli said that anyone can express their feelings by bowing down at Darbar Sahib. Rahul Gandhi has come many times before. Rahul Gandhi always comes from the feeling of goodness of all people. It should not be linked to any event or politics. He said that it is not right to link this visit of Rahul Gandhi with anything else.
Source: dainikbhaskarup.com
: Language Inputs
This post is sourced from newspapers, magazines and third-party websites. For more information please check NewsDay Express Disclaimer.