Varanasi
During his visit to Kashi, PM Modi suddenly once again reached Vishwanath temple on Monday midnight and then from there reached Banaras railway station for surprise inspection. It is being told that PM Modi reached Banaras railway station at around 1 pm, meanwhile CM Yogi Adityanath was also present with him.
Earlier, PM Narendra Modi had a meeting with party leaders and Chief Ministers of BJP-ruled states on a cruise from 8 pm to 12 pm after Ganga Aarti in the evening and later left for Godauliya. During this, PM Modi strolled there for some time and continued to inspect the construction work.

PM Modi meets passengers at the station
The PM reached Banaras station late at night around 1 o'clock after visiting the Ganga path. During this, till around one and a half in the night, CM Yogi kept walking on the platform of the station. During this, PM Modi also met the passengers present there. After this PM Yogi reached Bareka Guest House.
Evening meeting on the cruise
Earlier on Monday evening, Prime Minister Narendra Modi witnessed the grand Ganga 'Aarti' along with Chief Ministers of Uttar Pradesh and other Bharatiya Janata Party (BJP)-ruled states on a cruise. This was the Prime Minister's third program in Varanasi city. Earlier, Modi visited the Kaal Bhairav ​​temple and then inaugurated Kashi Vishwanath Dham.
Prime Minister Modi boarded a Swami Vivekananda cruise (ship) from Sant Ravidas Ghat to witness the aarti to be held on the banks of river Ganga. Thousands of lamps were lit on the ghats on this occasion.
The Prime Minister tweeted, "Kashi's Ganga Aarti always fills the inner soul with new energy. Today after fulfilling the big dream of Kashi, attended the Ganga Aarti at Dashashwamedh Ghat and bowed down to Maa Ganga for her grace. Namami gange tav pad pankajam.
PM Modi shared the video
PM Modi also shared a short video in which the ghats of the Ganges were seen drenched in colorful lights. BJP national president JP Nadda, Uttar Pradesh Chief Minister Yogi Adityanath, Madhya Pradesh Chief Minister Shivraj Chouhan and Haryana Chief Minister Manohar Lal Khattar were among those who boarded the cruise with the Prime Minister. Apart from 12 chief ministers, three deputy chief ministers of BJP-ruled states and their family members were on board the cruise.
Thousands of people reached to see PM
Thousands of people were present at various ghats to see the prime minister and the aarti. When the cruise stopped at Dashwamedh Ghat, people chanted 'Har Har Mahadev'. The whole atmosphere was spiritual with the chanting of priests, the sound of bells and the sound of conch shells. PM Modi also watched the 'Light and Sound' show later as part of the 'Aarti' during the cruise ride of about an hour.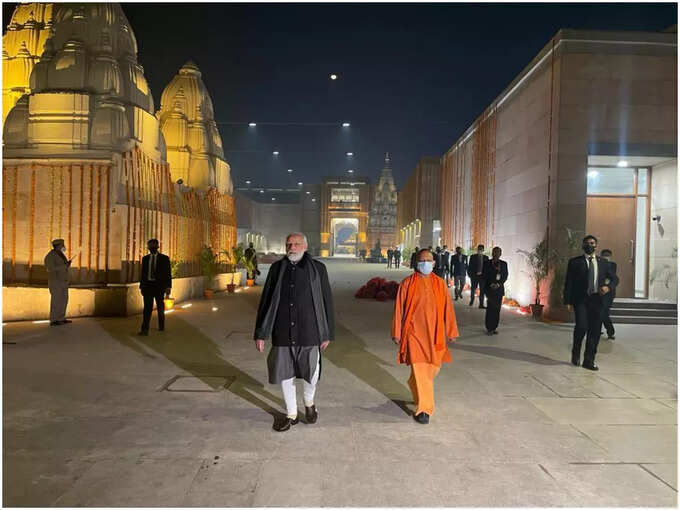 .