Highlights
Guru Shankaracharya had attained knowledge in Jyotirmath itself.
After this, four monasteries were established in the four corners of India.
Shankar's commentary was composed in Jyotirmath itself
Dehradun
The Chief Minister of Uttarakhand, Pushkar Singh Dhami has also followed the path of Yogi government of Uttar Pradesh. They have also started the process of changing the name. The Dhami government has announced to change the name of Joshimath of the state, this Math will now be known as Jyotirmath.
In the party's Vijay Sankalp rally held at Nandanagar in Chamoli district on Sunday, the Chief Minister of Uttarakhand announced that Joshimath will now be named Jyotirmath. In view of the election season, this nomenclature is being linked to the priests of the state and voters of the Brahmin community. CM Dhami also announced to build a college in Tharali in the name of former Tharali MLA Magan Lal Shah.
Uttarakhand Election 2022: Before the election, understand the mathematics of Uttarakhand assembly, which party has how many MLAs, what does the survey report say?
In his speech, Chief Minister Pushkar Singh Dhami, while remembering Bharat Ratna Atal Bihari Vajpayee, said that today is Vajpayee Jayanti, who gave us Uttarakhand while being the PM and today with the soulful attachment of PM Modi, work is being done to advance Uttarakhand in every field. Is. Dhami said in the BJP's Vijay Sankalp rally organized in Nandanagar that under the direction of Modi and as the chief servant of the state, it is our resolve that when we will celebrate the 25th foundation day of the state's establishment.
What is the belief of Jyotirmath?
It is said that Adi Guru Shankaracharya had attained knowledge in Jyotirmath itself and after that Adiguru Shankaracharya established four monasteries in the four corners of India. One of them is also the Math Jyotirmath where Shankara composed the commentary.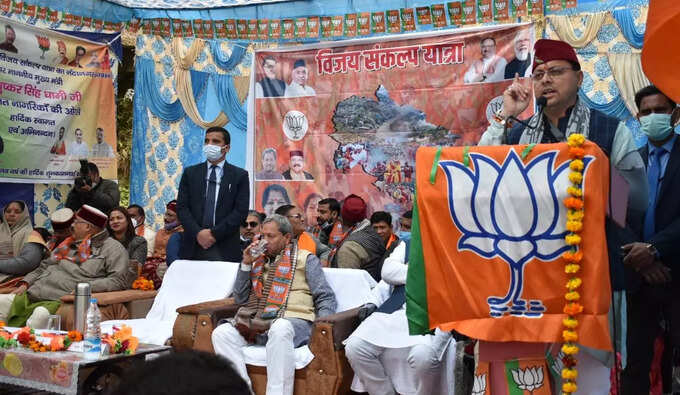 .