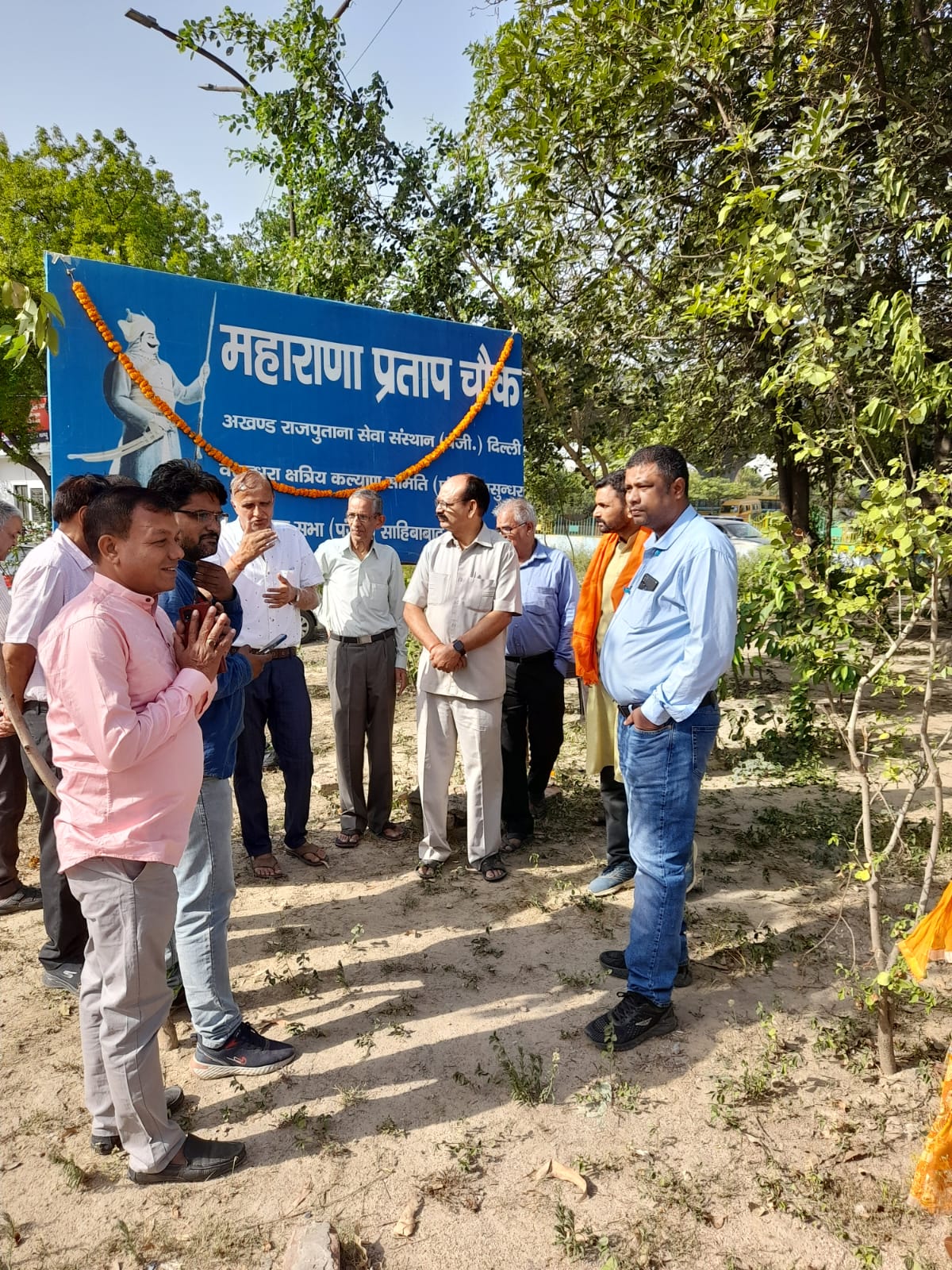 Bhaskar News Service
Ghaziabad. Akhand Rajputana Seva Sansthan (Registered Delhi) celebrated the birth anniversary of Veer Shiromani Maharana Pratap at Maharana Pratap Chowk Vasundhara on Monday in full presence of simplicity and dignity. On this occasion, floral tributes were offered to his picture and the entire Rajput society was called upon to follow his ideals. National President of the organization KP Singh said that Maharana Pratap's birth anniversary is celebrated on the Tritiya of Shukla Paksha of Jeshtha month. On the same occasion, today a simple ceremony has been organized to pay homage to him. This event has been kept near Maharana Pratap Chowk Vasundhara Police Station. He told that today we had to unveil the statue of Veer Shiromani Maharana Pratap, but unfortunately due to the Corona period, the statue was not prepared by the sculptor on time. That's why the program of idol installation has been extended. A giant statue of Maharana Pratap riding a horse will be installed at Vasundhara Chowk. This chowk has been named Maharana Pratap Chowk by Municipal Corporation Ghaziabad. The beautification and construction of platform for the idol has also been done by Municipal Corporation Ghaziabad. On this occasion, the National General Secretary of the organization VK Shishodia said that the true meaning of celebrating the birth anniversary of Maharana Pratap is that the Rajput society should gather and the youth of Rajput society should follow the footsteps of the brave Shiromani Maharana Pratap and bring laurels to the Rajput society. Do it. On this occasion, National President of the organization KP Singh, National General Secretary VK Shishodia, National General Secretary and Media Incharge SP Chauhan, Treasurer BB Singh, Mrs. Seema Bhadoria, Vice President MP Singh, PS Pathania, Ajay Tomar, JPS Chauhan, Dr. GS Chauhan, Shishpal Singh Shishoudia, Dhirendra Singh Bhadoria, Pramod Raj Koti Shailendra Singh Bhadoria, Kamlesh Singh Kan Vanshi, SP Singh, Raghunath Singh Kachhawa, Hans Kumar Singh, Rambabu Singh, Sitaram Chauhan, Rajeev Singh Bhadoria Mrs. Veena Singh, Mrs. Neelu Singh, Manveer Singh Chauhan, Umashankar Singh, CL Gupta, Mohit Chauhan, Dr. JPS Chauhan, Ajay Tomar and PS Pathania etc. were present who paid homage to the statue of Veer Shiromani Maharana Pratap and chanted his name.
Source: dainikbhaskarup.com
: Language Inputs
This post is sourced from newspapers, magazines and third-party websites. For more information please check NewsDay Express Disclaimer.