Building a house takes a lot of time and effort. Things were no different for Mobish Thomas, a government employee and social worker from Wayanad. Mobish, recalls that it was a big challenge for him to find enough time to make up the house between office and social work. In such a situation, he started thinking how to make such an eco-friendly house, which takes less time and does not cost much money. Then he decided to use an alternative and cheaper technique.
- Advertisement -
- Advertisement -
The Better India Talking to Mobish says that it was a difficult task for him to supervise the construction. On the other hand, he was living in his ancestral house and had to do the renovation of the house before the onset of monsoon. He says, "Since we had decided to build a new house, it was important for us to build it in less time so that the house could be ready before the rains started."
They decided to opt for Light Gauge Steel Frame Structure or LGSF. It is a technology that uses cold-formed steel as a building material. Mobish says that using this technique, he built his two-storey house in just three months and the cost of building this house came to only Rs 34 lakh.
Maybish's eco-friendly 1,440 sq ft home in Sultan Bathery, Wayanad, is a perfect example for those who are looking for home building techniques with less time and money.
Mobish explains, "It is also an eco-friendly and sustainable technology as it uses steel, which can be recycled in the future. In addition, no solid debris is generated during construction, which does not harm the environment."
While researching, Mobish found some firms that do great work using LGSF technology in Kerala. After contacting him and seeing some of his projects, he decided to work with ODF Group of Kozhikode, which has been working in this area since 2015.
Majid T, an engineer by profession and founder of the ODF Group, explains that LGSF is generally not used in residential buildings. It is mainly used in the construction of commercial buildings.
What are the benefits of making eco friendly homes with LGSF technology?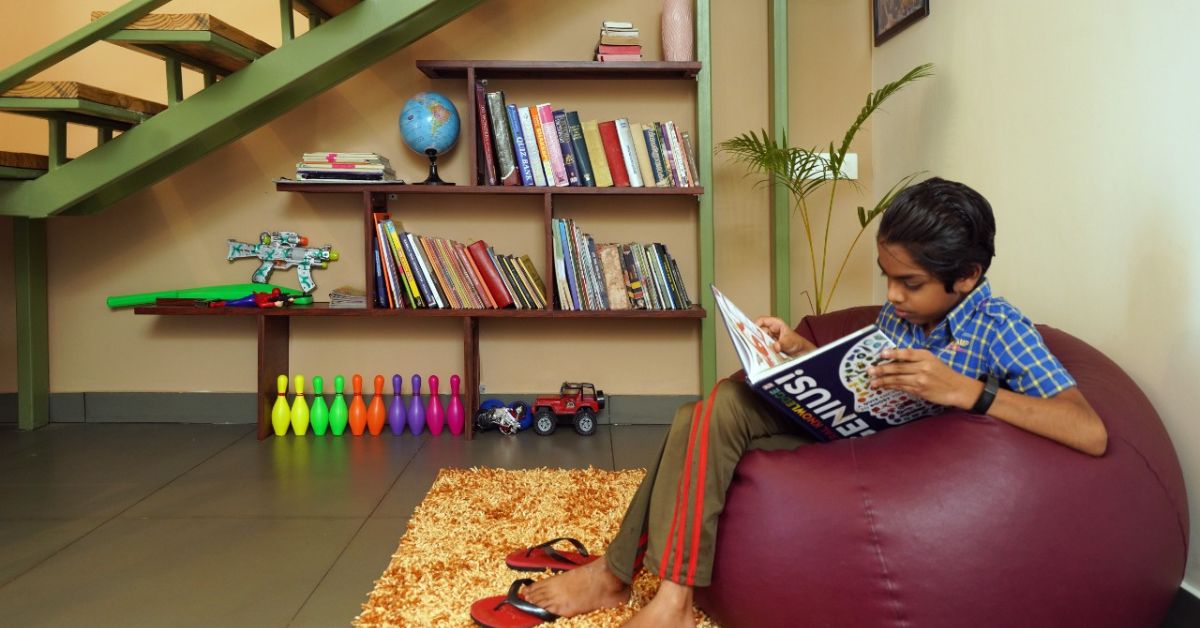 Majid says that Mobish had to employ only two or three laborers for the construction of the house. He says, "It usually takes around 10 to 12 months to build a traditional concrete house of this size. Whereas, by using LGSF technology, with less budget and less labour, the work can be completed in just three months."
Majid says there are many advantages to choosing LGSF over traditional methods. Generally, the cost of building a concrete house often exceeds the estimated budget due to delays and lengthy process. But using this technique, you can stick to the budget you set.
He says, "Instead of using brick and mortar, we use steel and cement fiber boards or panels for construction. First, we make a steel frame over the foundation, from which we apply fiber cement boards to build the walls." He further explains that the entire house was built using these boards, which are strong and long lasting, thereby reducing the use of cement and other construction materials.
Furthermore, unlike houses built in the traditional way, these buildings can be easily demolished without causing any debris. Majid said, "It is easy to modify the interior of this house as nothing concrete has been used anywhere except the foundation. This structure is flexible and can be easily rebuilt at a different location."
There is less risk of earthquake and fire in this eco friendly house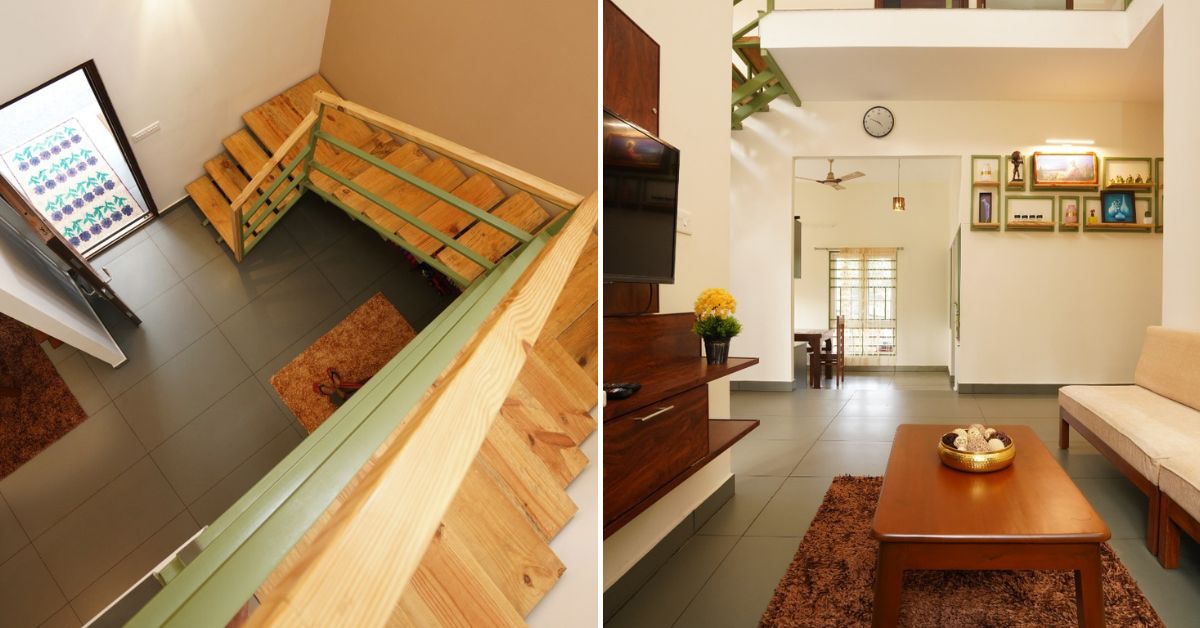 "Steel has good resale and scrap value," says Majid. So, even if one plans to break or destroy it, one can do it without any hassle and at low cost and also sell it for good money, which is not possible in concrete houses. ,
He says that when people first think of building a house using this technology, the first question that comes to their mind is safety. Buildings made of steel are less prone to earthquake and fire damage and are therefore safer than conventional buildings.
The walls of this house are made by fixing two boards parallel. The space between the boards is then filled with a thermal and acoustic insulation material, making it soundproof, as well as weatherproofing the wall.
Mobish has been living in his new home with his parents, wife and two children for the past one and a half years. He says that the weather in Wayanad is generally cool and the best part about the house is that when it is cold outside, it is warm inside and in summer it is much cooler than outside. "
"It was difficult for the family to understand"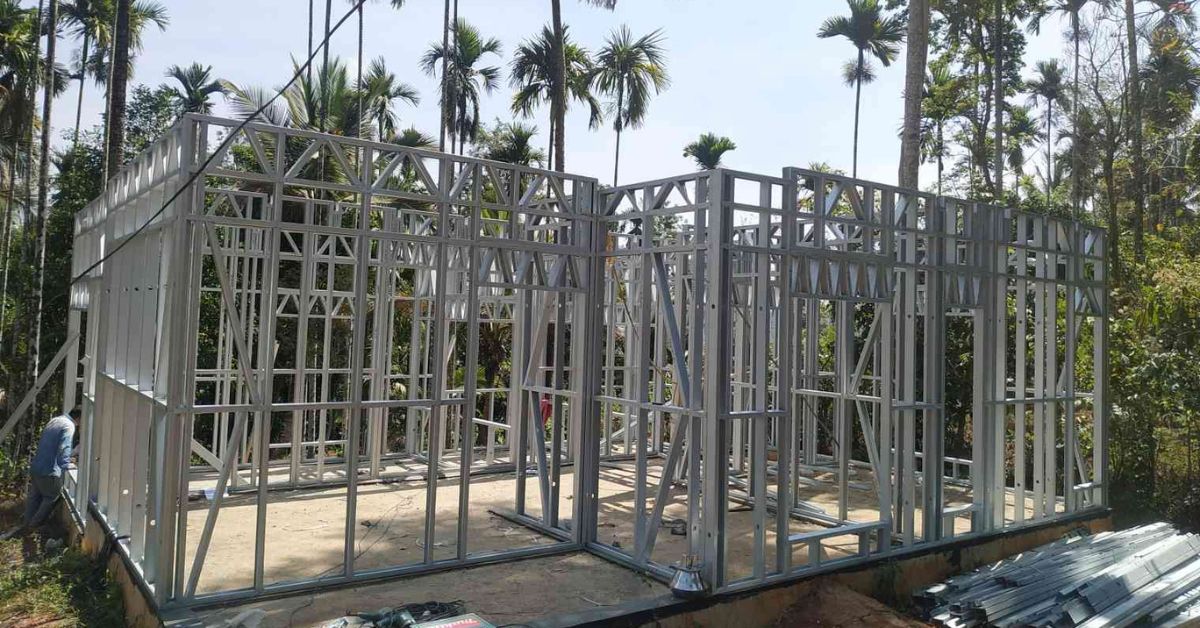 Mobish says it was challenging to choose an alternative way to build an eco-friendly home, leaving the traditional way. He says, "It is often difficult for people to accept unconventional methods, especially when it comes to building homes. It was very difficult for me to explain to my family, especially my parents and my wife. He had a lot of doubts and questions in his mind regarding the technology.
He further explains that he took his wife to Thrissur and showed a project there where the same technology was being used. He explained to his wife that these houses are safer and more beneficial than concrete houses. Now his family is living in this house for more than a year and no one has any complaint till now.
Mobish says that another major challenge in building this house was the restrictions and lockdown caused by the pandemic. He was to start building the house in March 2020, but it could not happen due to the lockdown. He says, "The fiber boards were to be imported from Thailand and some materials were procured from cities like Bengaluru and Chennai. The process was delayed due to the pandemic. They resumed construction in October and finally the house was completed in December 2020."
What's in this house?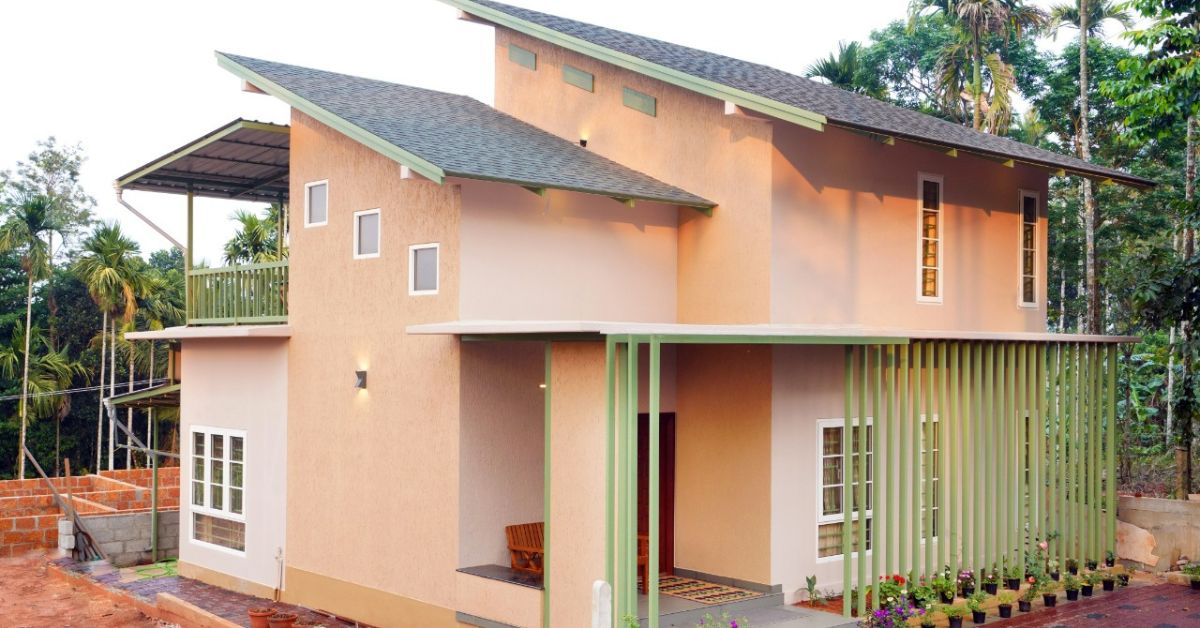 Built with LGSF technology, this eco-friendly home has a living room, dining area, kitchen, and a bedroom with attached bathroom on the ground floor. On the first floor there is a common bathroom and two bedrooms with an open terrace.
Mobish points out that there are no bricks or plaster of any kind used here, so the walls are thin, which means the room has more carpet area and they look quite large.
The floor is made using vitrified tiles in the house and the roofs are made by placing fiber cement board on a steel truss structure. Here shingles have been installed instead of clay tiles.
Mobish says that he paid special attention to light and air while building the house. The windows of the house are made wide so that enough light and air can come inside. The windows are made using uPVC, while the doors are of fibre.
Mobish's favorite corner of the house is the mini-library, built under the stairwell to the first floor.
For more information regarding this, you 8078791292 But you can contact Majid TK.
Original article: Anjali Krishnan
Editing: Archana Dubey
Also read: Traditional technology adopted to remove hot air from the house, AC is not needed even in summer
Source: hindi.thebetterindia.com
: Language Inputs
This post is sourced from newspapers, magazines and third-party websites. For more information please check NewsDay Express Disclaimer.