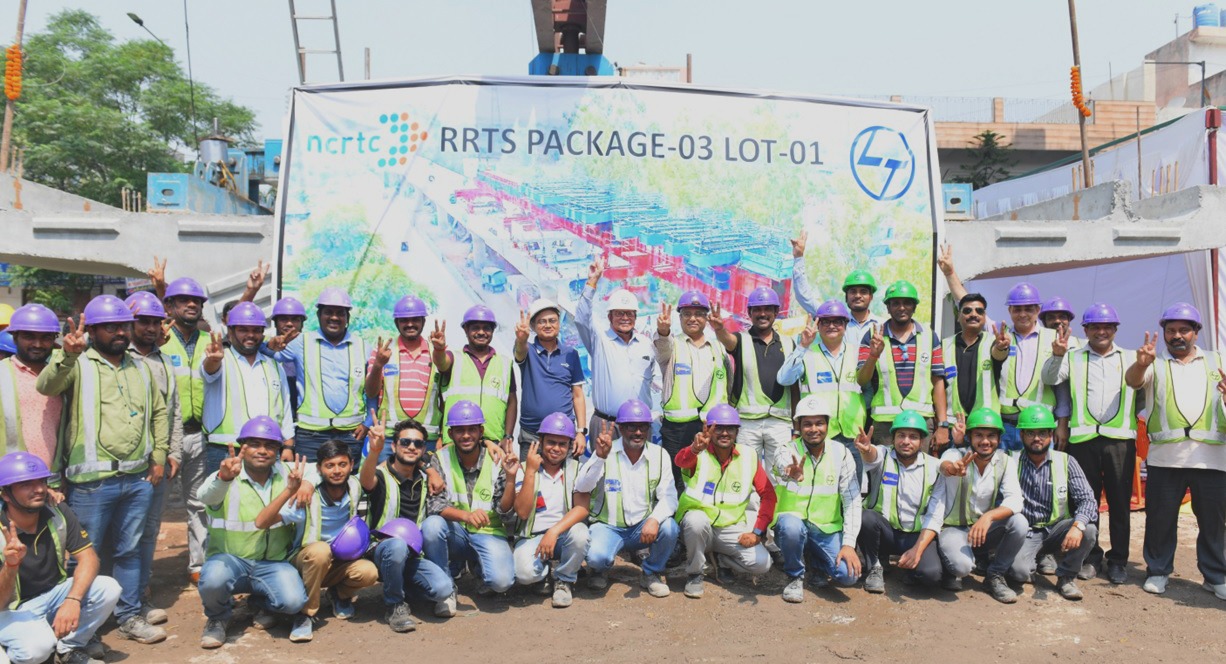 Now the entire viaduct from Sahibabad to Meerut South is ready
Bhaskar News Service
Meerut. NCRTC has successfully installed the last viaduct span between Duhai to Meerut South station just before Modinagar North station on the Delhi-Ghaziabad-Meerut RapidX corridor. With the installation of this span, the construction work in this section has reached the next stage. Now about 42 kilometer viaduct from Sahibabad to Meerut South Station is ready.
A media spokesperson said, the length of this section from Duhai-based Eastern Peripheral Expressway (EPE) to Meerut South RapidEx station is about 25 km, in which 825 pillars have been constructed. Along with the construction of viaduct on these constructed pillars, the work of laying track in this section is also being done parallely. About 50 percent track laying work on both up and down line is almost complete. With this, about 50 percent OHE mast erection and about 30 percent cantilever erection have also been completed on both the lines. A total of four stations Muradnagar, Modinagar South, Modinagar North and Meerut South are being constructed in this section and soon these stations will take shape.
Crossed the height of 22 meters
Told, Meerut South station has four levels, ground, mezzanine, concourse and platform level. Here the slab casting of the mezzanine level of the station has been completed and at present the work of slab casting of concourse level and platform level of the station is in the final stage. Recently, the RapidX Corridor at Meerut has crossed the Eastern Dedicated Freight Corridor (EDFC) over Delhi-Meerut Road at an elevation of about 22 metres. It is noteworthy that the operation of trains in the priority section of Ghaziabad will be started soon. This section includes Sahibabad, Ghaziabad, Guldhar, Duhai and Duhai Depot stations.
Construction of technical equipment rooms completed
Slab casting of concourse and platform level of Muradnagar station has been completed and finishing work is in progress at the station. Along with this, the construction of technical equipment rooms in the station has also been completed. Keeping in view the convenience of the passengers, entry-exit gates are being constructed in this station on both sides of the road, the construction of which is progressing rapidly.
Source: dainikbhaskarup.com
: Language Inputs
This post is sourced from newspapers, magazines and third-party websites. For more information please check NewsDay Express Disclaimer.