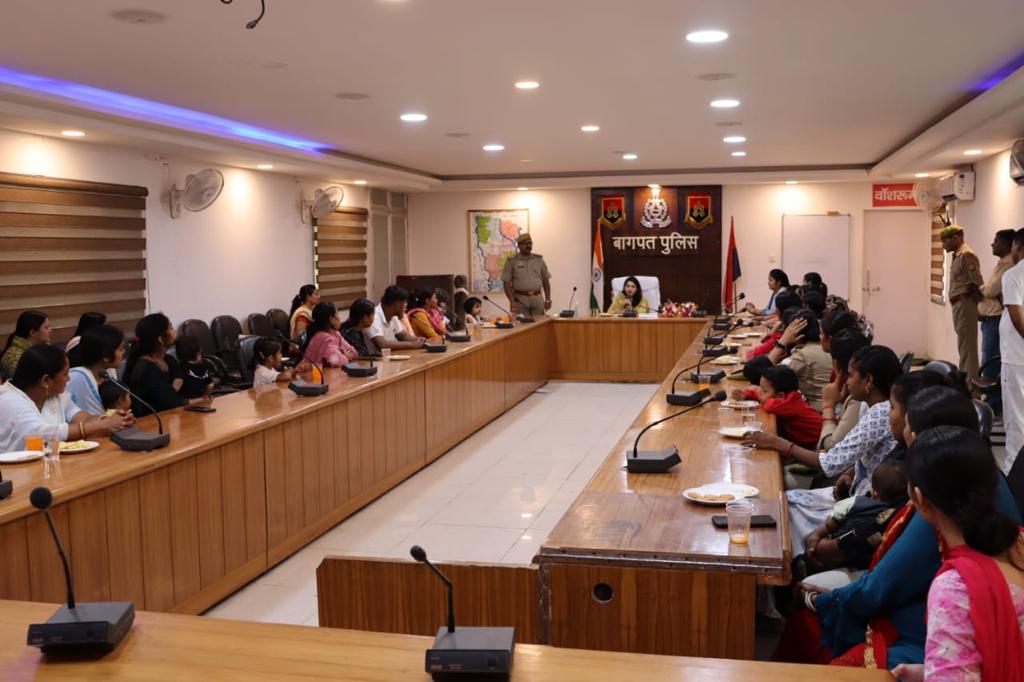 Mehndi Hasan / Bhaskar News Service
Baghpat. As part of the publicity and public participation campaign of the Mission Lifestyle for Environment campaign going on across the state, in the Police Line Auditorium, Baghpat Superintendent of Police Arpit Vijayvargiya's wife and Vamasarathi President Sampada, women police personnel and women and children of the police family to protect the environment. Awareness was created by organizing a meeting regarding On this occasion, Vama Sarathi Chairman Sampada said that one must plant a tree in life because today we all are breathing a sigh of relief from the pure environment. He said that it is necessary to have more and more trees to beat pollution. On the occasion, Baghpat Superintendent of Police Arpit Vijay Vargiya's wife and Vamasarthi President Sampada told that trees and plants not only provide oxygen to human life but the positive energy emanating from them fills positive energy in our lives. But there are very few people who know its importance in human life. Without trees and plants, nature is considered no less than a desert and the beauty of our nature depends on trees and plants. Nature seems deserted without them. We all know the importance of trees and plants, but still we do not pay any special attention to these things. If we look at the history, then since ancient times humans and animals are dependent on trees and plants. In the stone age, primitive humans used to eat roots, leaves, fruits and branches of trees and plants. Then man had no knowledge about civilization. The primitive man used to cover his body with trees. He used to find his shelter on trees, he used to climb trees to avoid wild animals. The importance of trees in human life is like 'water without fish'. We get shade, sweet fruits, medicine and wood from trees. Today man is cutting trees without thinking to fulfill his selfishness. He has no idea that he is causing great harm to himself and his nature. Since ancient times, trees have saved mankind from many natural calamities. Protected man from heavy rains and strong sun. Humans are cutting trees to make their homes, factories, schools and shopping malls. Many trees are cut daily but people think less about planting trees. Trees and plants do the work of photosynthesis which is called 'Photosynthesis' in English. We humans release carbon dioxide which is absorbed by plants, along with which they need water and sunlight. Plants make oxygen through photosynthesis.
Source: dainikbhaskarup.com
: Language Inputs
This post is sourced from newspapers, magazines and third-party websites. For more information please check NewsDay Express Disclaimer.