Highlights
Omicron spreading in Delhi, tension due to crowd in Sarojini Nagar market
High Court said- if a small bomb explodes, hundreds of lives will go to the market
After the outrage, the New Delhi Municipal Corporation swung into action on Saturday
Anti-encroachment drive fired, body hacked out
New Delhi
Strictness was increased on Saturday after the High Court's rebuke over the crowd in Sarojini Nagar Market. The New Delhi Municipal Corporation (NDMC) launched a campaign against encroachment here. Those selling goods in an unauthorized manner were kicked out. The district administration has given permission to open shops on the basis of odd-even on weekends. To implement the same, NDMC officials along with the police were seen roaming in Sarojini Nagar market. NDMC said that any kind of negligence will not be tolerated. Court orders will be strictly followed.
What did the High Court say?
The Delhi High Court lashed out at the concerned authorities after watching the viral video of a mob in Sarojini Nagar Market. The court said on Friday that even if there is no corona in this crowd, then many lives will be lost due to stampede or bomb blast. The court immediately summoned the NDMC and the SHO of Sarojini Nagar police station for failing to stop the encroachment in the market. Told them clearly that if even one person lost his life due to any reason in the market, then both of them would be responsible. This is the last chance to remove the encroachment. Contempt of order can lead to suspension. The court said that what is the need of an order to do its job like removing encroachment? Do not leave anyone's belongings on the road. If there is a need to install a wire barrier, then install it.

Shopkeeper ready for odd-even
Sub-Divisional Magistrate Vasant Vihar Ankush Prakash Meshram has ordered that Sarojini Nagar Market will open on Saturday and Sunday under Odd-Even. A decision has been taken on this after meeting with the office bearers of market associations. Along with this, all the shopkeepers should ensure 100% vaccination of their employees in the vaccination camps set up in the market. Sandeep Manocha, Chairman, Sarojini Market Shopkeepers Association said that we are ready to open shops under odd-even today and tomorrow. But, how will the thousands of vendors and body hawkers who are sitting on the tracks illegally in the market be stopped? New Delhi Municipal Council (NDMC) and Delhi Police should work seriously on this.

Corona Omicron Cases In Delhi: Corona explosion in Delhi amid threat of Omicron, record 180 cases after June 16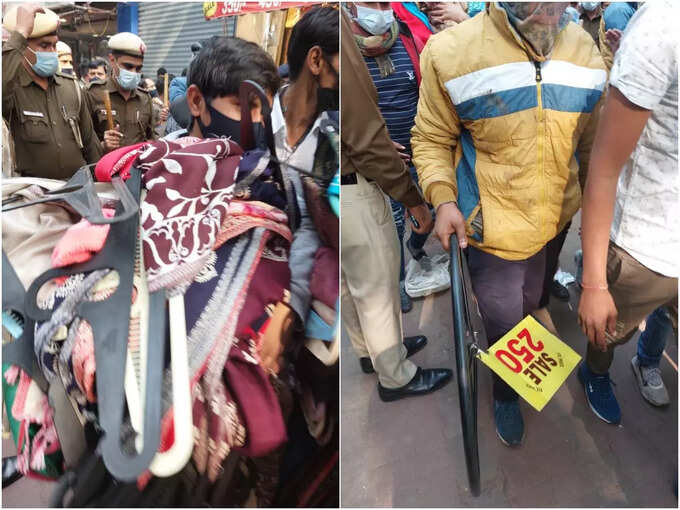 Campaign against encroachment in Sarojini Nagar market
.