Rajasthan News: The Ashok Gehlot government of Rajasthan has taken a big decision on Friday for economically weak work ie EWS. The Congress government of Rajasthan has increased the validity of EWS certificate from one year to three years by changing its rules. However, for the recognition of the certificate, an affidavit fulfilling the prescribed criteria will have to be given every year.
Jaipur: In Rajasthan 10% reservation is given for the persons belonging to the economically weaker sections. For this, people of upper castes have to get EWS certificate (Economically Weaker Section). EWS reservation started from the year 2019. Since then EWS certificate of validity of 1 year has been issued. But the Congress government of Rajasthan has changed its rule, taking a big decision for the upper castes from one and a half year before the election. That is, changes have been made in the EWS certificate. Now EWS certificate will have to be made once in 3 years. That is, once the EWS certificate is created, it can be used for 3 years. Earlier its validity was only 1 year. Various messages of change regarding EWS reservation are becoming viral on social media. Youth should ignore such viral messages. Instead, it can be understood by reading the circular issued by the department.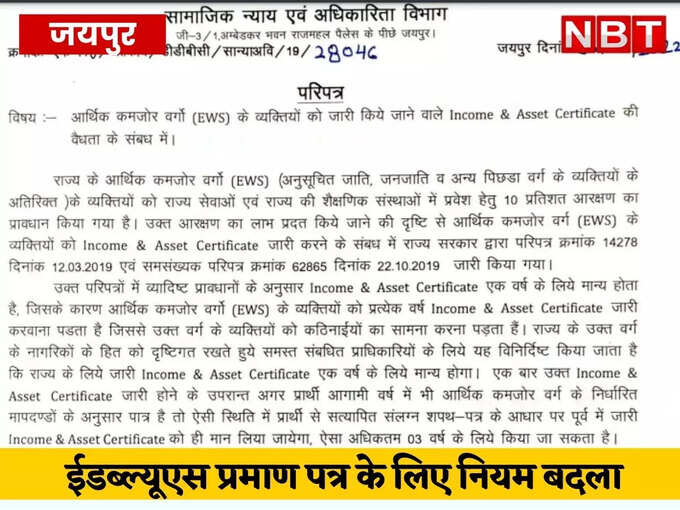 Recognition of old EWS certificate only
According to the new rule, although this certificate is valid for three years, but during this time the applicant will have to present a verified affidavit of fulfilling the eligibility according to the prescribed criteria of Economic Weaker Section in the coming year also. After which only the old EWS certificate will be recognized. This can be done only for 3 years. As soon as the EWS certificate has been created for 3 years, after that the EWS certificate will have to be made again.


Bharatpur News: Saini society took to the streets on the demand of reservation, rally took out after Mahapanchayat in Bharatpur
The hassle of making EWS certificate every year ends
This decision, which will provide relief to the upper castes, has been issued by Dr. Samit Sharma, Secretary, Government of Rajasthan, Social Justice and Empowerment Department on Friday. In such a situation, the hassle of making EWS certificate every year will end. And once the EWS is made, it can be used for 3 years.
Jodhpur News: Curfew extended for 2 more days in Jodhpur, also relaxed for 4 hours on Saturday, netbandi still continues
next article
Life imprisonment for the guilty of abducting and raping a minor
Navbharat Times News App: News of the country and the world, the condition of your city, education and business updates, bustle of the world of film and sports, viral news and religious deeds… Get the latest news , Download NBT App
Like NBT Facebook page to stay updated with latest news
Read more on these topics
Web Title: rajasthan government big decision on ews certificate now it will be valid for 3 years
Hindi News from Navbharat Times, TIL Network
Source: navbharattimes.indiatimes.com
: Language Inputs
This post is sourced from newspapers, magazines and third-party websites. For more information please check NewsDay Express Disclaimer.