Varanasi . Prime Minister Narendra Modi is in Varanasi on Saturday on his 42nd visit. After the public meeting in Ganjari here, he reached the Nari Shakti Vandan-Abhinandan program at Sampurnanand Stadium. Speaking to the women, he said, "Our country has been male-dominated from the beginning. But ever since our government has been formed. From the playground to flying the Rafale, women have got a chance to showcase their worth.
We started Mudra Yojana. Women got the most benefit from this. All the small and big industries which were to be closed have gained momentum again. Today women are playing a vital role in the progress of the country. She is making a name for herself in her area with her skills.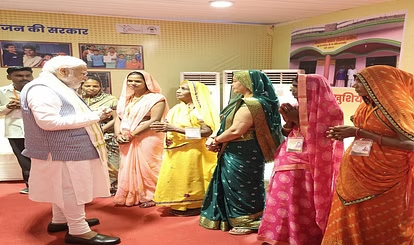 Before this, PM Modi reached the public meeting place at Ganjari from the airport by helicopter. Then went among the people in an open jeep. Laid the foundation stone of an international stadium like Shiv Dham. PM Modi started his speech with Har Har Mahadev. Then he said in Bhojpuri – Today I get a chance to come to Banaras again, the joy that is in Banaras cannot be found anywhere else.
Modi said- This stadium will be a boon not only for the youth of Varanasi but also for the youth of Purvanchal. It is important to discover and nurture young talent. Ever since the pictures of this stadium have come out, every Kashi resident has become excited after seeing them. This stadium is dedicated to Lord Shiva. Here 30 thousand people will be able to watch the match simultaneously.
One place of Shiva Shakti is on the moon, the other in Kashi.
Modi said – Today I have come to Kashi on a day when one month of India's arrival at the Shivshakti point of the Moon is being completed. Shiv Shakti means the place where our Chandrayaan landed on 23rd of last month. One place of Shivashakti is on the Moon and the other place of Shivashakti is here in Kashi.
Today the world is connecting with India through cricket. New countries are coming forward to play cricket. Obviously the number of cricket matches is going to increase in the coming days. When the number of matches increases, there will be a need for new stadiums. Then this international cricket stadium of Banaras will fulfill this demand. He is going to become the shining star of entire Purvanchal.
Modi also mentioned Madhya Pradesh
Modi said- A few months ago I had gone to Shahdol. Got a chance to meet some young people here. Was so impressed by his words. He said that we have a mini Brazil here. We have a football player in our house. One told that football has been played in our house for three generations.
PM Modi reached among the people in an open jeep
Along with PM Modi, CM Yogi also greeted the people in an open jeep. The public meeting place is divided into 24 blocks. A corridor was built through all the blocks. PM Modi and CM Yogi reached the workers in an open jeep through the corridor. Modi Mission-2024 was trumpeted in a huge public meeting in Ganjari.
Sachin Tendulkar, Ravi Shastri, Kapil Dev, BCCI President Roger Binny and Secretary Jai Shah reached Baba Vishwanath Darbar to attend the foundation stone laying ceremony of the stadium. Performed Jalabhishek of Baba. Vice President of Temple Trust and Sachin's astrologer Prof. Chandramouli Upadhyay and temple administration officials took the former cricketers around in the temple corridor.
International cricket stadium will be built for Rs 400 crore. The proposed international stadium will be built on 30.6 acres in Ganjari along the Varanasi Ring Road. It will have a seating capacity of 30,000 people. The stadium will be constructed as per ICC standards. Its estimated cost is Rs 400 crore. The stadium will be completed in 30 months. The stadium will have a main field, a practice ground, a spectator gallery, a media center and many other facilities. The responsibility of construction of the international cricket stadium has been handed over to L&T.
Inaugurated 16 Atal Residential Schools built at a cost of Rs 1115 crore.
PM Modi inaugurated 16 Atal residential schools in the state including Varanasi during a public meeting in Ganjari. Prime Minister inaugurated Atal Residential Schools built with Rs 1115 crores. Innocent children whose parents died due to Corona have got admission in these schools. Inaugurated Atal Residential School, built on 12.25 acres at a cost of Rs 66.54 crore in Karsada, Varanasi. 80 children of laborers have got admission here. Here studies will be conducted in both Hindi and English medium. However, the board will remain CBSE. Now admission for class 6 children has been taken.
Will communicate with 5000 matriarchs on women's reservation bill
After the public meeting in Ganjari, PM Modi will interact with 5 thousand women on the Women's Reservation Bill in the Sampurnanand Sanskrit University campus. For this, responsibility has been given to Kashi Area Mahila Morcha, BJP District Mahila Morcha, District and Metropolitan Presidents of Mahila Morcha in all the districts.
At the same time, women have been invited from all the districts of Kashi region. Through this program, PM will connect directly with the women voters of Kashi. Along with PM Modi, CM Yogi Adityanath and Governor Anandi Ben Patel will also be present on the stage. This will be the first time that after the passing of the Women's Reservation Bill, the PM will meet women in an event. Women will thank them.
PM will watch presentations in cultural festival
PM Modi will spend about two hours today with the winners of the Kashi Sansad Cultural Mahotsav. He will inaugurate the demonstration organized by the school students at Rudraksh Convention Center in Sigra and then will interact directly with them. PM Modi will sit on the first row seat and watch the presentation of the participants of the Kashi MP Cultural Festival. Along with rewarding the students of the cultural festival, they will also encourage them and give the mantra for a better future. Only the designated people will get admission in this program.
'Massab' became CM in Atal School, took children's class for 15 minutes; Asked the name by writing it in English on the digital black board, children smiled at the correct answer.
Before the arrival of PM Narendra Modi in Varanasi, CM Yogi Adityanath arrived on Monday to take stock of the preparations. During this time he became 'Massab' in Atal Residential School. As soon as he entered the class, he first replied to the children's good evening, then asked many questions by writing in English on the digital black board.
Source: dainikbhaskarup.com
: Language Inputs
This post is sourced from newspapers, magazines and third-party websites. For more information please check NewsDay Express Disclaimer.