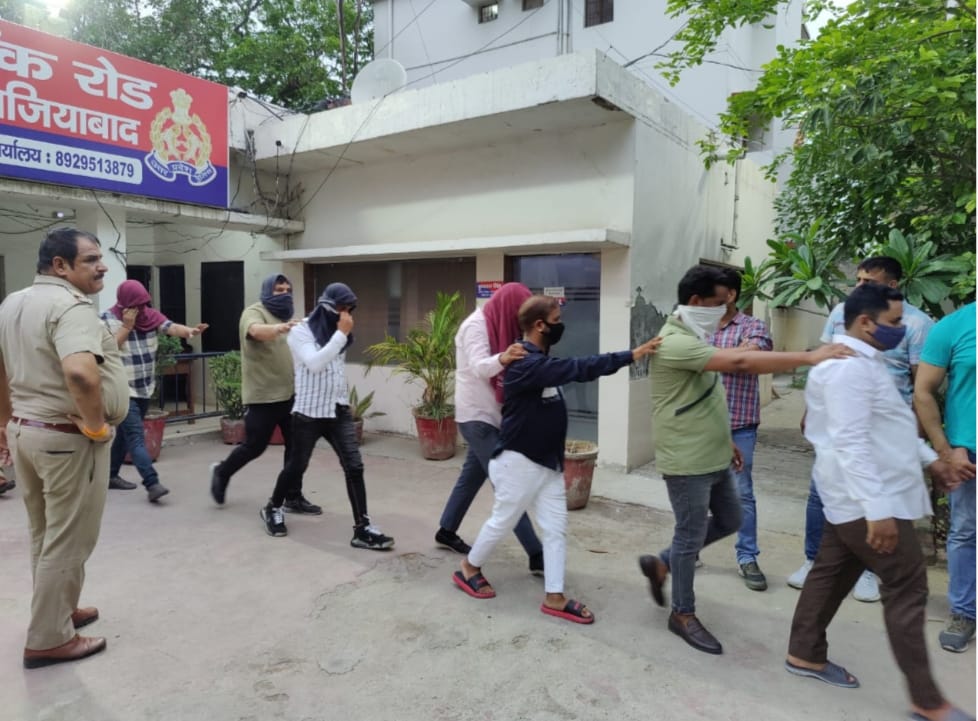 Prostitution was found in the guise of spa centers in Pacific Mall, 60 youths and 39 girls arrested from eight spa centers
Bhaskar News Service
Sahibabad, Police busted prostitution under the guise of eight spas in Pacific Mall of Link Road police station area. Police arrested 60 girls and 39 youths from the spa center. According to the information, the police have recovered payment machine, DVR and objectionable items from the spot. The police is investigating the case. According to the police, the police had been receiving complaints for a long time about prostitution in the guise of a spa center in Pacific Mall near Maharajpur police post. Deputy Commissioner of Police Trans Hindon made a plan of action on this. On Wednesday evening, Assistant Commissioner of Police Sahibabad Bhaskar Verma reached Pacific Mall from the police line and with the team of DCP Trans Hindon. Seeing the large number of police force, there was a stir around. Police personnel raided eight spa centers running in the mall. Where prostitution was found to be taking place. Boys and girls inside were found in objectionable condition. The women police caught all the girls. The recovered boys and girls were taken to the Link Road police station in a police bus. The Deputy Commissioner of Police said that prostitution was found running in eight spa centers. 60 girls and 39 youths have been arrested from the spot. Among the arrested people, the police is inquiring as to how many operators, employees and customers are there. Action is being taken by registering a report against all the operators and the youths who were caught. Used to take three to five thousand rupees for an hour. Police investigation has revealed that the packages were told to the customers in the spa center after going inside. There was a package of three thousand rupees to five thousand rupees. After the package, if the customer liked it, he used to pay and send it inside for half an hour. Along with this, people from other districts and states also used to come. Those caught include people from Delhi, Noida, Haryana, Ghaziabad. Police is taking information from all operators and employees. Sitting investigation, action will be taken against concerned police personnel Deputy Commissioner of Police Trans Hindon Vivek Chand Yadav told that such a large number of prostitution has been found running under the guise of spa. A departmental inquiry is being conducted against the police personnel concerned. Action will be taken against whoever is found guilty. Action taken in these spas S2, Royal Spa, Swadika, The Heaven, Raj Therapy, Aroma Therapy, Armaan Therapy, Rudra.
Source: dainikbhaskarup.com
: Language Inputs
This post is sourced from newspapers, magazines and third-party websites. For more information please check NewsDay Express Disclaimer.