The idea of ​​'one country, one election' is to hold elections simultaneously in the country. This means that Lok Sabha elections across India and Assembly elections in all states will be held simultaneously. Voting for both the elections will probably happen simultaneously or nearby. At present, elections for the Lok Sabha and the State Assembly are held separately after the government completes its five-year term or the legislature is dissolved due to various reasons.
One nation-one election or one country-one election means that the Lok Sabha and Vidhansabha elections should be held simultaneously in the whole country. After independence, Lok Sabha and Vidhan Sabha elections were held simultaneously in 1952, 1957, 1962 and 1967, but in 1968 and 1969 many assemblies were dissolved prematurely. After that the Lok Sabha was also dissolved in 1970. Because of this, the tradition of one country, one election was broken.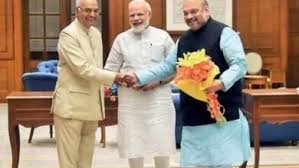 Central government formed a committee
The Central Government has formed a committee on 'One Country-One Election'. According to the information, former President Ramnath Kovind has been made its president. Its notification may be issued today. The central government has called a special session of Parliament from September 18 to September 22. It is possible that the government may also bring a bill on one country, one election. The committee formed by the Center will look into the legal aspects of One Nation One Election. Besides, opinion will also be taken from common people for this. Meanwhile, BJP President JP Nadda reached Kovind's residence to meet him. However, the reason for this meeting has not been revealed.
On this initiative of the government, Leader of the Opposition in the Lok Sabha and Congress MP Adhir Ranjan Chowdhary said why the government suddenly needed one country one election. Meanwhile, Congress leader and Chhattisgarh Deputy CM TS Singhdev said – Personally, I welcome one country, one election. This is not a new idea, it is an old idea. Meanwhile, Parliamentary Affairs Minister, Prahlad Joshi said, 'The committee has just been formed, why is there so much panic? The report of the committee will come, then it will be discussed in the public domain. There will be discussion in the Parliament. Just because a committee has been formed, it does not mean that it will be done from tomorrow itself.
Modi in support of One Nation-One Election
When the Modi government came to power at the Center in May 2014, the debate about one country and one election started soon after. Modi has many times advocated One Nation-One Election. Once on the occasion of Constitution Day, Prime Minister Modi said – Today one country-one election is not just a matter of debate. This is the need of India. Therefore, this issue should be thoroughly discussed and studied.
Know the benefits of simultaneous elections
The strongest argument in favor of holding simultaneous elections in the country is to reduce the huge amount of money spent on separate elections. According to a news, Rs 60,000 crore was spent in the 2019 Lok Sabha elections. This includes the expenses of political parties contesting elections and the amount spent by the Central Election Commission. One argument given in support of simultaneous elections is that it will make the administrative system smooth. During elections, officers are engaged in election duty. Due to this, normal administrative work gets affected.
After all, why is One Nation, One Election special for BJP?
Prime Minister Modi and other BJP leaders have discussed elections together in the country on several occasions. In 2014, it was also a part of BJP's election manifesto. According to NDTV report, page number 14 of BJP's election manifesto read, "BJP is committed to introducing electoral reforms to eliminate criminals. The BJP will try to evolve a methodology for holding simultaneous Assembly and Lok Sabha elections in consultation with other parties. According to the manifesto, this will ensure stability for state governments besides reducing election expenses.
Source: dainikbhaskarup.com
: Language Inputs
This post is sourced from newspapers, magazines and third-party websites. For more information please check NewsDay Express Disclaimer.