Highlights
Nitish Kumar on social reform campaign in Bihar
Police and administration keep a close eye on liquor
3 lakh 48 thousand 170 cases registered under prohibition
So far 4 lakh one thousand 855 people have been arrested
Patna
Bihar Police records show that from April 2016 to October 2021 (before the imposition of prohibition), 3 lakh 48 thousand 170 cases were registered under Prohibition of Alcohol and Excise Act. 4 lakh one thousand 855 people were arrested. But even after five years, the smuggling of liquor continues unabated. Chief Minister Nitish Kumar is currently on a statewide 'Samaj Sudhar Abhiyan' Yatra to create public awareness on prohibition.
Nitish is becoming more strict regarding prohibition of liquor
Nitish Kumar has clearly said from the platform of social reform campaign that those who want to drink alcohol should not come to Bihar. He said that 'Today many people who are wrong, they keep making statements that look at this law. Let him take what comes from outside. E everything is possible. Don't come If you drink liquor and there is a problem in drinking in Bihar, then don't come to Bihar. There is no need for you.' Means those who drink alcohol and who have trouble in coming to Bihar due to non-availability of liquor, they need not come to the state. CM Nitish is adamant on implementing the prohibition in any case. For this, all kinds of laws and regulations are also made. Alam is that now Bihar has reached on the verge of becoming a 'police state'.
The Chief Justice had told- 'Lack of foresight'
The courts of Bihar are burdened with the cases to be registered under the Prohibition Act. During a speech last Sunday, Chief Justice of India NV Ramana had cited "lack of foresight" in drafting the Bihar Liquor Prohibition Act. The Bihar Liquor Prohibition Act was presented as an example. He had said that because of this the courts were flooded with cases and a simple bail application was taking a year to dispose of.
OPINION: Nitish Kumar is bent on making Bihar a police state under the guise of prohibition
The flood of cases related to prohibition in the courts
It is a fact that after the implementation of Bihar Prohibition and Excise Act 2016, the burden of cases on the courts has increased. The number of prisoners in jails has increased significantly. Till October this year, 3,48,170 cases were registered under the Prohibition Act. There were 4,01,855 arrests. About 20 thousand bail applications related to these cases are pending in Patna High Court and district courts. Between January 2020 and November 2021, the Patna High Court disposed of 19,842 bail petitions (advance and regular) in cases of prohibition. During this, a total of 70,673 bail petitions were heard in different courts. As of November 2021, 6,880 bail petitions are still pending in the High Court, taking the total bail figure to 37,381.


Bihar News: Bihar's prohibition law is a sample of short-sightedness- CJI, Nitish's policy is likely to be debated again
About 70 thousand prisoners in Bihar jails
The 59 jails of Bihar have a total capacity to hold about 47 thousand prisoners. According to the report, there are about 70 thousand prisoners in these jails at present, out of which about 25 thousand have been arrested under the liquor law. After the incidents of spurious liquor in Gopalganj and Bettiah, the Bihar Police has intensified the campaign regarding the prohibition law. In November 2021, there have been about 10,000 arrests. This led to further congestion in jails across the state. Patna's Beur Central Jail has the capacity to hold about two and a half thousand prisoners, but at present it is filled with five and a half thousand prisoners.


Nitish Kumar News: Rebate in prohibition will not be given for those coming from outside in Bihar, CM Nitish bluntly
Prisoners doubled in capacity in Patna's Beur Jail
The condition of Patna's Beur Jail is that every third or fourth prisoner is an accused under the Prohibition Act. This has been the trend since 2017. There was some relief before the assembly elections. Most had got bail. But once again the number of people violating the liquor law in jails is increasing. When the mediapersons ask Bihar Additional Director of Police (Headquarters) Jitendra Singh Gangwar about the prisoners, they say that Jail IG Mithilesh Mishra has information. The number of those convicted under the Prohibition Act is less than one percent. About 75 special courts are being set up to deal with cases registered under the Prohibition of Liquor and Excise Act.


Bihar News: JDU was uncomfortable with the remarks of the Chief Justice, know why Nitish is getting upset over the prohibition of liquor?
Nitish is not in the mood to get upset
Amidst all the hindrances, Chief Minister Nitish Kumar is in no mood to tussle with the prohibition law. During his social reform journey on December 24, Gopalganj had said that in the 2016 liquor case, the Gopalganj court sentenced nine people to death in March 2021. There is a great lesson for the drinkers and those who do this business. If you drink, you will kill. Similarly, Nitish said in Sasaram that if you want to drink alcohol, do not come to Bihar.
Bihar Top 5: 'If you want to make noise then go out', why did Nitish say this? Know five big news of Bihar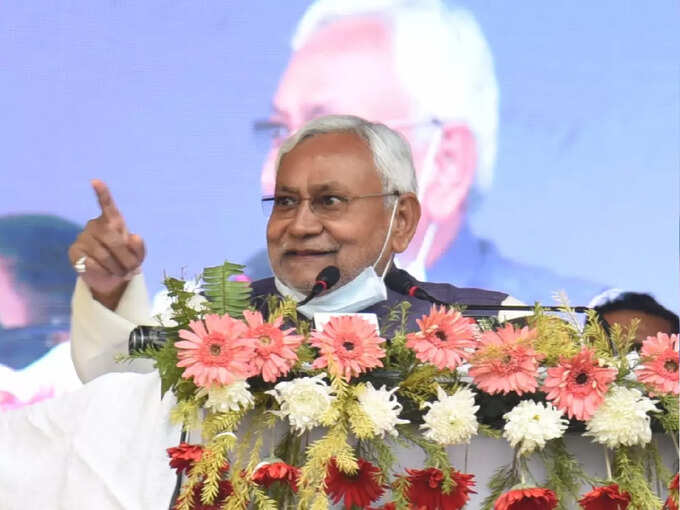 .