Nagpur . Rashtriya Swayamsevak Sangh (RSS) Chief Mohan Bhagwat said on Tuesday that some people do not want there to be peace in India. Efforts are being made to spread discord in the society. Whatever is happening in Manipur is being done. Cultural Marxists are spreading anarchy in the society.
Bhagwat was addressing the workers at Reshimbagh ground after attending the Shastra Puja program organized on Dussehra at the RSS headquarters in Nagpur. In his address, the Sangh chief also talked about Manipur violence, Lok Sabha elections, inauguration of Ram temple in Ayodhya.
Manipur violence did not happen, it was done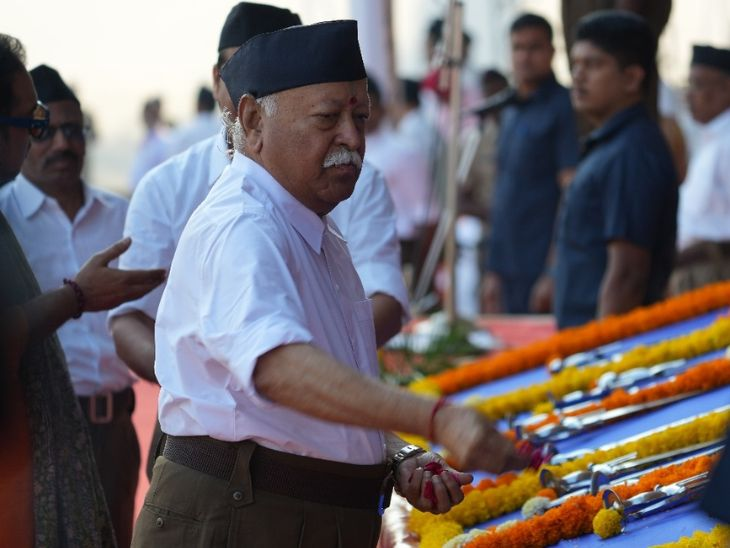 RSS Chief claimed that the violence taking place in Manipur is a well-planned conspiracy. He said- Meitei and Kuki communities in Manipur have lived together for years. How did the communal fire start between them? Were radicals from across the border also among those who committed violence?
An organization like Sangh, which has been serving everyone for years, was dragged into this without any reason. Foreign powers may benefit from unrest and instability in Manipur. Despite a strong government in the country, on whose strength is this violence going on for so long? It is clear from this that this is not happening, it is being done.
One should not seek votes by inciting emotions in Lok Sabha elections.
Bhagwat said- Lok Sabha elections are to be held in 2024. There should be no attempt to seek votes by provoking people's emotions, but it still happens. These hurt the unity of the society. It is the duty of every person to vote. Cast your vote keeping in mind important issues like unity, integrity, identity and development of the country.
Efforts are being made to spread discord in the society
On social anarchy, Bhagwat said- Some anti-social people call themselves cultural Marxists, but they have forgotten Marx since the 1920s. They oppose all the good things and culture of the world. They propagate anarchy.
It's a topic of concern The best thing is to leave the fight and move towards reconciliation. We are all descendants of the same ancestors. We are children of one motherland. We have to unite again on this basis. A nation prospers only when the society remains united and alert.
Programs in all Ram temples on the inauguration of Ram temple
Lord Ram is going to enter the temple in Ayodhya on 22 January 2024. Ramlala will be consecrated in the sanctum sanctorum. It will not be possible for everyone to reach there on the day of inauguration. Therefore, wherever they are, they should organize the program in the Ram temple there. This will awaken the Ram of mind in every heart and decorate the Ayodhya of mind. Will create an atmosphere of affection, responsibility and goodwill in the society.
India's pride increased in Chandrayaan Mission and Asian Games
Mohan Bhagwat said that our country's players won 100 medals for the first time in the Asian Games. The players made us proud by winning a total of medals (28 gold, 38 silver and 41 bronze). We heartily congratulate him.
Chandrayaan mission also brilliantly showcased India's strength, intelligence and skills. The will of the nation's leadership is seamlessly linked with our scientists' own knowledge and technical skills. G-20 summit was organized in Delhi. In this, India was appreciated for its hospitality to foreign guests. The world experienced the pride of our culture adorned with diversity.
Mahadevan said- RSS saved Indian culture
Singer Shankar Mahadevan participated as the chief guest in the Shastra Pujan program of RSS. He started his address with Saraswati Vandana. Praising RSS, Singer said – No one has contributed more than RSS in preserving the idea of ​​united India and its culture. I am proud to be an Indian. I am fortunate that I was invited to this program.
Shankar Mahadevan and Bhagwat pay tribute to RSS founder
Mohan Bhagwat paid tribute to RSS founder Dr Keshav Baliram Hedgewar on Vijayadashami program. He performed Shastra Puja with Shankar Mahadevan. Union Minister Nitin Gadkari and Maharashtra Deputy CM Devendra Fadnavis also attended the programme. Sangh workers took out a route march from CP and Berar College Gate and Reshimbagh Ground.
Every year a program is held at RSS headquarters.
In fact, Rashtriya Swayamsevak Sangh (RSS) was established on the day of Vijayadashami in the year 1925. On this day the Sangh performs weapon worship. RSS chief Mohan Bhagwat also addresses at the headquarters in Nagpur.
Mohan Bhagwat spoke on leftist ideology; Children are being asked names of private parts in schools, such people call themselves scientists.
Attacking the leftist ideology, RSS chief Mohan Bhagwat said that asking small children in schools to name private parts is an attack on the leftist ecosystem. People with such ideology think that they are powerful, they are God. They call themselves scientists, but they are not.
Source: dainikbhaskarup.com
: Language Inputs
This post is sourced from newspapers, magazines and third-party websites. For more information please check NewsDay Express Disclaimer.