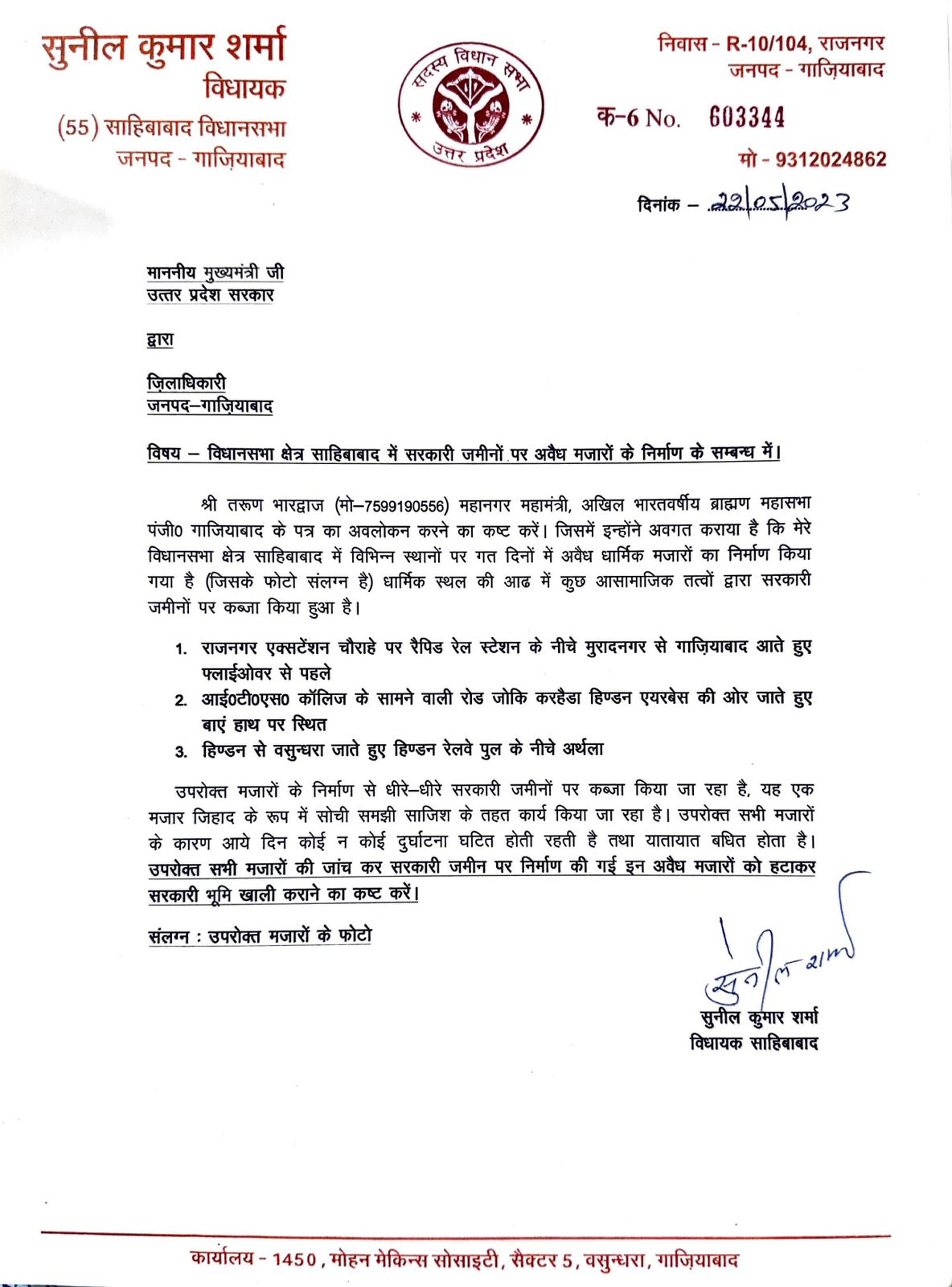 Government land is being captured under a well-planned conspiracy in the form of Mazar Jihad: MLA
Bhaskar News Service
Sahibabad. BJP MLA from Sahibabad Assembly Sunil Kumar Sharma wrote a letter to Uttar Pradesh Chief Minister Yogi Adityanath to remove the construction of illegal religious shrines in his constituency. It has been given in the letter that illegal religious tombs have been constructed at various places in the Assembly Constituency Sahibabad in the past days, what is the attached photo, government lands have been encroached by some anti-social elements in the guise of a religious place. 1.Rajnagar extension crossing under rapid rail station before flyover coming from Muradnagar to Ghaziabad 2.Road in front of I.T.S.college on left hand side going towards Karhaida Hindon airbase 3.Arthala under Hindon railway bridge going from Hindon to Vasundhara MLA Sunil Sharma said through a letter that government lands are gradually being encroached upon by the construction of tombs, this is being done under a well-planned conspiracy in the form of a tomb jihad. Due to all the above tombs, one or the other accident happens every day and the traffic gets blocked. Investigate all the above mausoleums and try to vacate the government land by removing these illegal mausoleums built on government land. Let us tell you that the Chief Minister of Uttarakhand, Pushkar Singh Dhami, has launched a campaign to remove mausoleums built on government land from all over the state. Bulldozers are running on the tombs everywhere. Now this campaign should be started from Sahibabad assembly area of ​​Uttar Pradesh.
Source: dainikbhaskarup.com
: Language Inputs
This post is sourced from newspapers, magazines and third-party websites. For more information please check NewsDay Express Disclaimer.