– Eklavya Award will now be given to 20 players, Vikram Award to 20 and Vishwamitra Award to five coaches.
Bhopal (Hindustan Reporter) Players who win medals at the Olympic Games, Asian Games and other international levels will get double the prize money. Players who get fourth place in these games will also be given prize money. State sports awards Ekalavya will be increased from 15 to 20 players, Vikram Award will be increased from 12 to 20 and Vishwamitra Award will be given from three to five coaches.
Chief Minister Shivraj Singh Chouhan made these announcements after honoring the players at the Madhya Pradesh Sports Investiture Ceremony on Saturday. He also announced to give Rs 5 lakh every year to each state level sports association for conducting regular activities of the sports associations.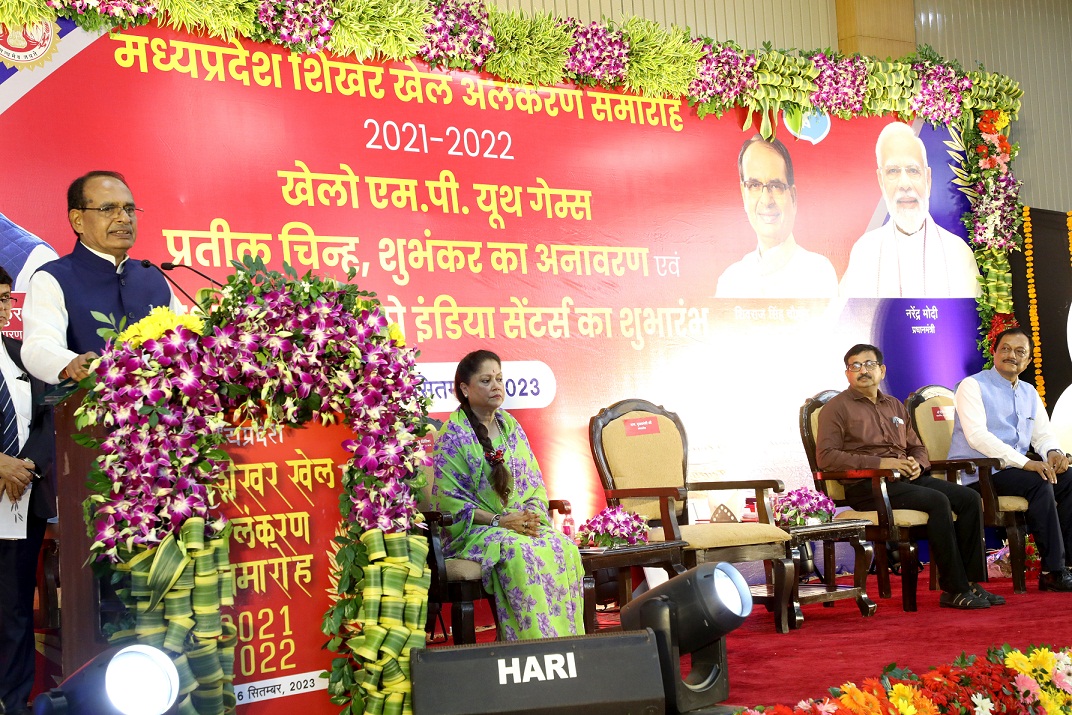 The Chief Minister said that there has been continuous development of sports activities in the state. Sports infrastructure is expanding. For its systematic operation, the staff of the Sports Department will be restructured. Besides, the post of Director General Sports will also be created. The service conditions of the chief technical advisors, trainers etc. of the Sports Academy will be made more useful and their honorarium will also be increased.
He said that international level swimming pool and cycling velodrome along with cricket stadium will be constructed in the international sports complex under construction in Nathu Barkheda. While giving a gift to the players of the state, he announced that posts will be reserved for recruitment under sportsperson quota in every department. Congratulating and best wishes to all the players honored with sports awards, the Chief Minister said that they should play a lot, jump and touch the sky of success with their excellent performance.
He unveiled the logo and mascot of Khelo MP Youth Games. He released souvenirs based on the players and coaches who received awards for the year 2021 and 2022. He also released a book titled 'In Pursuit of Excellence'. In the program, Union Sports and Youth Affairs Minister Anurag Singh Thakur also virtually inaugurated 49 Khelo India Centres.
Sports and Youth Welfare Minister Yashodhara Raje Scindia said that under the leadership of Chief Minister Chouhan, Madhya Pradesh is emerging from zero to hero. The best results of the work that has been done in the state in the past years to provide modern facilities by changing the sports infrastructure are visible today. The result of better infrastructure development of the state is that 49 Khelo India Centers of the state were inaugurated today by the Central Government.
Awarded player of the year 2021
Ekalavya Award:- Anshika Kanojia Soft Tennis Bhopal, Shikha Chauhan Kayaking-Canoeing Indore, Pooja Wrestling Dewas, Shruti Sarvaiya Wushu Ashoknagar, Arjun Thakur Shooting Hoshangabad, Kanya Nayyar Swimming Indore, Ikram Ali Khan Athletics Vidisha, Gopal Thakur Rowing Dewas, Siddhi Chhatwani Shooting Ball Bhopal.
Vikram Award:- Aadhya Tiwari Soft Tennis Narmadapuram, Annie Jain Swimming Indore, Aarti Nath Kayaking-Canoeing Dhar, Manisha Keer Shooting Bhopal, Sudipti Hajela Horse Riding Indore, Shreyanshi Pardeshi Badminton Indore, Nancy Jain Kho-Kho Jabalpur, Kanchan Jyoti Dixit Kabaddi Indore, Rabini Chauhan. Softball Dewas, Poonam Sharma Judo Bhopal, Rohit Bajpai Yoga Indore, Bhagwana Singh Kushwaha Adventure Sports Bhopal, Ratnesh Pandey Adventure Sports Satna.
Vishwamitra Award:- Paritosh Sharma Karate Gwalior, Vinay Prajapati Wrestling Bhopal, Mohan Lal Bamboria Mallakhamba Ujjain.
Swa. Prabhash Joshi Award: Mujahid Bag Mallakhamb Ujjain.
Lifetime Achievement Award:- Balbir Singh Kushwaha Table-Tennis, Kayaking-Canoeing, Canoe-Slalom and Dragonboat.
He was honored with the award for the year 2022
Eklavya Award:- Aastha Dangi Kayaking-Canoeing Bhopal, Aman Singh Bisht Boxing Bhopal, Pragya Singh Fencing Bhopal, Ritika Dangi Sailing Rajgarh, Abhishek Parihar Soft Tennis Dewas, Deepesh Lashkari Gymnastic Ujjain, Palak Sharma Swimming Indore, Aashi Chowksey Shooting Bhopal, Khushboo Hockey Gwalior. , Saumya Tiwari Cricket Bhopal, Inderjit Nagar Mallakhamba Ujjain.
Vikram Award:- Aditya Dubey Soft Tennis Dewas, Neetu Verma Kayaking-Canoeing Sehore, Bhuraksha Dubey Wushu Ashoknagar, Pragati Dubey Shooting Raisen, Raju Singh Horse Riding Bhopal, Subodh Chaurasia Softball Indore, Avesh Khan Cricket Indore, Neeraj Rana Hockey Gwalior, Dhananjay Dubey Tennis Disabled. Gwalior, Rajveer Singh Panwar Mallakhamba Ujjain.
Vishvamitra Award: Rashmi Malviya Badminton Bhopal.
Lifetime Achievement Award:- Anil Dhupar Tennis Indore.
Madhya Pradesh Olympic Association President Digvijay Singh, Sports and Youth Welfare Secretary P. Narhari, Sports Director Ravi Kumar Gupta, Sports Director of Sports Authority of India Sudhakaran and a large number of players, coaches and their families were present in the program.
Source: dainikbhaskarup.com
: Language Inputs
This post is sourced from newspapers, magazines and third-party websites. For more information please check NewsDay Express Disclaimer.