Compassion, sensitivity and solidarity are found in the works of IAS Dr. Dinesh Chandra: Arif Mohammad Khan
Bhaskar Bureau
New Delhi. On Tuesday, on the auspicious occasion of Teacher's Day, in the auditorium of the local Kerala Sadan, the Governor, His Excellency Arif Mohammad Khan, the District Magistrate of Saharanpur, Uttar Pradesh, and well-known writer Dr. Dinesh Chandra Singh, IAS, and edited by senior journalist and columnist Kamlesh Pandey, wrote the classic work "Karma-Nirnay". Released along with dignitaries and described it as inspirational and exemplary for people associated with political and administrative sector.
Renowned saint Shri Ravindrapuri Ji Maharaj, Padma Shri Bharatbhushan Ji Maharaj, Rajya Sabha MP Anil Agarwal, Lok Sabha MP from Aligarh Satish Gautam, Lok Sabha MP from Bahraich Akshaywar Lal Gaur, Minister of State for Uttar Pradesh and Deoband MLA Brajesh Singh, West Uttar Pradesh BJP on the occasion of book release Regional Satyendra Singh Sisodia, Mayor of Saharanpur Dr. Ajay Singh, Vice Chancellor of Shakumbhari Devi University Prof. HS Singh, Renowned Poet Nawaz Deobandi, Program Manager Devpriya Singh, Nageen Prakashan, Meerut CEO and Publisher Mohit Jain, Former MLA Sanjay Gupta, Kulbhushan Arora Dignitaries from political, administrative and social world including Deepak Agarwal were present. Sandeep ji conducted the stage.
Addressing the people present on this occasion, Governor Arif Mohammad Khan said that compassion, sensitivity and solidarity are found in the works of IAS Dr. Dinesh Chandra Singh, which is the essence of Indian civilization and culture. He said that the ideals of Indian society are sacrifice and service, the lessons of which can be learned from his books. The account he has presented of his administrative work is touching and heart-touching. The spiritual depth of Indian culture is visible in his books. The compassion and sensitivity in the writer's mind reveals his sense of sacrifice. Whatever he did keeping in mind the time and place, it was certainly his duty, but the sympathy he showed towards the flood victims and the sensitivity towards their pain and suffering is rare. Their sense of compassion is clearly visible. This is the specialty of his working style, which is reflected in page after page of his book. It is like an institutional encyclopedia, which provides exemplary accounts for politicians and officials.
While keeping his point, Dr. Dinesh Chandra Singh, IAS, the author of "Karma-Nirnay" said that while "Kaal-Prerna" summarizes the experiences gained from the opportunities given by Honorable Chief Minister Yogi Adityanath to work in the Covid period- Whereas "Karma-Nirnay" is a heartwarming story of success achieved by Honorable Prime Minister Narendra Modi in the implementation of public welfare schemes following the guidelines given by Honorable Chief Minister Yogi Adityanath ji (no poor should be deprived of assistance), Which is important for all of us to know so that we can collectively take a collective pledge to continue serving the victims and keep doing its social audit. He said that we do not write the book for any monetary gain, but for the empowerment of democracy, I will continue doing this creative work as long as I live.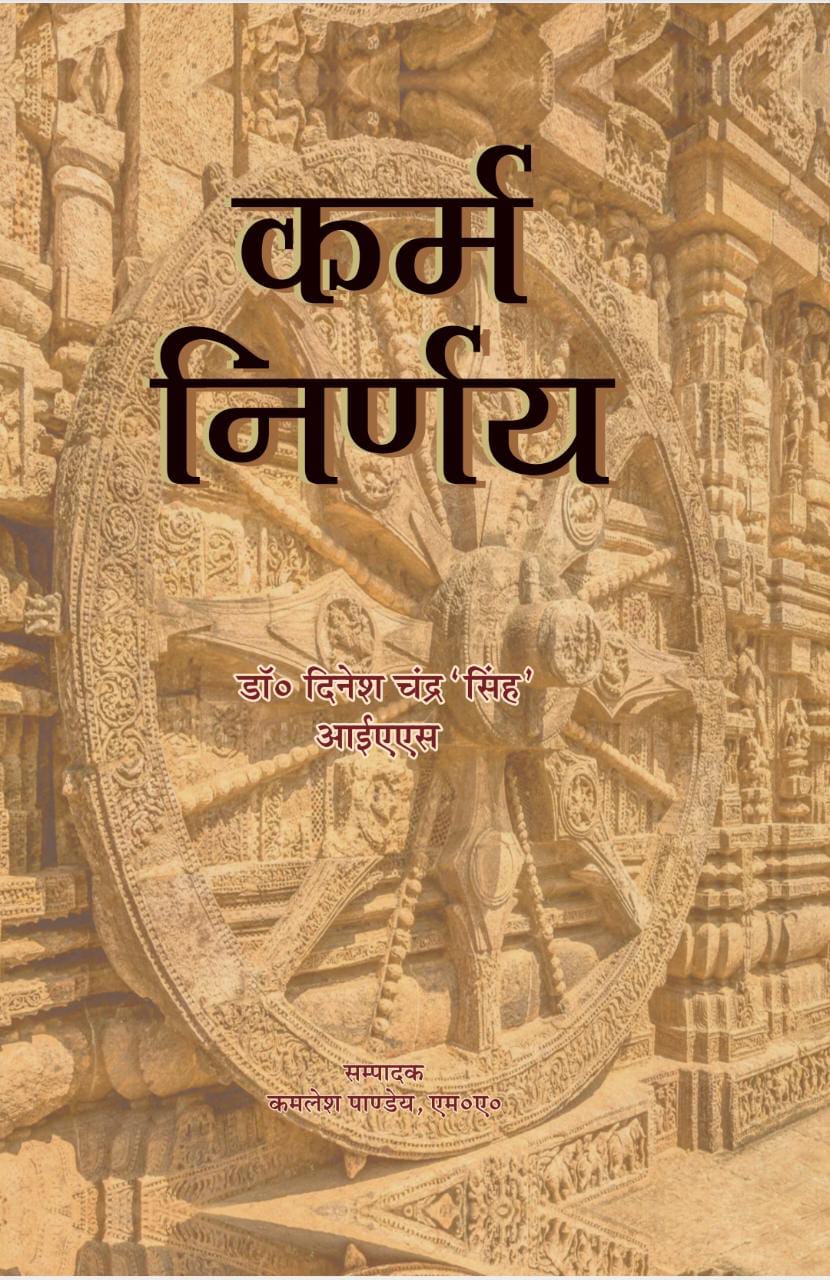 On the other hand, Padma Shri Bharat Bhushan Ji Maharaj said that Dr. Dinesh Chandra Singh Ji left an indelible mark wherever he stayed as an administrative officer. Duties, simplicity, spontaneity, universal availability are their specialties. Due to this, everyone from public representatives to literary scholars became convinced of him. These are those administrative officers who openly show their secrets. His Excellency the Governor is its patron, in whom the images of Abdul Kalam, Vivekananda and Shri Krishna are enshrined. Who is the pioneer of coexistence and a living representative of Indian culture. Like PM, CM and ministers, they present their report card before the public in the form of a book, which is a big thing.
At the same time, Shri Ravindrapuri Ji Maharaj said that karma starts from the time of conception and continues till the time of death in some form or the other. He has given expression to physical, mental and verbal actions in the body of the book. He has given the form of books to his life experiences obtained from five physical bodies, he has poured his administrative experience in it, which is an important thing. This is a worthy effort. He has received the blessings of Maa Saraswati. May it remain forever, this is our best wish. His Karmabhoomi which started from Haridwar, continues till date, this is a big thing.
On the other hand, Minister of State for Uttar Pradesh Brajesh Singh said that Dr. Dinesh Chandra Singh has spent the golden period of his life in writing and the initiative taken by him to record his good deeds is commendable. These are the Nagina of Nagina, who are encouraging the ability to make decisions for doing deeds. Surely God's grace must be working behind this as well. The country and society will benefit from this.
On the other hand, Praveen Sadana, Former National President, Indian Industries Association, Matlub Ahmed, Dehradun, Mohit Gulati, Himanshu Arora, Chirag Singh, Punjab Hotel, Saharanpur, Sanjay Midda, Rakesh Singh Rana, Ajay Saini, Gurdwara Manager among progressive farmers. Committee Saharanpur's Sardar Tejpal Singh, Dr. Mohan Singh, Dr. Kalam, Dr. Rahul Singh, Dr. Kalam Ahmed, Ravish Ranjan Shukla, Anurag Chadda, Naresh Tomar, Rakesh Pundir, Arun ji, Manoj Singh, Rakesh Singh Bitta, Rajesh Saini, Dinesh Singh , Amit Tewatia, Manoj ji, Navneet Agarwal, Arvind Trivedi, Devendra Singh etc. dignitaries were also present in the auditorium.
Source: dainikbhaskarup.com
: Language Inputs
This post is sourced from newspapers, magazines and third-party websites. For more information please check NewsDay Express Disclaimer.