Highlights
Jyotiraditya Scindia surprised everyone by visiting the tomb of Rani Laxmibai
Scindia surprised everyone by bowing to the queen of Jhansi
Will the stigma of supporting the British leave the chase?
BJP and Congress have been accusing the Scindia family of betrayal
Gwalior
Jyotiraditya Scindia News has been continuously surprising people with his decisions. On Sunday, he did a similar thing, which has changed the history of the Scindia royal family. At the same time, the opponents have been forced to think. Jyotiraditya Scindia has given a big message by visiting the tomb of Rani Laxmibai in Gwalior.
Till March 2020, BJP people had been accusing Jyotiraditya Scindia's family of betrayal. In the same year, Scindia switched sides and joined the BJP. After Scindia joined BJP, Congress leaders started addressing him as a traitor. MLA Jitu Patwari had also opened the chapter of Rani Laxmibai at that time. Scindia was stunned by this.
By visiting Laxmibai's tomb, Scindia washed away the decades-old stain in one stroke, will the edge of Congress's opposition be blunt?
The Scindia family has been accused of treason in the revolt of 1857. His family has been accused that the Gwalior royal family had supported the British. Jyotiraditya Scindia had publicly clarified on this a few months back in Indore. But he was not able to wash away the stigma on the family. A camp in the BJP has been openly saying this. Now Congress has been saying.

MP News: After a long wait, the government made appointments in the corporations, more than half a dozen Scindia-supporters got the place
everyone stopped talking
It is said that till date no person from Gwalior royal family has visited the tomb of Rani Laxmibai. This happened for the first time after 1857, when Jyotiraditya Scindia reached the tomb of Rani Laxmibai. After reaching there, he paid tribute and bowed to him. People shut their mouths after the picture and video surfaced. Simultaneously, Scindia changed the history of the royal family.

The music of shehnai and flute can be heard in air travel! know what happened
Will leave the stigma of supporting the British
Maharaja Scindia of Gwalior is said to have refused help to the Rani of Jhansi during the 1857 rebellion. When Jyotiraditya Scindia and his father late Madhavrao Scindia were in Congress, when BJP surrounded Jhansi ki Rani for betrayal. Jaibhan Singh Pawaiya, the former president of Bajrang Dal, always used to attack the Scindia family for this. When Scindia came to BJP, Congress became an attacker about it. Political experts are saying that Scindia has taken this step to get rid of the same stigma.
Scindia's Jaivilas Palace: 400 rooms, 560 kg of gold and majestic splendor, everything is in this palace
But they also say that it is not that easy. At the same time, Jyotiraditya Scindia is constantly trying to change his image after joining BJP. Political analysts believe that Scindia has changed his entire image after joining the BJP. While in Congress, he had the image of Maharaj. BJP is trying to change that too. He now goes to the homes of small workers.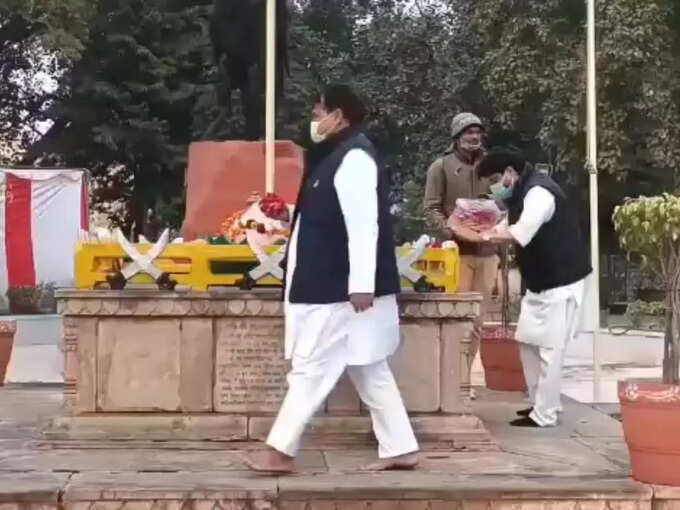 .