Amid increasing cases of Nipah virus in Kozhikode, Kerala, an order has been issued to keep all schools and colleges closed for two days on Thursday, September 14. Two people have died here due to Nipah virus. A 9 year old child is in ICU.
According to the information, Nipah virus has also been confirmed in a health worker. With this, so far five cases of Nipah have been reported in Kerala. On Thursday, the Central Health team reached Kozhikode, Kerala. This team will hold a meeting with the district administration regarding Nipah virus. On Wednesday, a team from Kozhikode Medical College collected samples of betel nut and guava from Maruthonkara village to test for Nipah virus.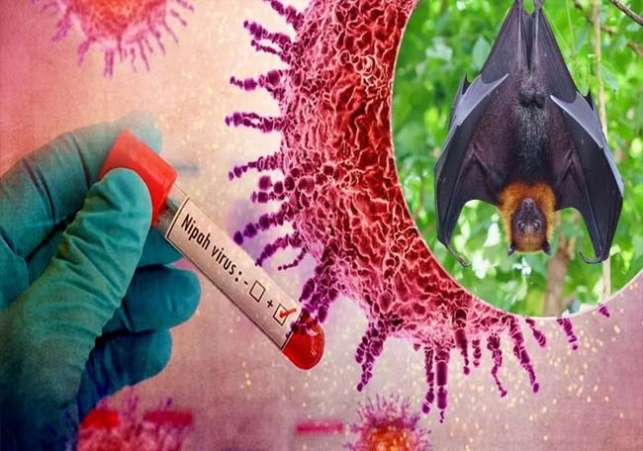 Earlier, Kerala Health Minister Veena George said that the virus confirmed in the state is the Bangladeshi variant. It spreads from humans to humans. The death rate from this virus is high, but it is less contagious.
Nipah virus alert in Karnataka after Kerala
An alert has also been issued in Dakshina Kannada district of Karnataka. The medical department has directed to test the fruits coming from Kerala in the district. Also asked to make checkposts on the borders to check vehicles. In Mangaluru, patients suspected of having brain fever have been asked to be kept under observation.
7 containment zones created in Kozhikode
The first death due to Nipah virus in Kozhikode occurred on August 30 and the second death occurred on September 11. Four districts of Kerala – Kozhikode, Kannur, Wayanad and Malappuram are on alert regarding the virus. Wearing masks has been made mandatory in hospitals.
7 gram panchayats here have been made containment zones. Only shops selling medicines and essential goods are allowed to open from 7 am to 5 pm.
Former Health Minister said – the situation is not as bad as 2018
Former Kerala Health Minister K Shailaja said that there is no need to panic about Nipah virus. The situation in Kozhikode is not as bad as it was in 2018. At that time this virus was new to us and we had no experience in dealing with it. Now we have the necessary facilities to stop this. In 2018, 17 people died due to Nipah virus in Kozhikode and Malappuram districts. In 2019, a case of Nipah virus was reported in Kochi. At the same time, in 2021 also a case of this was found in Kozhikode.
Danger of virus spreading in fruits through bat urine or saliva
According to WHO, Nipah virus spreads to humans from animals like bats and pigs. Experts believe that this virus can also spread from one infected person to another. In some old cases in Bangladesh and India, it has been seen that this virus also spreads to fruits through the urine or saliva of bats. People have become infected by consuming these fruits or products made from them (like juice or toddy).
Symptoms in infected patients
According to WHO, patients infected with Nipah virus show symptoms of viral fever along with headache, vomiting, difficulty in breathing and dizziness. The death rate due to Nipah virus is very high. Till now there is no treatment or vaccine (injection) available. If symptoms persist for 1-2 weeks, it is advisable to contact a doctor.
The first case of Nipah was found in Malaysia 25 years ago.
According to WHO (World Health Organization), Nipah virus was first detected in Sungai Nipah village, Malaysia in 1998. It was named Nipah after the name of this village. Then the pig rearing farmers were found infected with this virus. According to the report of the Malaysia case, cases of infection spread through pets like dogs, cats, goats, horses were also reported. After Malaysia, this virus was also detected in Singapore in the same year. After this, in 2001, patients infected with this virus were also found in Bangladesh. After some time, Nipah virus patients started being found around the Indian border with Bangladesh also.
Alert in 4 districts regarding Nipah virus in Kerala: 4 cases so far in the state, 2 deaths
After the death of two people due to Nipah virus in Kozhikode, Kerala, an alert has been issued in 3 more districts Kannur, Wayanad and Malappuram. 7 gram panchayats here have been made containment zones. Wearing masks has been made mandatory in containment zone areas and hospitals. At the same time, an alert has also been issued in Dakshina Kannada district of Karnataka.
The accused killed the doctor when he came to Kerala for medical treatment.
In Kollam, Kerala, the accused killed the doctor who was brought for medical treatment. Kottarakkara police had taken accused Sandeep to a taluk hospital to get his leg injury dressed. Then he stabbed house surgeon Dr. Vandana Das with scissors and a knife lying on the table.
Source: dainikbhaskarup.com
: Language Inputs
This post is sourced from newspapers, magazines and third-party websites. For more information please check NewsDay Express Disclaimer.