Highlights
Rahul Gandhi targets Modi on the pretext of Jaipur's dearness rally
In the rally, Rahul Gandhi also explained the meaning of Hindu and Hindutva.
India is a country of Hindus, not of Hindutvavadis: Rahul Gandhi
A Hindu is one who is not afraid of anyone, who is embraced by everyone – Rahul
Jaipur
The rally was about inflation, but Rahul Gandhi spoke a lot about Hinduism and Hindutva and spoke fiercely. By the way, this pitch is usually of BJP leaders. Congress elders avoid these two words (Hindu and Hindutva). Rahul Gandhi also explained the difference between Gandhi and Godse regarding Hindutva and Hindutva. While telling all this, PM Modi was on his target.
Hindu and Hindutva dominated the Dearness Hatao rally
During the Dearness Hatao rally in Jaipur, Rahul told that India is a country of Hindus and not of Hindutvawadis. He said that I am not a Hindutvawadi, I am a Hindu. If there is inflation and pain in the country, then Hindutvawadis have done this work. Hindutvaists want power in any condition. Describing Hindutva and Hindutva as two different words, Rahul said that just as two souls cannot have one soul, in the same way two words cannot have the same meaning. Because every word has a different meaning. He said that a Hindu is one who is not afraid of anyone, who is embraced by everyone. The Hindutvaists have to be taken back from the country, the rule of the Hindus has to be brought.
Congress Rally In Jaipur: PM shares stage with killers of our sons: Priyanka Gandhi
Rahul also explained the difference between Godse and Gandhi
Rahul Gandhi said that Mahatma Gandhi Hindu, Godse Hindutvawadi, this is the difference. Whatever happens, a Hindu seeks the truth. A Hindu spends his whole life in search of truth. Mahatma Gandhi wrote the biography 'My Experiment with Truth' i.e. he spent his whole life in search of truth. But in the end a Hindutvawadi shot three bullets in his chest. Hindutva spends his whole life in search of power. It has nothing to do with the truth. He will kill, burn, cut someone for power. His path is not satyagraha but satyagraha. Hindu faces his fear. He doesn't back down an inch. Hindutva bows down to fear.


Dearness Hatao Maharally: Sachin Pilot said – countdown of Narendra Modi government has started from today
Hindu and Hindutva started with Khurshid's book
Earlier on 12 November 2021, Rahul Gandhi had told the difference between Hindutva and Hindutva. The occasion was the controversy over Salman Khurshid's book. In his book 'Sunrise over Ayodhya', Salman Khurshid created a furore by describing Hindutva as terrorist organization Boko Haram and Islamic State. Then Rahul Gandhi had said that Hinduism and Hindutva are two different things. The Congress party does the politics of love and nationalism, but this ideology has been dominated by the hate-mindedness of the RSS-BJP. During this, Rahul has not taken the name of Salman Khurshid and his book, but the way he has said about Hindu religion and Hindutva was going to support Khurshid's thinking.


Satish Poonia's jibe on Dearness Hatao Maharally – Don't get discouraged by entertaining the people of Rajasthan, Rahul Gandhi
How are Hindutvaists responsible for inflation?
Congress interim president Sonia Gandhi had reached Jaipur to attend the Congress's mega rally against inflation. A large number of people also came to the Vidyanagar Stadium in Jaipur. Through this rally of Congress, Rahul Gandhi was projected as the top leader of the party. Priyanka Gandhi also reached Jaipur by road from Delhi. During this, Rahul Gandhi said that today there is inflation, misery, pain in this country, then only Hindutvawadis are responsible for it. Since 2014, the rule of Hindutvawadis is not of Hindus. We have to once again throw out the Hindutvawadis and bring the rule of Hindus.
Congress's dearness removal rally: Meaning of LPG cylinder on camel cart, see VIDEO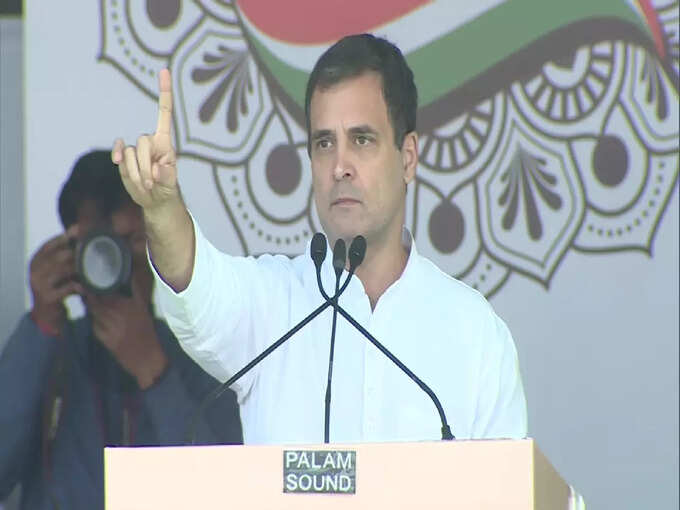 .