Due to the corona pandemic, crores of people in India lost their jobs, due to which they had to face many economic and mental challenges. But, some people did not lose heart and, fighting with the times, decided to do something different. Something similar is the story of Kumar Abhishek. Abhishek is originally from Bhagalpur, Bihar. He had been serving as a German translator at Mercedes-Benz in Bangalore for the past six years, but lost his job four months ago. But, Abhishek had already realized the danger and started his food business shortly after the corona pandemic started. Through this food business, today he is not only earning lakhs of rupees every month, but has also given a source of income to five people.
how did it start
The Better India In a conversation with Abhishek, "I always wanted to start something of my own. With this motive, about a year and a half ago I started my food business in Bangalore with Rs 3 lakhs. I did job and business together for some time, but four months ago the project of the company ended and I lost my full time job. But it didn't make much difference to me and I devoted my entire attention to furthering my business."
Abhishek has named his food business 'Sai Chaat Center'. While he is running a chaat center in Bangalore, he started 'Sai Tea Point' in Kolkata.
He earns about 7000 to 9000 rupees every day from his food business. He says, "It is expected that in January the impact of the corona epidemic will subside and gradually employees will start coming to the office. In Bangalore, we are running a shop in a place where at least 12000 employees work. As soon as the situation becomes normal regarding Corona, we will not have any problem with the customer. At present we earn Rs 4000-5000 per day. If the situation returns to normal, there will be an earning of more than Rs 10000-12000 per day.
what is special
Abhishek explains, "A lot of food items like chaat, samosas, rolls, parathas, momos are available in our Bangalore shop. At the same time, things like tea-coffee, Maggi, bread omelette, pakodas are available in Kolkata.
They have samosa for Rs 15, chaat for Rs 30, paratha for Rs 30-40. In addition, he also takes full care of cleanliness.
Also read – 'JhaJi' – Sister-in-law duo did amazing together, made Mithila's pickle famous across the country
He says, "Most places in Bangalore serve only South Indian breakfast, but we have both South Indian and North Indian. Samosa is the best seller in our shop. The reason for this is that in all other places only chutney is served with samosas. But we break the samosas, add green and sweet chutneys, sev and onions too, which enhances its taste."
He adds, "We feed poor school children, labourers, differently-abled and army personnel at half the cost. In this way anyone can easily eat food here. Apart from this, water is always free for everyone here i.e. there is no need to buy goods like other shops to get water to the needy."
how do work
Abhishek explains, "We also offer home delivery facility to the customers. For this they can call us directly. Our goods also reach customers through Swiggy and Zomato. Apart from this, we also go to the customers' place to prepare food on order.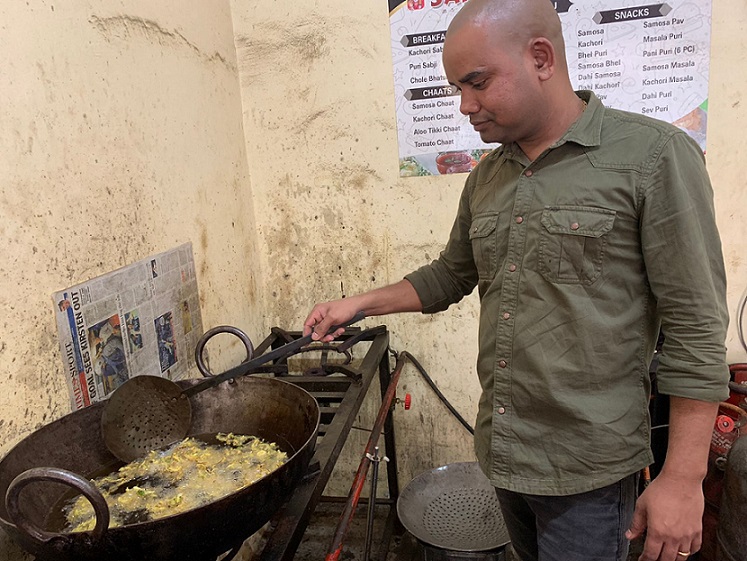 He says that he uses a plate made of betel leaves instead of a plate made of thermocol for food. Due to which there is no harm to the environment.
give respect to every work
33-year-old Abhishek says, "My father was a storekeeper in ITC and mother used to take care of the household chores. We are four siblings. I attended a private school till the second grade, but due to poor financial conditions at home, I had to drop out. Later I completed my studies from the government school."
He adds, "I was good at studies from the beginning and in 2008 I got admission in EFL University, Hyderabad. After completing my studies from here in 2011, I started working in MSR IT Company in Kolkata. Worked here on the IT help desk for about one and a half years.
Recalling his old days, Abhishek says, "I came to Kolkata with just Rs 500 and two pairs of clothes. After working in several IT companies, in 2013 I got selected as a German teacher in Kendriya Vidyalaya, Kolkata. Where I worked for two years.
But, after this the post of German teachers in Kendriya Vidyalayas was abolished by the government. Abhishek's life came to a standstill due to this incident and he could not see any way what to do next.
He says, "After I lost my job, I did not want to return home empty handed. Then I started working as an assistant in the fish market. I used to work all day and prepare for the job at night. Then, after a month I got selected in Mercedes Benz. Here I worked for about 6 years.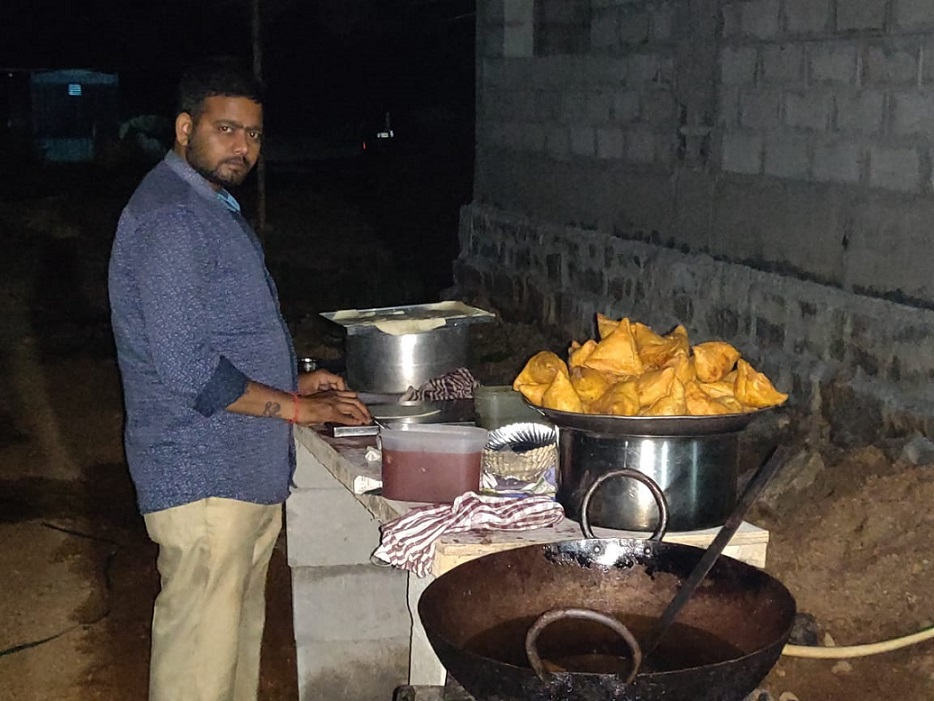 He says, "I have worked in the fish market to the corporate sector and am currently running a food shop. In my view, no work is small or big. I believe in moving ahead with the times."
Food business closed for three months due to epidemic
Abhishek explains, "Due to the second wave of corona pandemic, his food business was badly affected for three months. During this his daily earning was not even Rs 100-200.
He explains, "The food business of chaat-samosas runs only after four o'clock in the evening. But during this time we could run our shop only from 7 o'clock to 4 o'clock in the day. Because of this we were facing a lot of problems. But, I wanted to keep my colleagues out of trouble and kept paying them salary from my personal savings. In these difficult times, I got my wife's full support and she took care of the house very well. He is an HR manager in a company."
What is future planning
Abhishek says, "My intention is to move forward in the food business itself. We are soon going to set up our canteen in a Yogashram at Kanakapura, about 100 kms from Bangalore. This work will start by March. Apart from this, we are also going to open our canteen in Bihar's Purnea University.
He concludes by saying, "I come from a place where there is a different struggle for everything. I want to achieve such a height with my hard work that I can give work to more and more people and make their life better."
You can contact Abhishek on 9901419767.
Editing – G N Jha
Also read this story based on Food Business – When I lost my job I started 'Bengali Love Cafe' with my mother, earning two lakhs per month
If you've been inspired by this story, or want to share any of your experiences with us, write to us at hindi@thebetterindia.com, or on Facebook and Twitter. Twitter Contact on