Today the trend of bonsai trees has increased a lot. People consider Bonsai plants as good luck. Now, on occasions like wedding, birthday or anniversary, Bonsai plant is also being given as a gift. Due to this, employment opportunities have also been created in this sector.
Today we are going to tell you the story of one such person, whose making Bonsai is not only a passion, but is also earning a turnover of 30 to 35 lakh rupees every year from this work.
This is the story of Soumik Das living in Delhi. Soumik started his own company named 'Grow Green Bonsai' in 2019. Along with this, he works as a proprietor in a barcode manufacturing firm based in Vaishali.
Today he not only has more than 2000 plants of Bonsai and Penjing, but he has also trained more than 300 people to make Bonsai.
how did you get inspiration
52-year-old Soumik says, "Although I had a lot of love for gardening from the beginning. There were many trees and plants in my house. But in the early 1990s, there was an exhibition at the Talkatora Stadium in Delhi. I went there for a walk. I was in 12th at that time. We saw bonsai trees for the first time in the exhibition. Seeing those trees, I was very impressed and my curiosity started growing."
He says, "I could not stop myself seeing the Bonsai trees and started touching them. Then an elderly gardener stopped me and angrily told me how expensive they are.
Thereafter, over the course of the next 10 years, Soumik toured many parts of the country and, as a hobby, began to make different types of bonsai trees at home. He says that before turning it into a business, he had about 200 Bonsai trees at his house.
He says, "Bonsai making is an art. It takes years to grow a tree and you need a lot of patience in the process. This is such an art, which makes you mentally strong. If you take proper care of plants, it has no average lifespan like humans. Some plants can live for 500 years, some for thousands of years.
He explains, "Planting bonsai plants on such a large scale on our terrace, we get a lot of relief even in the scorching heat of Delhi and our house remains at least 10 degrees cooler than outside. Due to which we need less AC. This not only saves electricity, but also benefits the environment."
Member of Indian Bonsai Association
Soumik says that he needed better training to grow bonsai trees at a professional level and for this he got membership of the Indian Bonsai Association in 2010.
He explains, "After this, I met many horticulturists in NCR and metro cities and started showcasing my creations at horticulture events across the country. Then, friends and family took it and inspired me to start my own business."
Then, in 2019, Soumik started his company 'Grow Green Bonsai' in Noida. Under this, he sells succulent plants, cactus and other exotic plants. But their motive is only to make bonsai popular among enthusiasts who are not familiar with this magnificent art.
His farm is spread over 4,000 square yards, where he takes care of more than 30 types of Bonsai trees like Deodar, Banyan, Microphylla. They also provide home delivery facility to the customers. Their customers are all over the country. He has also hired four gardeners to handle his gardening work.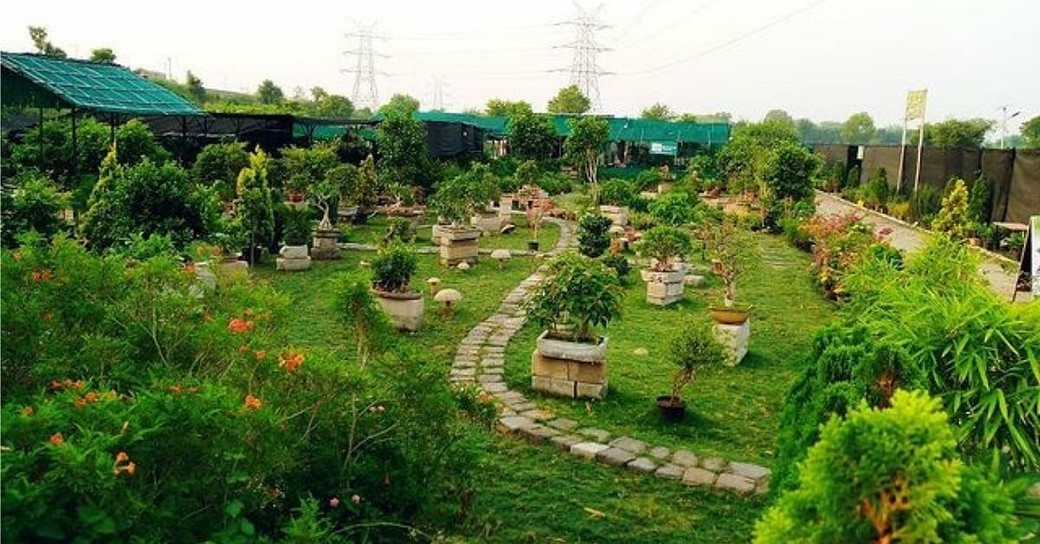 Today Soumik has a special place in the gardening community. He is also the ambassador of South Asia Bonsai Association.
what is expertise
He says, "Bonsai i.e. the art of planting trees in pots is a gift from Japan. Then, to make the same art more beautiful, Penjing technology was introduced in China. In this technique Bonsai trees are planted in a tray with natural scenery like mountains, river, stones, grass. This means that the natural scenery you are seeing in a big way is a small version of Penjing. This is our biggest expertise."
Soumik claims that he introduced the country to the art of penjing. In this, hydroponics technology is used for plants. In addition to being freestanding, these structures can be mounted on the wall.
what is range
Soumik says that he has plants ranging from Rs 700 to Rs 2.5 lakh. At present, his annual turnover is between 30 to 35 lakh rupees. However, Soumik says it is not just about money. Teaching gardening to others is a matter of greater pride for them.
For the past six years, he has also been displaying his plants at 'The Garden of Five Senses' in Saket, Delhi. In this work, he gets full help from the Delhi Tourism Department. In 2019, he also participated in four tutorial series on penjing art started on DD Kisan's YouTube channel.
how to take care of plants
Soumik explains that he has plants of different ages. For example, there are more than 600 plants between two and seven years old, so the number of plants of 10 to 15 years is about 150. In addition, they have close to 100 plants that are more than 20 years old.
He says, "The biggest problem for us in taking care of the plants – the weather of Delhi! The weather here is not as stable as in cities like Pune or Bangalore. Due to the lack of moisture in the air, it is very difficult to take care of the plants."
He further adds, "Delhi's temperature reaches above 47 degrees in summer. In such a situation, our aim is only that we save the plants in some way. That's why we use green net. At the same time, to protect the plants from frost in winter, polyhouse has to be used, so that the plants can be kept in 20-25 degree temperature.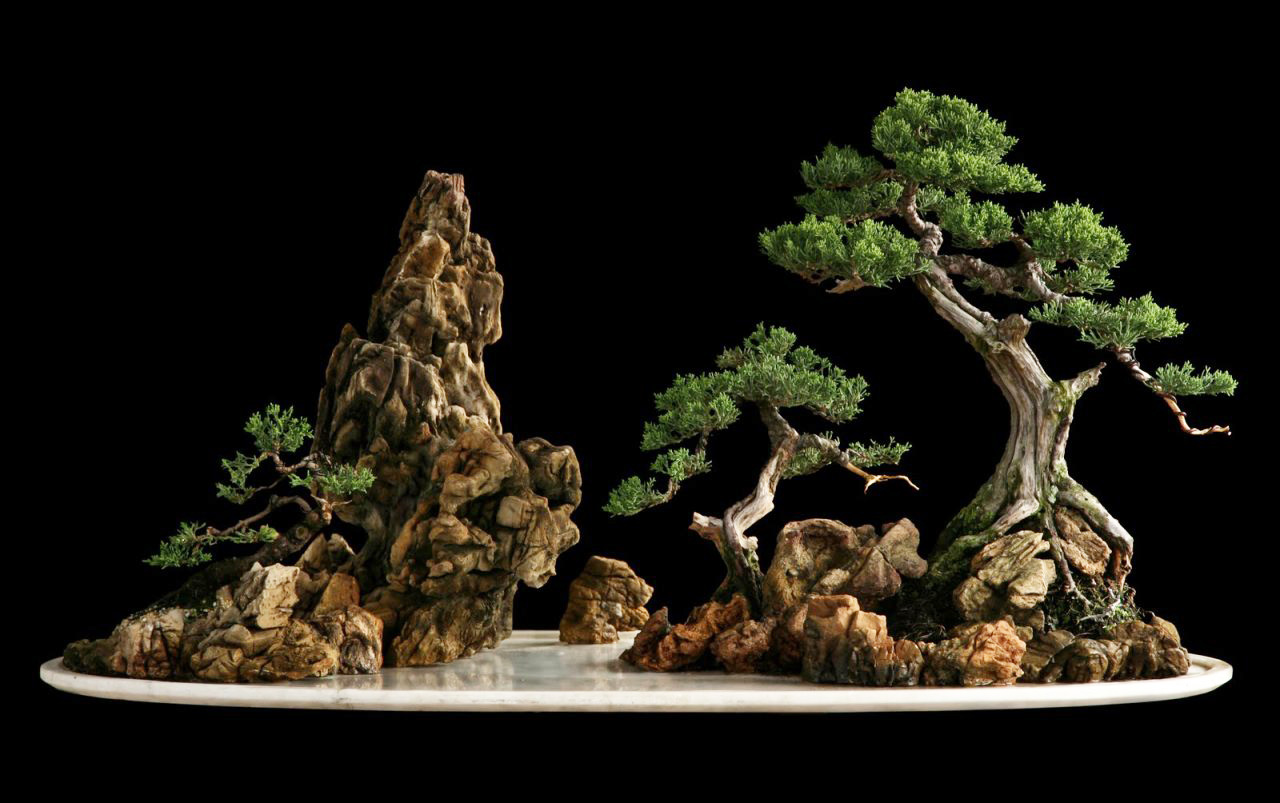 Soumik does not use any chemical to fertilize his plants.
He says, "We use organic manure for our plants. There are many cowsheds around us. We bring cow dung for manure from there. Apart from this, kitchen waste, bone meal, neem cake are also used as manure.
give training to people
Soumik says that today the scope of pollution is increasing rapidly in all the major cities of the country. In such a situation, terrace gardening is a better way to control the climate of the city and is at the top of bonsai. That's why he wants to connect as many people as possible.
He says, "I train more than 300 people at my farm. Apart from Delhi, people from many cities like Ludhiana, Chandigarh, Agra come to me to take training in Bonsai.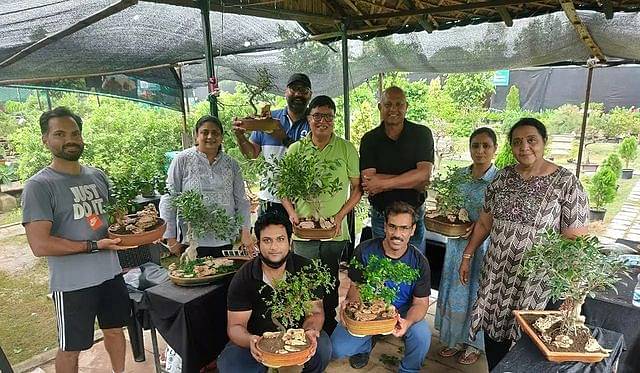 He says, "I have a two-day workshop here. During this, arrangements are made for people's food and water and they are provided with everything like ceramic pot, aluminum wire apart from the plants used in the training.
According to Soumik, if he has kept a fee of 2000 rupees for the training, then the students are given a sapling of the same price. In this way, he does not take any money to pass on the learning of his experience to others.
He concludes by saying, "My aim is to get more and more people involved in horticulture. It is not only good for the environment, but also a better way to save humanity in the world."
You can contact Soumik here.
Editing – G N Jha
Also read – Leaving life revolving around laptop in the city, camped in the mountain, started Devbhoomi nursery
If you've been inspired by this story, or want to share any of your experiences with us, write to us at hindi@thebetterindia.com, or on Facebook and Twitter. Twitter Contact on