Ram Mishra- I come from the background of Bihar and have completed my higher education from Calcutta University. I have closely observed the changing face of the Indian music industry over the last 25 years. I started off as an executive, and over a span of over two decades, I have held various roles in various music and film companies, such as Business Head at Saregama India Limited, Head of Talent at Zee Live and CEO at Fathom Pictures, etc. . I also got the opportunity to handle the management of many big artists and live shows in my career.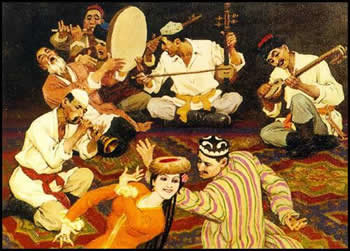 Tell us something about your early days and career, how did Damru start?
This experience made me well aware of the different dimensions of the Indian music industry, its different segments, as well as its shortcomings. When I was starting my career, independent music was becoming very popular in India. Some artists like Daler Mehndi, Mika Singh, Lucky Ali, Lopamudra Mitra, Hariharan etc. have achieved some big success.
It gained popularity not only in the country but also abroad with the music companies, but then Bollywood music and its people-pleasing approach made the path of independent and regional artists difficult. The surprising thing is that there was never any dearth of resources for regional and independent artists, nor for the listeners. This reality inspired me to conceptualize Damru, which is not just a streaming platform but a complete ecosystem for regional and independent music.
What kind of difficulties did you face in starting Damru? How did you make your way?
Ram Mishra:- I have established a strong network in almost every region and land of India, perhaps that is why I did not face much difficulty in building and expanding Damru. Through Damru, we have tried to solve the problems of hundreds of artists of India. We are simplifying their problems at every level – be it mentorship from professional artists, audio and video production, distribution, marketing, royalty collection from across the world. Apart from this, it is available in more than 20 languages ​​and dialects. Additionally, there are multiple playlists of heart-touching songs to suit the listeners' preferences, available in over 20 regional languages ​​including Hindi. Additionally, Damru gives local companies the opportunity to freely select and use the songs of their local artists for their brand marketing and promotion at a very reasonable price.
How do you consider Damru different from other music platforms?
Ram Mishra- We are empowering regional and independent music in India through four specialized segments – Damru Streaming Service, Damru Distribution Service, Damru for Brands and Damru Live. Damru is a singular name dedicated to regional and independent music. Damru has been around for almost 2 years now, and we have over 2.5 lakh licensed tracks currently streaming. Damru is the only music streaming platform that not only connects but also empowers India's original artists and listeners. Our aim is to empower regional language music by connecting music artists and listeners together.
What steps has Damru taken to promote regional music?
Ram Mishra- Damru gives listeners curated playlists based on different genres, languages, dialects, festivals and cultures of India, with a programming process that ensures every artist gets equal opportunity and visibility. We try our best to provide every artiste who joins Damru with every opportunity, so that they can reach the heights of success. Damru is also providing an international platform to regional music.
It is believed that there is going to be a music streaming industry in the coming times, what are the possibilities in the Indian environment?
Ram Mishra- Statistics show that there has been a good growth in legal music streaming in India. According to a research, currently the number of music subscribers in India has crossed the figure of about 4 million, and the music segment as a whole is going to grow at the pace of about 15 percent. Certainly, the expansion of smartphones and internet has a very important role in this, especially in small towns and villages. Increasing digital maturity among people is also an important reason for this.
Where do you see Damru in the coming 5 years?
Ram Mishra- Damru is still in its nascent stage, and it still has a long way to go. We are happy to have the trust of investors like Kumar Vishwas, Jagadguru Nimbarkacharya Shriji Maharaj, Marwari Catalyst etc., and have received good recognition since 2021. Recently we joined hands with English company Horus Music, giving our listeners the benefit of millions of new tracks. We started Damru as a mission to promote regional and independent music, and we are moving forward in this endeavor every day. Damru is for a resource-equipped India whose wishes and preferences were never ignored.
Source: dainikbhaskarup.com
: Language Inputs
This post is sourced from newspapers, magazines and third-party websites. For more information please check NewsDay Express Disclaimer.