Highlights
Sant Kalicharan Maharaj's troubles increased in the disputed statement case
Congress leader Pramod Dubey filed a case against Kalicharan
Case registered in Tikarpara police station of Raipur under non-bailable sections
Kalicharan Maharaj gave a controversial statement in the Parliament of Religions
Raipur
A case has been registered against Sant Kalicharan Maharaj for abusing Mahatma Gandhi in the Parliament of Religions held in Raipur, the capital of Congress-ruled Chhattisgarh. On the complaint of Pramod Dubey against Kalicharan Maharaj, who used abusive words for the Father of the Nation, a case has been registered at Tikrapara police station. An offense has been registered against him under offense number 578/2021 section 505(2), 294 IPC.
Kalicharan Maharaj hails from Maharashtra. He had left for Maharashtra after there was a dispute during the program. Raipur Police can interrogate Baba in this matter. Along with this, Baba will also be arrested. Along with the Congress leader, State President Mohan Markam also reached the police station to register an FIR. A case has been registered against Kalicharan under the non-bailable section. The police officer said that action will be taken as per the rules.
In fact, well-known saints from all over the country had gathered in the two-day Parliament of Religions held in Raipur. It was organized at Ravanabhatha ground. During his address on Sunday, Kalicharan Maharaj has given a controversial statement. After coming on the stage, Kalicharan Maharaj said that he will rule this country, who will talk about Hindu interest. The controversial saint said that the aim of Islam is to capture our nation through politics. More recently they occupied two countries.

In the Parliament of Religions, Sant Kalicharan said abusive words about Mahatma Gandhi, created a ruckus, demanded to register a case
After this, Kalicharan called Mahatma Gandhi abusive about the partition of Pakistan. Also praised the killer Nathuram Godse. After this, Kalicharan kept on making more inflammatory statements. Kalicharan was saying that the police is not with us. She does not support Hindus. So vote.

Priyanka Gandhi condemns 'hate speech' in 'Dharma Sansad', demands strict action
The protest against this statement of Kalicharan started in the program itself. Mahant Ram Sundardas objected to Kalicharan's statement. At the same time, he went on stage and announced his exit from the program. Along with this, he has raised questions on the organizers. He has questioned Kalicharan whether Mahatma Gandhi was such, about whom such absurd things have been said. He has demanded to register a case against Kalicharan. Mahant Ramsundar Das of Dudhadhari Math said that this cannot be our Sanatan Dharma, I distance myself from this Dharma Sansad.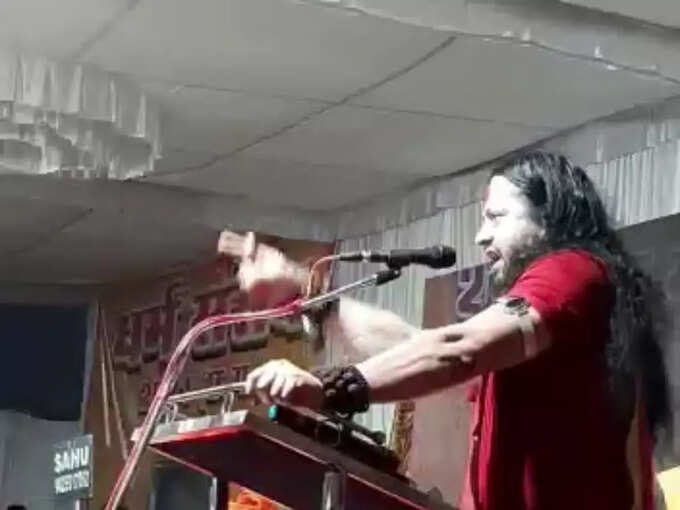 .