Bhaskar News Service
Every year 28,000 new cases of brain hemorrhage occur in our country, and 24,000 patients die, people are made aware of this disease on World Brain Tumor Day.,
Noida, June was World Brain Tumor Day. You must be wondering, what does this mean, 500 new cases of brain tumors are registered every day all over the world. Every year 28,000 new cases come in our country, and 24,000 patients die. On World Brain Tumor Day, people are made aware about this disease, so that early diagnosis is made and right treatment is done at the right time, by this we can reduce the death rate of brain tumor, this year's theme is *Protect Yourself Keep away from stress* is the right thing, (Dr. Piyusha Kulshreshtha Senior Consultant and Head of Department of Radiation Oncology Metro Hospital Preet Vihar and Noida) Stress should not be given to anyone and should not be taken from anyone, brain tumor in both children and adults Why this happens is also not certain, only one percent of the reasons are genetic, the main symptoms of brain tumors are usually headache, vomiting, and nausea.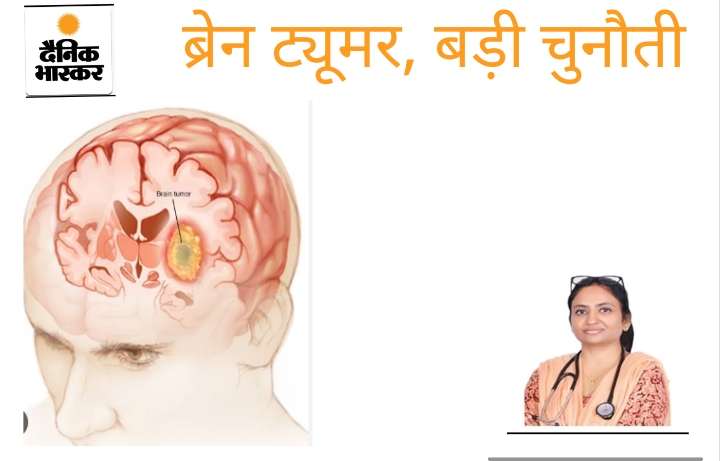 Some people suffer paralysis in any part of the body – hands, legs or half of the body, seeing double vision with the eyes, sudden blurred vision, reading of seizures etc. are symptoms. There is a change in personality in a patient. He either becomes very irritable, or memory decreases, or the patient starts talking about the past, it is not necessary, all these symptoms are found only in brain tumor patients and these symptoms can occur in different diseases, but These symptoms should not be ignored, MRI brain with contract should be done immediately after showing them to a neurologist. MRI brain with contrast is the only test that can definitely tell about a brain tumor. Once the diagnosis is made, surgery or biopsy should be performed as per the physician's advice, the biopsy reveals the grade and histology of the tumor, the type of tumor and whether further radiotherapy or chemotherapy is needed. High grade glioma requires a combination of surgery, radiotherapy and chemotherapy. Timely treatment can save the patient's life to a great extent. There are some brain tumors in children which grow during two-three years and the symptoms also come very slowly, these are low grade tumors, if there is a change in the personality of the children, like the child is becoming slow, If there is no interest in studies and sports also, then the doctor must be seen once. It can also be depression, but the symptoms should not be ignored. Last year the theme of World Cancer Day was
TOGETHER WE ARE STRONGER
It is absolutely true, if the patient's family members and the society support the patient in every way, by showing sympathy, help them to return to their old world after treatment, then the patient's self-confidence increases, he is able to learn many things again. There is no difficulty. Physiotherapy, occupational therapy, and speech therapy also have a role to play in this. In the end, I would say that do not ignore such symptoms, instead of wandering here and there, contact a neurologist directly and proceed according to his advice.
Source: dainikbhaskarup.com
: Language Inputs
This post is sourced from newspapers, magazines and third-party websites. For more information please check NewsDay Express Disclaimer.