New Delhi. Today earthquake tremors were felt in Delhi-NCR, Uttarakhand, Uttar Pradesh, Haryana, Rajasthan and some parts of Madhya Pradesh at 2.53 pm on Tuesday. Its intensity on the Richter scale was 4.6. Its center was in Bajhang district of Nepal. It is being told that earthquake occurred twice in Nepal. The first one at 2.25 pm, whose intensity was 4.6. The second shock occurred at 2.53 pm whose intensity was 6.2. Tremors were also felt in Uttar Pradesh. Its intensity was measured at 5.5.
Earthquake tremors were felt in Lucknow, Kanpur, Agra, Noida, Meerut, Moradabad, Ghaziabad, Ayodhya, Aligarh, Hapur, Amroha of UP. Tremors also occurred in Gwalior, Madhya Pradesh. Three-four tremors were felt in Jaipur, Alwar, Rajasthan in about 6 to 7 seconds.
Earthquake hits Haryana for the second time in a day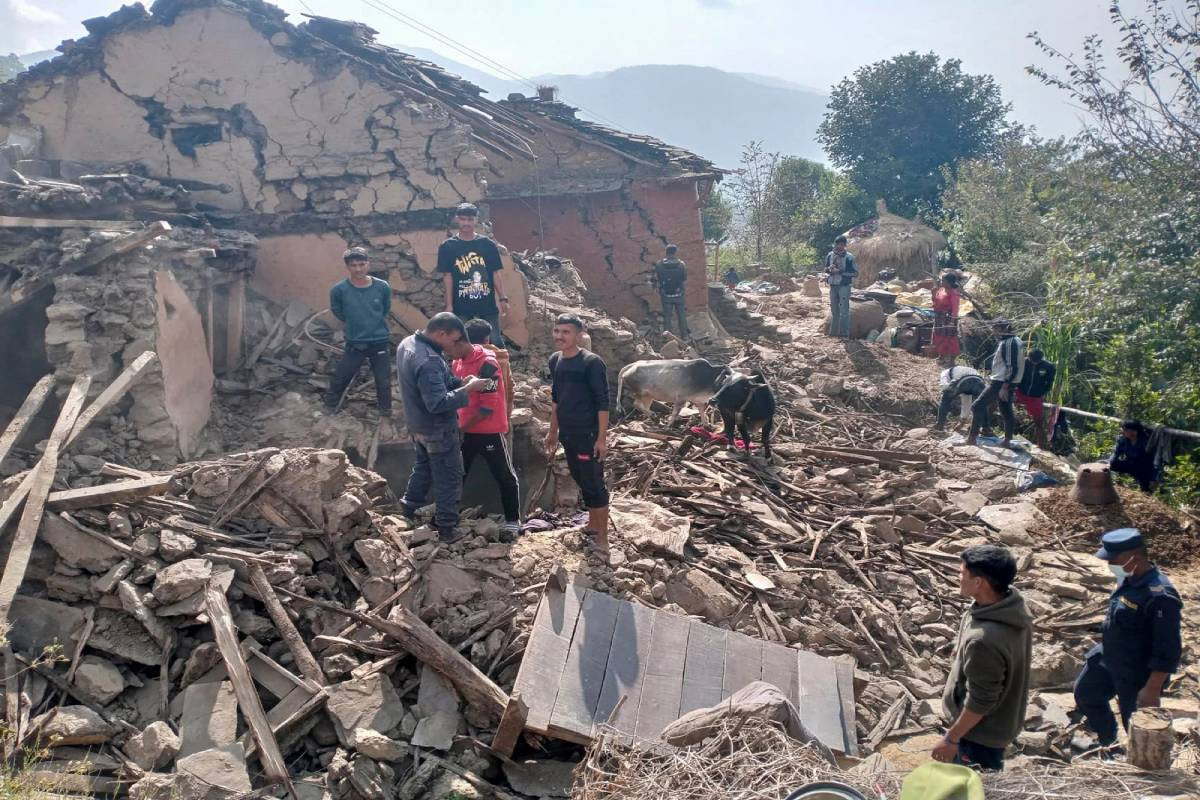 Earthquake occurred in Haryana for the second time in a day on Tuesday. Tremors were felt in Panipat, Rohtak, Jind, Rewari and Chandigarh at 2:50 pm. This created chaos. People came out of their homes. Earlier this morning an earthquake of 2.7 magnitude was recorded in Sonipat. According to the National Center for Seismology, the earthquake occurred at 11.06 seconds on Tuesday morning. The epicenter of the earthquake is said to be Sonipat. Movement was recorded 8 kilometers below the earth.
Now know why earthquake occurs?
Our earth's surface is mainly made up of 7 big and many small tectonic plates. These plates keep floating continuously and sometimes collide with each other. Many times, due to collision, the corners of the plates bend and when there is too much pressure, these plates start breaking. In such a situation, the energy released from below finds a way out and after this disturbance an earthquake occurs.
8.30 lakh people died in the earthquake that occurred in China 467 years ago.
The most dangerous earthquake ever in terms of intensity occurred in Chile on May 22, 1960. Its intensity was 9.5 on the Richter scale. The tsunami caused by this caused terrible devastation in many countries including Southern Chile, Hawaiian Islands, Japan, Philippines, Eastern New Zealand, South-East Australia. 1655 people died in this, while 3000 people were injured. The most deadly earthquake occurred in China in 1556, in which 8.30 lakh people died.
Now we know where the land slipped due to the earthquake
How did Turkey slip 10 feet?
Earlier this year there was a devastating earthquake in Turkey. Thousands of people lost their lives in this. This earthquake of 7.8 magnitude had shifted the land of Turkey by 10 feet i.e. about 3 meters. This claim was made by Italian seismologist Dr. Carlo Dogliani. The world is situated on large tectonic plates. Beneath these plates is fluid lava. These plates keep floating continuously and sometimes collide with each other.
Most of Turkey lies on the Anatolian tectonic plate. This plate is stuck between the Euroasian, African and Arabian plates. When the African and Arabian plates shift, Turkey gets stuck like a sandwich. Due to this, energy is released from inside the earth and earthquakes occur. The earthquake that hit Turkey on Monday occurred on the North Anatolian Fault Line.
Earth slipped due to earthquake in Japan in 2011
On March 11, 2011, Japan was hit by the most powerful earthquake ever, a magnitude 9.1 earthquake. This powerful earthquake not only took the lives of people, but also shifted the earth's axis by 4 to 10 inches. Besides, the daily rotation speed of the Earth also increased.
At that time, USGS seismologist Paul Earle had said that this earthquake had shifted Japan's largest island Honshu about 8 feet east from its place. During this period, there were more than 160 earthquakes in the first 24 hours. Of these, 141 had intensity 5 or more. This earthquake and tsunami in Japan had killed more than 15 thousand people.
The effect of this Ring of Fire can be seen from New Zealand to Japan, Alaska and North and South America. 90% of the world's earthquakes occur in this Ring of Fire region. This area is spread over 40 thousand kilometers. Of all the active volcanoes in the world, 75% are in this region. 15 countries are under this Ring of Fire.
Source: dainikbhaskarup.com
: Language Inputs
This post is sourced from newspapers, magazines and third-party websites. For more information please check NewsDay Express Disclaimer.