Flipkart Sale: If you are thinking of buying iPhone 15 on the occasion of Diwali and are waiting for an offer that will save thousands of rupees, then you are getting an amazing offer on Flipkart. By taking advantage of this this wish can be fulfilled. The 128 GB storage variant of iPhone 15 has been made available for sale here with an exchange offer. Here we are going to tell you about the specs of this phone and the offers available on it.
Exchange offer available on iPhone 15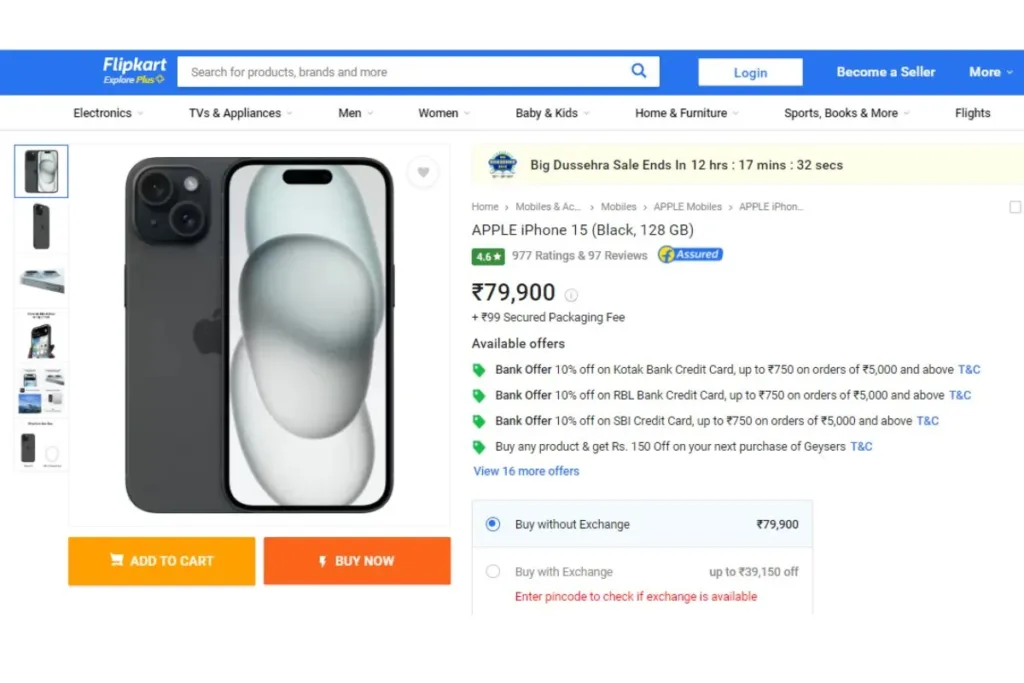 Flipkart This phone has been made available for sale with an exchange offer. That means, if you have an old phone, you can get it at a good price from here. This phone can be availed on Flipkart with an exchange offer of Rs 39150. Although the price of this phone is Rs 79900, but after getting the benefit of exchange offer, it comes down to around Rs 40000. If we look at it in one way, then this phone can come to your home on the occasion of Diwali for just Rs 40,000.
These bank offers are available
Bank offers can also be availed on this handset by purchasing cards from select banks. If you have a Kotak Bank credit card, you can get a discount of 10 percent. Apart from this, 10 percent discount is also being offered on credit cards of RBL and SBI Bank.
Specifications of iPhone 15
This time many new things have been seen in this phone. It has a 48 megapixel camera with super high resolution and 2X telephoto lens. The Lightning port has been replaced with a USB port. A16 Bionic chip is available for performance.
Disclaimer: The above information is given here for information only. DNP News Network or the writer does not endorse any offer, product or discount. To avail the offer, visit the official website. Keep in mind that DNP News Network or the writer will not be responsible for any financial loss.
Subscribe to our YouTube Channel 'DNP INDIA' now for all the news of the country and the world. You can also follow us on FACEBOOK, INSTAGRAM and TWITTER.