Tata Motors: Tata Motors is one of the famous automobile companies of the country. Tata Motors' portfolio includes passenger vehicles as well as commercial vehicles and electric vehicles. Tata Motors is one of the biggest businessmen of the country. Besides, the company's business is also spread abroad. This includes the names of countries like South Korea, South Africa, China, Brazil, Austria, UK and Slovakia etc.
When was Tata Motors started?
Tata Motors was established in the year 1945 as a manufacturer of locomotives. After this, the company entered the commercial vehicle sector in the year 1954. After this, in the year 1991, it moved towards passenger vehicles. Tata Motors gradually established its foothold in the international auto business.
Significant price increase in Tata Motors shares
Shares of Tata Motors were at Rs 140 per share in the year 2020. But in the year 2023, its share price has increased to Rs 630 per share. In this way its stock has increased by more than 300 percent. The weekly chart of Tata Motors share price shows the spectacular growth in recent years. See chart below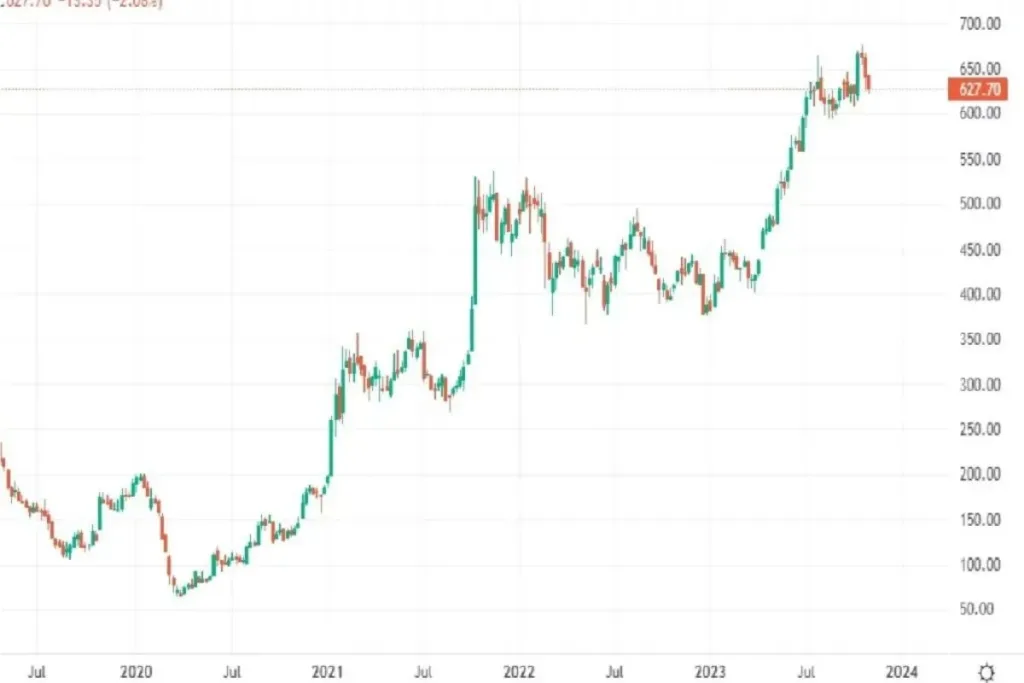 Shares rose due to these factors
Strong demand for Tata Motors vehicles: There is a huge demand for Tata Motors vehicles domestically and internationally. The company is benefiting from strong economic growth in India and other emerging markets.
New Product Launches: Tata Motors has been launching many new products in recent years, including the Harrier, Nexon and Safari. These new products have been well received by customers and have helped in increasing sales.
Focus on Electric Vehicles: Tata Motors is one of the leading electric vehicle manufacturers in India. The company has launched several electric vehicles in recent years. Tata Motors is also investing heavily in the development of new electric vehicle technologies.
FII interest: Foreign institutional investors (FIIs) have been increasing their stake in Tata Motors in recent years. This has helped in boosting the demand for the company's shares.
Strong Financial Performance: Tata Motors has been reporting strong financial performance in recent quarters. This has also helped in increasing investor confidence in the company.
Tata Motors' revenue model
Tata Motors' revenue models for fiscal year 2022 are as follows-
Jaguar Land Rover (JLR): JLR is a luxury car manufacturer that contributes about 67% to the total revenue of Tata Motors. JLR's revenue model is based on the sale of high-margin luxury vehicles.
Tata Commercial Vehicles (CV): CV is a commercial vehicle manufacturer that contributes about 19% to the total revenue of Tata Motors. CV's revenue model is based on the sale of a wide range of commercial vehicles, including trucks, buses and vans.
Tata Passenger Vehicles (PV): PV is a passenger vehicle manufacturer that contributes about 11% to the total revenue of Tata Motors. PV's revenue model is based on the sale of a wide range of passenger vehicles, including cars and SUVs.
Vehicle Financing: Tata Motors also offers vehicle financing services, which contributes about 2% to its total revenue.
Tata Motors benefits from government initiative
The Government of India has taken several initiatives to promote the growth of the automobile industry, including-
Faster Adoption and Manufacturing of Electric Vehicles (FAME) Scheme: The FAME scheme provides subsidies to electric vehicle manufacturers and consumers. This scheme has helped in boosting the demand for electric vehicles in India.
Production Linked Incentive (PLI) Scheme: The PLI scheme provides financial incentives to companies manufacturing automobiles in India. The scheme is expected to attract new investments in the automobile sector and boost production.
Key Financial Metrics QI FY23-24
Here are some of the key financial metrics of Tata Motors:
Revenue: ₹102.2K crore in Q1FY24 (up 42% YoY)
EBITDA: ₹14.7K crore in Q1FY24 (up 177% YoY)
EBIT: ₹8.3KCr (up from ₹8.8KCr) in Q1 FY24
PBT (BEI): ₹5.3KCr (improvement from ₹10.3KCr) in Q1 FY24
Net Profit: ₹3.3KCr in Q1 FY24
For investors looking for potential opportunities in the automobile industry, Tata Motors' remarkable growth and the following key factors make it a worthwhile option. But remember, it's important to do your research and consider your financial goals before investing.
Disclaimer: This information is provided for informational purposes only. It is important to note that investing in the market or any business idea involves market risks. Before investing money as an investor/owner/partner, always consult an expert. DNP News Network Private Limited never advises to invest money on stocks or any specific business idea. We will not be liable for any financial loss.
Subscribe to our YouTube Channel 'DNP INDIA' now for all the news of the country and the world. You can also follow us on FACEBOOK, INSTAGRAM and TWITTER.