Israel-Hamas War : Former Indian star tennis player Sania Mirza has raised her voice for the people suffering from the ongoing war between Palestine and Israel. Sania's pain has come out for the suffering people in Gaza. He shared the story on social media platform Instagram. While sharing the story, he has raised questions on the closure of food, water and electricity facilities for the people in Gaza.
what was said in the story
Sharing the story on Instagram, Sania said, "It is strange that she is being bombarded and yet her faith is as strong as a mountain. We are sleeping here in our home yet our faith is wavering. ,
While sharing another story, he wrote, "It doesn't matter which side you are on, what your political views are and what you have heard in the news. But can we at least agree on the issue of food and electricity being cut off for a city with an innocent population of more than 20 lakhs? They have no place to live, no place to go. There is no place to hide during bombings and half their population are children. Is this humanitarian crisis not worth talking about? ,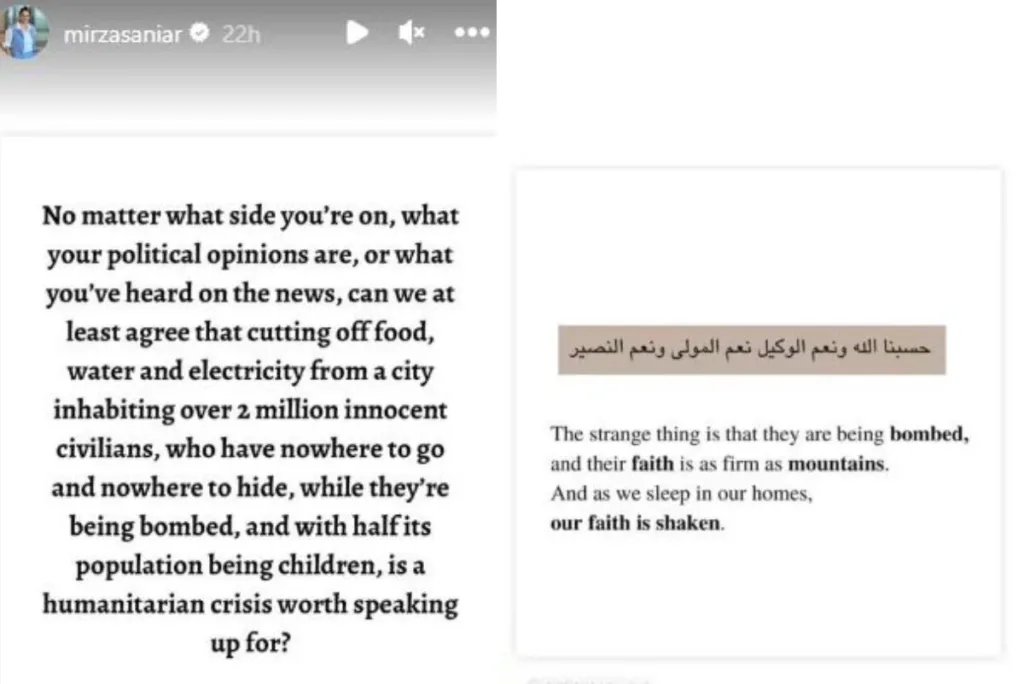 Israel-Palestine war
There has been a war between Israel and Palestine for almost a month. The biggest loss from this war is being suffered in the Gaza Strip between Israel and Palestine. This war was started by Hamas, a terrorist organization present in Palestine. Hamas fired more than 5000 rockets at Israel. After which Israel took revenge and carried out one air strike after another on Palestine. Due to which innocent people living in Gaza Strip are also having to suffer. According to an information, till now more than 8000 people have been killed and more than 20000 people have been injured in Palestine.
Subscribe to our YouTube Channel 'DNP INDIA' now for all the news of the country and the world. You can also follow us on FACEBOOK, INSTAGRAM and TWITTER.