Bollywood actors Siddharth Malhotra and Kiara Advani are in a lot of discussion these days regarding their marriage. It is being told in media reports that Kiara and Siddharth are going to tie the knot on February 6 in the beautiful city of Jailsmer in Rajasthan. However, like Athiya Shetty and Keval Rahul, the couple has also remained tight-lipped about their marriage.
Well, it is being told that Siddharth and Kiara are going to take seven rounds of marriage at the luxurious Hotel Suryagarh in Jailsmer. If this is true, then perhaps you must know some interesting things about this palace. Let's know about Suryagarh Palace.
(photo credit: kiaraaliaadvani@instagram, suryagarh@instagram)
(All photo credit: suryagarh@instagram)
About Suryagarh Palace –
The Surya Garh Palace was built of golden sandstone giving it the appearance of a fort, in which you will also get to see a glimpse of the desert. Located in the Golden City of Jaisalmer, Rajasthan, this palace is one of the best hotels in the city. Let me tell you, this palace is not only worth visiting and seeing for tourists, but couples also come here to celebrate honeymoon and luxurious weddings are also organized here. The palace is adorned with its world-class facilities, luxurious furnishings and Rajput-themed gardens and courtyards. There are 83 lavish guest rooms for weddings and modern suite facilities.
The country's most beautiful garden has opened in Delhi, give leave to the wife from household work and take her among the flowers
Facilities of Suryagarh Palace –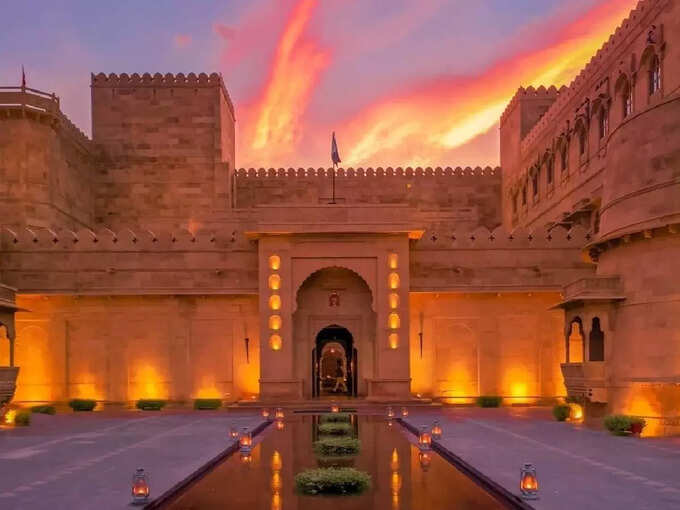 Suryagarh Palace is built with many facilities, here –
83 Rooms and Suites,
2 Multi Dishes Restaurant.
2 times.
2 large gardens for outdoor celebrations.
swimming pool.
banquet hall.
Traditional Dance Facility of Rajasthan.
Nice guest welcome.
Desert Safari and Jaisalmer are places of interest.
For those who want to have their destination wedding in Jaisalmer, the management here also offers various packages, in which you can experience both Palace and Desert Safari.
Have ever celebrated such a unique Valentine's Day, IRCTC is giving couples a wonderful and cheap opportunity to visit Goa
​Marriage expenses in Suryagarh Palace -​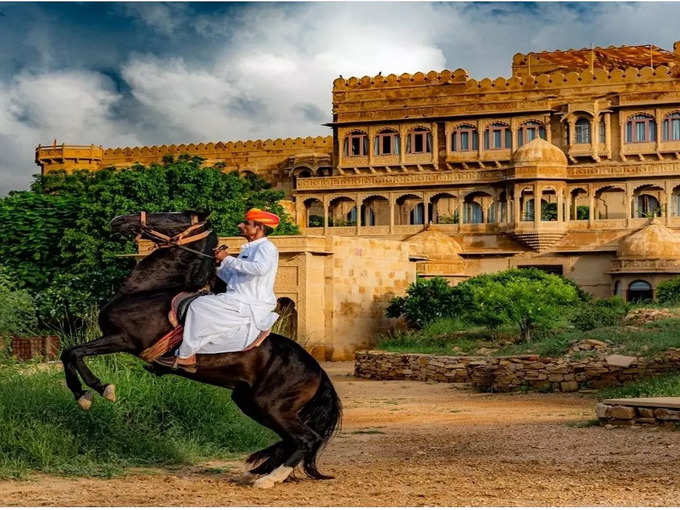 If you are choosing this palace of Jailsmer for destination wedding, then let us tell you that one night's stay in the rooms starts from about 26 thousand to more than 1 lakh. This means that if your guests are 150, then the cost of their stay can be around 30 to 40 lakhs. Not only this, if we talk about food then the cost of a lunch here is between 6500 to 7500 and the cost of dinner is around 7500 to 11000. The cost of food for 150 people will cost you between 6 lakh to 30 lakh rupees. Along with this, the entire cost of marriage in this palace can be around 1.75 to 2 crores by applying overhead expenses like decoration, transportation.
Have you ever seen Switzerland of Rajasthan? If you want to travel abroad then reach this place immediately with Sanam
​How to reach Suryagarh and places to see in Jaisalmer -​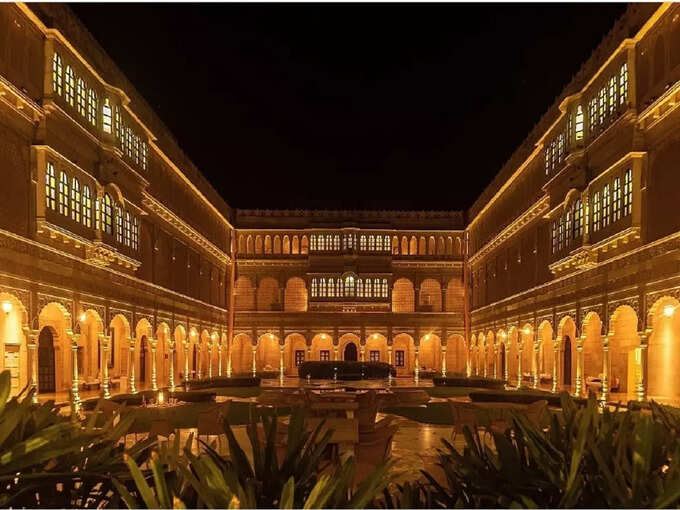 Hotel Gandhi Nagar is approximately 16 km from Jaisalmer Railway Station and approximately 28 km from Jaisalmer Airport. There are many places to visit in Jaisalmer, but if you want to visit some special places, then definitely visit Jaisalmer Fort, Lodurva Jain Temple, Patwon Ki Haveli, Gadisar Lake, Bada Bagh, Kuldhara Deserted Village, Thar Heritage Museum.
read this also : If you do not want to be insulted in front of your wife, then put 6 important things in your pocket before going abroad for honeymoon