By: Team NewsdayExpress | Posted: May 07, 2022
- Advertisement -
- Advertisement -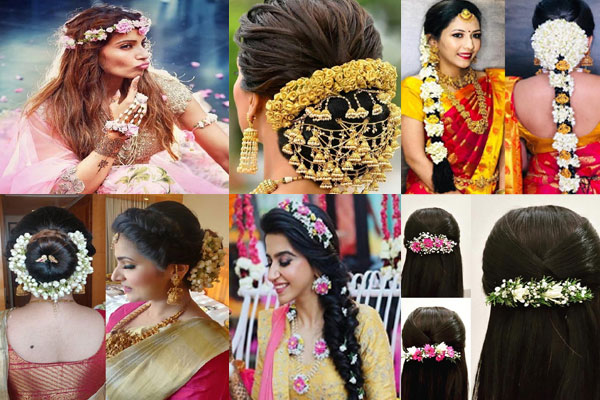 Everyone likes to have a traditional, ethnic, feminine look. Gajra hairstyles are such examples, which feature gorgeous attachments, beautiful waves and dazzling looks; These are just a treat for the eyes. Be it wedding events or celebrations, or celebrations, Gajra hairstyles can enhance one's appearance.
Don't you feel excited and thrilled to know more about these gajra hairstyles?
Today we are discussing some such looks of Gajra hairstyles, which they can try and manage to attract the attention of anyone.
1. Simple Gajra Floral Band Look
Gajra hairstyle can be the best even in its simplest form. Here is the proof. We love this elegant and classic look, which is best for women who love such styles. It is the ultimate inspiration – to show off one's looks in the most feminine and gorgeous way possible. what do you think
potential style ideas
Best Opportunity-Wear it during simple family gatherings or festivals.
Suitable hair typeLong straight hair can be the best in this gajra hairstyle.
Ideal age groupThe late 20s to mid 30s can best be in this look.
Matching outfit-Nice long ethnic wear or lehenga can be perfect to go with this look
Suitable season-winter and autumn are the right seasons for this gajra open hairstyle.
Favorite face shapeWear it for women of any face shape, as it looks quite versatile in all.
2. Colorful Gajra Hairstyle
To all the brides. Be careful! Here is the most contemporary version of Gajra hairstyle for long hair. For those of you who love flowery outfits and looks and love to have a vibrant yet fabulous style statement, this one is for you. All you have to do is work a fishtail braid and put the gajra near the crown. Add matching flowers all over the braid to enhance the entire gajra phool hairstyle.
potential style ideas
Matching outfit-Wear it with a lehenga.
Suitable hair typePeople with long hair can try this look.
Suitable weather-Any season is good to go for this gajra hairstyle.
Favorite face shapeWear it for diamond and oval face shapes.
Ideal age groupWomen in their late 20s can rock this style statement.
Best Opportunity-Try this style during pre-wedding celebrations like Haldi or Mehndi.
3. White Gajerboon Hairstyle
Now with Gajra comes the best Jura style. This classic and elegant South Indian hairstyle look can never go out of fashion and trend for too long. This can be the best option for those who like to look beautiful and vibrant yet in the oldest form, which still gives a contemporary vibe. We love the way it instantly adds stunning elegance.
potential style ideas
Suitable weather-Summer is the best time to try this style.
Ideal age groupOne can try this look from the late 30s to the late 50s.
Suitable hair typeWomen with any hair texture can try this style.
Best Opportunity-Women can work it as a guest look during weddings.
Favorite face shapeWear it for any face shape as it is so versatile.
Matching outfit-Wear it with a beautiful traditional saree to enhance the overall look.
,Girls hate these 8 habits of boys