Rakhi Sawant, has your own drama made you a spectacle? Once again you are in news for your marriage and this time people are not able to digest it easily. The reason is you yourself. Every time you have made so much fun about your marriage that now people have lost their trust in you. Perhaps the same has happened to you as happened in the story of the woodcutter and the lion. The woodcutter used to fool the villagers everyday by shouting that the lion had come and the villagers would run to save him everyday. One day the lion really came, but this time the villagers didn't think it was a joke. So has the same happened with Rakhi too? Rakhi has made fun of herself for being in the limelight.
People are in no mood to believe in Rakhi's marriage
Rakhi Sawant, who entertains people with her unusual style, has irritated people a lot with the news of her marriage earlier also. Agreed that people have given you the name Drama Queen, but it does not mean that it should be given existence in your personal life as well. Alam is that Adil Durrani with whom you have posted pictures and videos of Nikah, now people are scared to believe him too. People are feeling that this time also there is something black in the lentils like it was at the time of marriage with Ritesh Singh (allegedly). Actually the end of that alleged marriage also happened as people used to think and that's why they are not in the mood to believe even the proofs of your marriage.
The groom king was missing from those wedding pictures
Rakhi, the news of your marriage has come so many times that now people are getting fed up. Once upon a time you were madly in love with Ritesh as you are for Adil today. Earlier, they had posted pictures of their wedding in full, out of which only the groom was missing.
Sometimes Ilesh and sometimes Deepak Kalal, what kind of drama is this
In fact, you probably started enjoying playing this wedding game ever since Rakhi's Swayamvar was kept on TV. There was a lot of drama in the show as well and then she got engaged in 2010 with the show's winner Ilesh Parujanwala. And then what happened, when it came to marriage, both of them measured their own path. After this what happened that even the wedding card was printed with Deepak Kalal! Perhaps you thought that this marriage is such a drama because of which it can easily stay in the headlines. As soon as all this drama was over, Rakhi posted pictures of her wedding on social media, in which she was seen as a bride. A fire pit was shown in front of them to take rounds and they showed everything that is seen in a picture at the time of a wedding. There was only one shortcoming and that was that the groom Raja was missing from all the photographs. Now people also started thinking that who is the boy and this is what she wanted.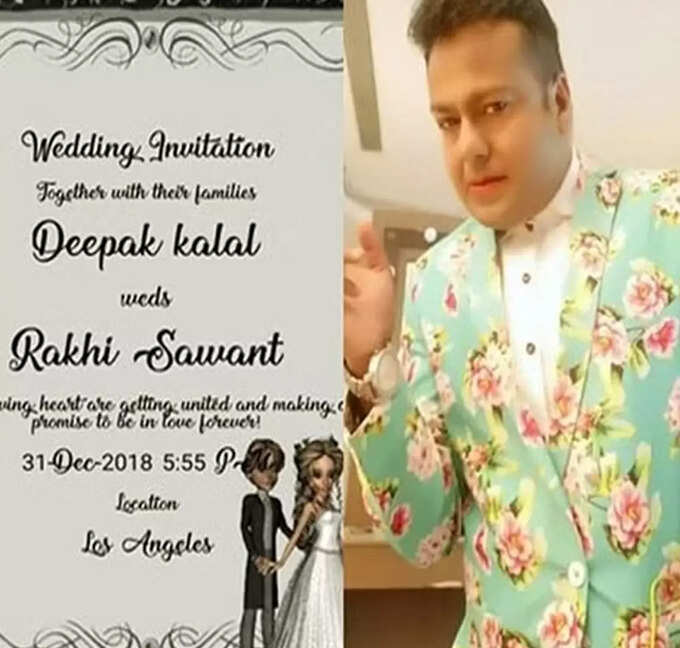 'Bigg Boss' became Rakhi's support, showed husband's view
The funny thing is that to tell the truth about the marriage, Rakhi kept posting continuously, sometimes showed mangalsutra and sometimes kept a fast for her husband. Rakhi had even said that she wanted to spend her life with Ritesh and want to be the mother of his child, but people had taken it as a complete joke. Well Rakhi's support is 'Bigg Boss', isn't it, the exercise to show the truth of their marriage has started in the show. Now 'Bigg Boss' took the responsibility of proving Rakhi's marriage to be true and Bigg Boss made Ritesh whose face Rakhi could never bring in front of the people. Rakhi had said that her husband i.e. Ritesh does not like media and cameras at all, so he does not want to come in front. And then suddenly Ritesh decided to enter Bigg Boss where there are only cameras in every corner of the house. Bigg Boss also made good use of this gimmick of Rakhi and the audience was fooled. Ritesh's first wife also came forward. Along with this, the truth also came to the fore that Ritesh has not divorced his first wife, so the question arises as to how he got married to Rakhi. Well, Rakhi is Rakhi and Rakhi, who swore to live and die for Ritesh, very easily closed the Ritesh chapter from her life.
People are not even trusting these proofs of yours.
Now people had heaved a sigh of relief that the new goat Adil Durrani came in front. Now after breaking up with a relationship, Rakhi's tears did not even dry when Adil came into her life. Seeing both of them once again, people got confused. However, many liked this pair very much. Both often started appearing together in front of paparazzi. Recently, on one hand, Rakhi was seen crying a lot due to her mother having a brain tumour, while on the other hand, pictures and videos of Nikahnama with Adil also came to the fore. People are once again baffled to see the news of life's biggest sorrow and biggest happiness together. While Rakhi has given proof by sharing the marriage papers, her groom Mian has said that 10 full days are needed to talk about the marriage. However, Rakhi also said that maybe Adit is not able to accept it openly because of his parents, but the truth is that this thing is stuck like a bone in people's throats too. Rakhi, you have already created so much chaos about marriage that now you yourself have become a joke.

Source: navbharattimes.indiatimes.com
: Language Inputs
This post is sourced from newspapers, magazines and third-party websites. For more information please check NewsDay Express Disclaimer.