Musician AR Rahman performed a concert in Chennai. This concert was so badly organized that after the show the organizers and Rahman himself had to apologize to the fans. The fans who came to attend the 'Marakkama Nenjam' concert held at Adityaram Palace City, Chennai had to face many problems.
There was a scuffle and some fans even suffocated.
Due to overcrowding, on one hand, some fans did not get entry into the concert even after purchasing tickets worth thousands of rupees. Some fans, while coming out after the end of the concert, became victims of scuffles. Some even complained of suffocation.
Fans trolled Rahman fiercely
Some fans on social media also claimed that women were molested during the concert. Some such videos also surfaced where children are seen crying in fear due to overcrowding. Everyone had to face a lot of trouble for parking at the concert. After returning from the event, many fans trolled Rahman and the organizers of the show on social media.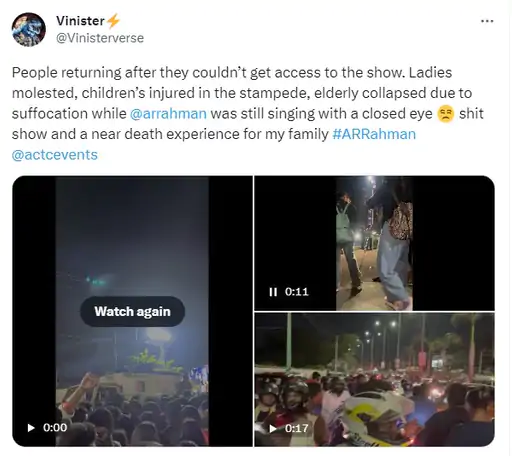 Organizers said- We take full responsibility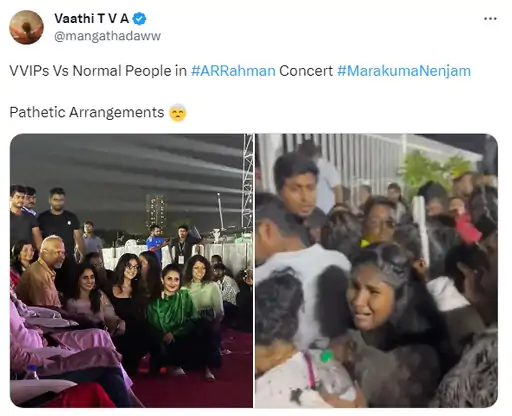 Seeing the growing controversy, the concert organizers ACTC Events apologized to Rahman's fans. While sharing a post on social media, he wrote, 'Incredible response and huge crowd made our show a huge success. We apologize to those who could not attend the concert due to crowd. We take full responsibility for this and we are the ones who are accountable.
I thought the rest would be taken care of – Rahman
On the other hand, Rahman also apologized to his fans. Speaking to The Hindu, he said, 'There was a tsunami of people there and their love was difficult to handle. As a composer, my job was to give a memorable show. I thought the rest would be taken care of.
Will surprise fans soon
I was happily giving my performance inside. I had no idea what was going on outside. Our intentions were good but people's response was double what was expected. We are now collecting data and will soon give a surprise to the fans.
Rehman will get the ticket money refunded
Along with this, the musician shared a tweet and wrote, 'Those of you who could not attend the concert even after having tickets, please share with us a copy of your ticket and complaints on a mail ID. Our team will respond to you immediately.
What were the shortcomings in the event?
To attend the concert, two gates were made which were two kilometers away from the parking area. 50 thousand people have entered and exited through these two gates alone. The pass holders present at the gate also made mistakes due to which the concert became overcrowded and many fans were not able to enter even after purchasing tickets worth thousands of rupees. Many women also complained of being molested in the crowd. There was a scuffle with the children. He also suffocated due to overcrowding. Let us tell you that this concert was the highest ticket selling show in India but poor crowd management made this event a miserable failure.
Source: dainikbhaskarup.com
: Language Inputs
This post is sourced from newspapers, magazines and third-party websites. For more information please check NewsDay Express Disclaimer.