Popular TV actress and BJP MP Smriti Irani's daughter Shanel recently got engaged, which she informed on social media. Smriti Irani told that her daughter is married to Arjun Bhalla. Everyone is eager to know who is the son-in-law of Smriti Irani, Arjun Bhalla and what does he do? Is he a minister's son?
Here we are telling you everything about Arjun Bhalla. First of all, let us tell you that Shanel is the daughter of Smriti's husband Zubin's first wife Mona Irani. Shanel is a lawyer by profession. On the other hand, Smriti Irani has two sons from Zubin, whose names are Johar and Joish.

Now let's talk about Arjun Bhalla. According to the information available on the Internet, Arjun Bhalla is a resident of Toronto, Canada. He was born in Canada itself. He studied at St. Robert Catholic High School in Canada.

Arjun Bhalla did his LLB from University of Leicester. He started working as an account manager in Canada in 2014. He worked as a legal intern in some companies. Currently he is doing MBA from London.
Smriti Irani's daughter gets engaged, mother-in-law to be 'warning' to son-in-law in funny post
Smriti Irani recently did a funny post congratulating daughters Shanelle and Arjun Bhalla. In this, she had 'threatened' Arjun Bhalla to avoid not only him but also her husband Zubin Irani. For Arjun Bhalla who now has our hearts, welcome to this crazy family. Bless you for facing a madman as father-in-law and worse mother-in-law i.e. for facing me (you have been given an official warning). Be happy Shanel Irani.'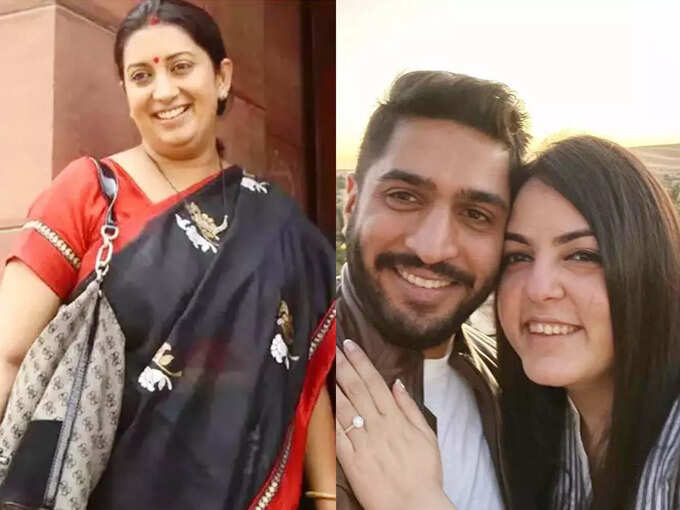 .