Evergreen Songs legend Kishore Kumar and Mohammad Rafi have often been reported to have been enemies of each other in the industry. But this is not true, we are not telling Rafi sahab's son himself. Son Shahid Rafi has told some such things by turning the pages of history, listening to which some moments of their friendship will be refreshed. Where even those who love him will be happy. At the same time, there will be a powerbreak on the rumours. Shahid said on the rumors about the relationship between the two legends that his father never spoke ill of Kishore ji. Rather, he always used to praise him by working together.
Kishore da went to London
During a special conversation with Bollywood Hungama, Shahid says, 'They were both very good friends. Kishore da also respected my father a lot. Not only this, when both of them used to record a song together, Papa would come home and tell that it was a lot of fun today, sang a song with Kishore da today. The son also narrated an anecdote from London. Told, 'When Mohammad Rafi sahab was in London, Kishore da had come there for his concert. He was invited by his father for dinner, for which he joined after taking out time and after the program, both of them spent a lot of time together.
Kishore da cried a lot on the death of Rafi
Please tell that before Shahid Rafi, Kishore Kumar's son Amit Kumar also spoke to RJ Rahul. During that time he had told, 'Rafi ji had passed away on 31 July 1980, when Papa cried a lot with his head on his feet. And 7 years after this incident, he also died of heart attack.
These songs were sung together
Kishore Kumar and Mohammed Rafi did a great job together. The two sang the first song together for 'Bhagam Bhaag'. Their pair sang more than 30 taxes together. In which there are many songs like 'Yaadon Ki Baaraat', 'Hum Premi Pyaar Karna Chahein', 'Tera Jalwa Tauba Hai', 'Purda Hai Parda'. Apart from this, Kishore Da has also lip synced his films 'Ragini', 'Shararat' and 'Baaghi Shehzada' on the voice of Mohammad Sahab.
Kishore Kumar had gone bald to avoid the lead role in 'Anand', Gulzar revealed in his book

Kishore Kumar had left the sick Madhubala from his maternal home, vomited blood from his nose and mouth.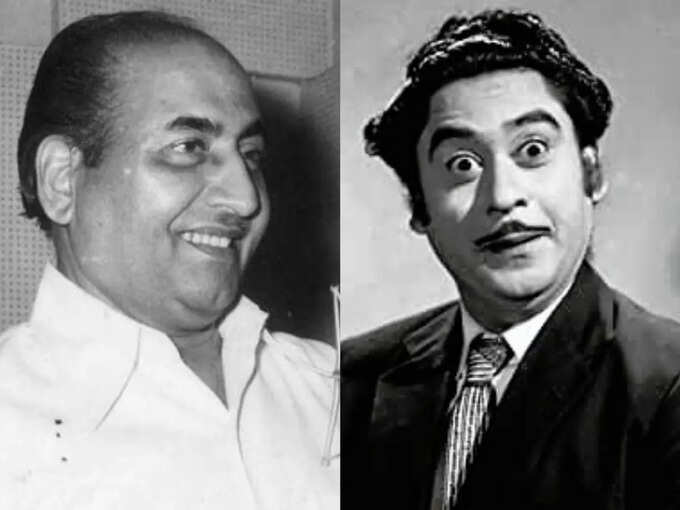 .