Whenever paparazzi spots Rakhi Sawant, she meets happily and tells all her happiness and sorrow. But at this time she is going through a very bad phase. On one hand, Rakhi's mother is in the hospital and is battling cancer, while on the other hand, after Sherlyn Chopra's complaint, the sword of arrest is hanging over her. And a few days ago there was a lot of ruckus on her marriage with Adil Durrani. In the midst of such circumstances, when Paparazzi spotted Rakhi, he reached out to talk to her. But Rakhi got angry and then cried.

Rakhi Sawant's anger was clearly visible in what she said on seeing the paparazzi. But then she cried because of her circumstances and helplessness. Rakhi's pain was clearly visible on her face and eyes. Paparaji also started convincing Rakhi Sawant.
Rakhi Sawant- The day you died, will you come to my grave too?
Rakhi Sawant's video has been shared by Viral Bhayani on his Instagram account. On seeing the paparazzi, Rakhi says to them, 'Will you come to my grave on the day I died? You don't know what my situation is like. Don't know, what will happen. Hearing this, all the paparazzi ask Rakhi to calm down and tell her not to say such things. While consoling Rakhi, a paparazzi also said that you may live for thousands of years. Rakhi then leaves from there.

Rakhi Sawant reached Bombay High Court to avoid arrest, applied for anticipatory bail in Sherlyn Chopra case
Rahul Vaidya was also surprised, asked – what happened to Rakhi?
Seeing Rakhi Sawant, who is always seen chirping, crying like this and fighting with the situation, the users also became sad and are commenting on this video. Singer Rahul Vaidya also reacted seeing Rakhi Sawant's condition. He commented on the video, 'Hey hey Rakhi… what happened?'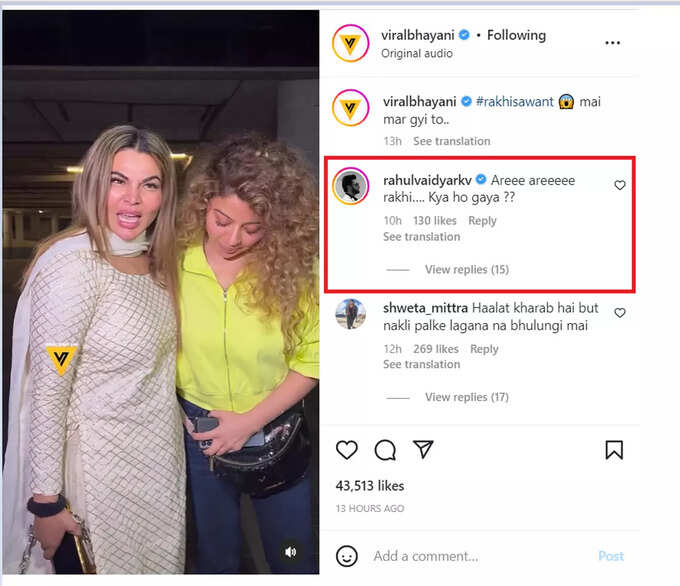 Rakhi Sawant said- here someone called me a mongoose! Bharti Singh fell down laughing after listening to Krishna Abhishek's answer
People got emotional then users trolled
While this video of Rakhi made some people emotional, there were others who started trolling the actress. Some said that Rakhi Sawant is doing drama, while some said that her condition is bad, but still she will not forget to look fake.
While Rakhi Sawant's mother is undergoing treatment for cancer in the hospital, Rakhi Sawant was taken into custody on January 19 after Sherlyn Chopra's complaint. However, Rakhi's arrest was stayed on humanitarian grounds. But now Rakhi has applied for anticipatory bail in the Bombay High Court to avoid arrest. Sherlyn Chopra lodged a police complaint against Rakhi Sawant on November 9, 2022, alleging that Rakhi shared her intimate pictures. She unnecessarily jumped into the fight between him, Raj Kundra and Sajid Khan.


Source: navbharattimes.indiatimes.com
: Language Inputs
This post is sourced from newspapers, magazines and third-party websites. For more information please check NewsDay Express Disclaimer.