New Delhi
India's tour of South Africa could be the last series in international cricket for senior pacer Ishant Sharma. The selectors have now thought of looking beyond the 33-year-old Ishant in the wake of new young budding fast bowlers. Ishant has been struggling to pick up wickets in recent years.
According to the news of the English newspaper Indian Express, this series can also prove to be decisive for senior batsmen Ajinkya Rahane and Cheteshwar Pujara. Rahane has recently been removed from the vice-captaincy. His batting average this year has been below 20. Pujara has also not been in color for a long time. And now the Indian selectors are thinking of giving these two batsmen a chance in just a few matches.
If both these batsmen fail in the South Africa series, then their careers can come to a complete halt. In the newspaper report, a BCCI official said, "The removal from the vice-captaincy is like a warning to Rahane. Being the senior player of the team, he has to contribute more. The same can be said for the priest. If he performs well and impressively in the series, then he can go ahead with his Test career. But as far as Ishant is concerned, this will be his last series.
The selectors also made it clear that 40-50 runs would not be enough to save the careers of Pujara and Rahane. Only 'Badi Pariyans' can advance his career.
An official said, "If he wants to save his career, then he will have to play big innings. Only 40-50 innings will not work.
Shreyas Iyer and Hanuma Vihari's performance is adding to the pressure on Pujara and Rahane. Iyer hit a brilliant century and half-century in the debut test against New Zealand. He scored 105 in the first innings and 65 runs in the second. Vihari meanwhile has done well on India 'A' tour of South Africa 'A'. He scored 227 runs in five innings on this tour at an average of 75.67.
Meanwhile, Ishant could not take any wicket in the first Test of the series against South Africa. After this he was not given a chance in the second Test.
Ishant was once the leader of the Indian bowling attack but Jasprit Bumrah and Mohammed Shami have slowly achieved this position. Even Umesh Yadav has impressed with his game.
Sharma has more competition than Rahane and Pujara. Mohammad Siraj and Shardul Thakur have proved to be match-winners for Virat Kohli's team. On the other hand, Avesh Khan along with Navdeep Saini and famous Krishna are also included in the list.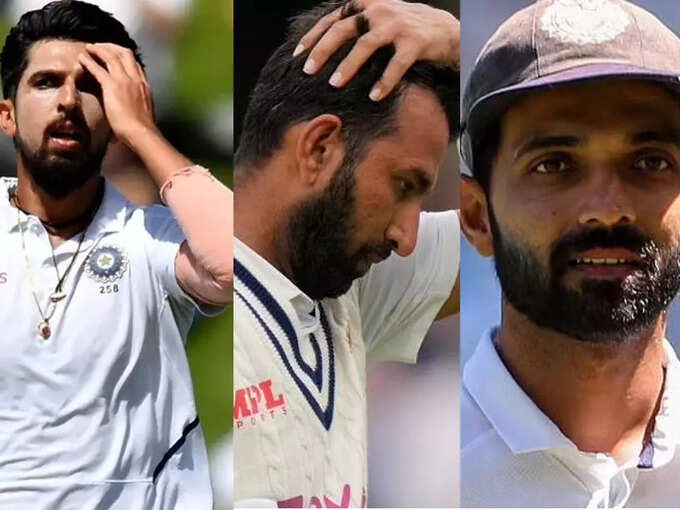 .