centurion

Not good news for Team India and its fans. Play on the second day of the first Test against South Africa has still not started, while the game which is beyond lunch has been washed away in rain. Team India performed exceptionally well on the first day of the Boxing Day Test. In this sense, today's day was very important, but the continuous rain has pushed the Indian team back.
The prediction was made on the second day of the Boxing Day Test at Centurion. According to the weather forecast, there will be 99 percent cloudy weather in Centurion. The maximum day temperature in Highveld will be around 19 degree Celsius. The humidity level will be around 97 percent. The Meteorological Department has predicted at least four hours of rain for the second day, including heavy rain with thunderstorms.
KL Rahul Test Century: Centurion KL Rahul's blast happened after 14 years in South Africa, became the second Indian
What will the weather be like the other day?
There were many clouds during the first day's play as well, but the good news was that it did not rain. However, after the stumps, it was raining for almost the entire night. Talking about the other days of the match, the weather is likely to be clear on the third day, but on the fourth and fifth days there is a forecast of rain with storm. Especially on the 5th day, more weather is being said to be bad.

SA vs IND 1st Test Day 2 LIVE: Rain resumes in Centurion, lunch on second day without any ball being bowled
The name of the team was the first day
After the first day's play, India's score was 272 for three. KL Rahul was playing 122 off 248 balls and Ajinkya Rahane was playing 40 off 81 balls. Opener Mayank Agarwal was dismissed after scoring 60 runs. Captain Virat Kohli scored 35 runs in 94 balls. Angidi gave the hosts the first breakthrough by tumbling Agarwal. It seemed that the leg would not hit the stump but the on-field umpire had to change the decision after taking the DRS.

Not-out, umpires call, out… Ball-tracking in controversy again after Mayank Agarwal was LBW
Pujara and Kohli failed
Aggarwal faced 123 balls and hit nine fours. He and Rahul are only the third opening pair for India to have a century partnership in 21 matches in South Africa. After this, Cheteshwar Pujara fell victim to lungi angidi on the very next ball without opening an account, while captain Virat Kohli (35) could not convert a good start into a big innings. In this way, the wait for his 71st international century has now gone even further.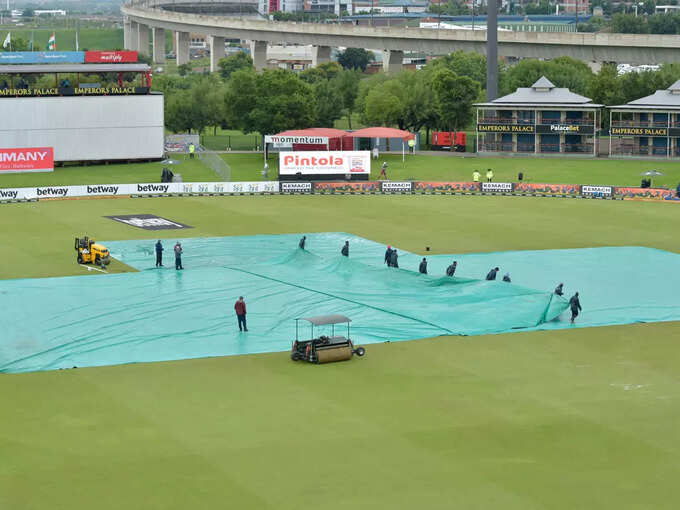 IND vs SA Centurion Weather Forecast: Rain broke the heart of Team India in South Africa, know how the weather will be on other days
.