After the threat from Khalistani terrorists, the security arrangements of Team India have been increased almost 4 times. On Thursday evening, the players of the Indian team were brought to Narmada Hotel from Sardar Vallabhbhai Patel International Airport in Ahmedabad with tight security.
During this period, one DCP, one SP, 4 PI, 5 PSI and more than 100 police, security personnel, BDDS and CISF personnel were deployed. In the World Cup, the India-Pakistan match is to be played on October 14 at the Narendra Modi Cricket Stadium in Ahmedabad.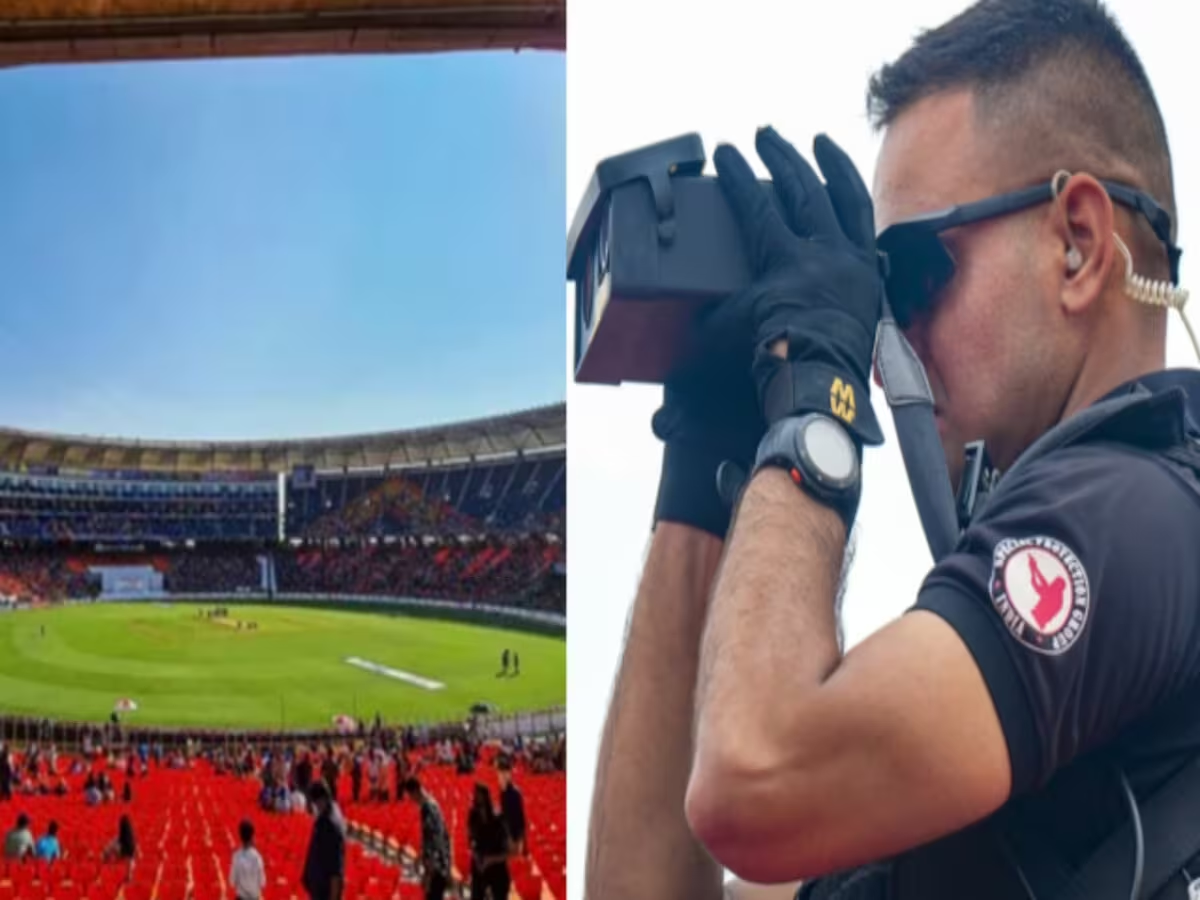 A source related to the team's security said that no negligence of any kind is being taken in the safety of the players. Now the player's security circle is stronger than before. At one time, when Team India arrived, two PCR vans were deployed here for the security of the team, but today hundreds of policemen, starting from DCP, are deployed here. Gujarat Police has taken the responsibility of security of Team India.
Hotel will remain under security cover for 5 days, Pakistani team stayed in Hyatt
Indian security agencies have taken care of the players of Indian as well as Pakistani team. Arrangements have been made for the players of Pakistan team to stay at Hotel Hayat. Gujarat Police has tightened security around the hotel for the last 2 days.
Police cordon has also been imposed around the hotel. Only the Pakistan team and their management members are staying in this hotel. During this period no other person is allowed to enter the hotel. The security arrangements will remain in place till October 15.
Ahmedabad declared no drone zone during India-Pak match
Keeping in mind the security, Gujarat Police has declared Ahmedabad city as no-drone zone on October 14. Under this, there will be a ban on flying drones, quadcopters, powered aircraft, microlight aircraft, hand gliders, paragliders, paramotors, hot air balloons and parachutes.
4 Additional, Joint Commissioner and 21 DCP rank officers engaged in security.
On the threats being received regarding the match, Police Commissioner GS Malik told Divya Bhaskar that 7 thousand policemen and 4 thousand Home Guard personnel will be deployed for security arrangements. We have deployed 4 Additional and Joint Commissioners and 21 DCP rank officers for security arrangements. Besides, NSG's bomb squad and anti-drone teams will also be involved.
SRPF, RAF and NSG have also been deployed for the security of players, VVIPs and spectators. Along with the security of the stadium during the match, the administration has also made arrangements for police force in other sensitive areas of the city. Checking will also be done in hotels around the stadium.
Terrorist Pannu gave threat regarding World Cup
Khalistani terrorist Gurpatwant Singh Pannu had threatened regarding the Cricket World Cup to be held in India. About 15 days ago, he had released an audio saying that on October 5, not the Cricket World Cup, but the Terrorism World Cup would begin.
There will be a flood of Khalistani flags on the day of the match at Narendra Modi Stadium in Ahmedabad, Gujarat. The murder of Hardeep Singh Nijjar will be avenged. Although Pannu did not mention the India-Pakistan contest, security agencies are on alert as a precaution. She does not want to be negligent regarding the security of the team.
Source: dainikbhaskarup.com
: Language Inputs
This post is sourced from newspapers, magazines and third-party websites. For more information please check NewsDay Express Disclaimer.