Falak Naaz, sister of Sheejan Khan, accused in the Tunisha Sharma suicide case, is currently admitted in the hospital and the family is in a bad condition. Sheejan's mother Kahkshan Faizi is in bad condition by crying. Son Sheejan is in jail for the last one month and daughter Falak Naz is admitted in the hospital. What has happened to Falak is yet to be known, but it is being told that his health suddenly deteriorated. Sheejan and Falak's Ammi, who are facing bad circumstances, have posted a post on social media and have asked the question as to what their family is being punished for.
Kahkshan Faizi shared a picture of Falaq Naaz on his Instagram story. Falak Naz is lying on the hospital bed with her eyes closed. Along with it, Kahkashan has written a long note by writing the word 'Patience'. In this he has poured out all the pain of his heart.

Sayantani Ghosh: How was the situation on the sets of 'Ali Baba' after Tunisha's death? Sayantani narrated the story of painful moment
'What is my family being punished for?
Sheezan Khan and Falak's Ammi have written, 'I simply cannot understand what our family is being punished for and why? Sheejan my son is serving sentence in jail like prisoners for last one month without any single evidence. My baby girl is admitted in Falak Hospital. Sheejan's younger brother is an autistic child and he is ill. Is it a crime for a mother to love someone else's child as a mother? Is this illegal?'
Referring to Tunisha Sharma, Kahkshan i.e. Sheejan's mother has further written, 'Didn't we have the right to love that girl, to love her? Because we are Muslim? What is our crime?'

Tunisha Sharma Suicide Case: Sheezan Khan deleted messages, could threaten witnesses: Court


Sheezan Khan: Sheezan clarifies on the allegation of teaching Urdu to Tunisha – I do not know Urdu, I would have survived if I was not a Muslim!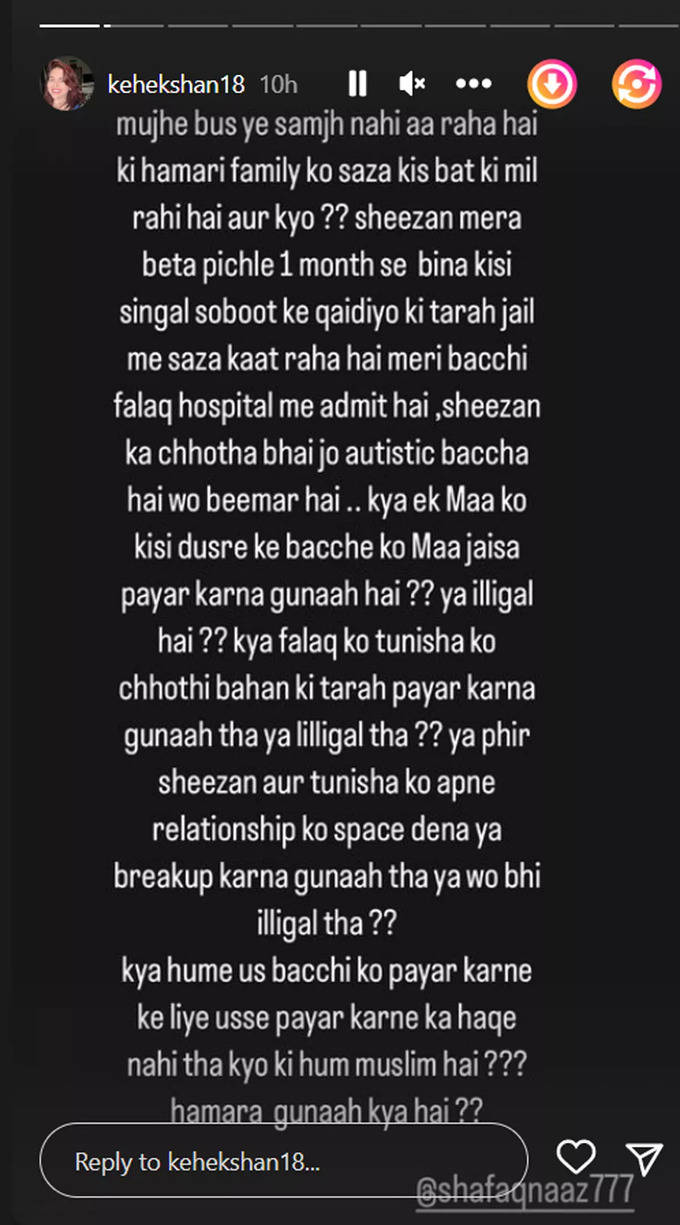 Palghar court rejects Sheejan's bail
It is known that Sheejan Khan is an accused in Tunisha Sharma's suicide case. The actress committed suicide by hanging herself on the sets of the TV show 'Ali Baba: Dastan-e-Kabul' on 24 December 2022. Tunisha committed suicide in co-star Sheezan Khan's makeup room. Infuriated by the death of her daughter, Vanita Sharma made serious allegations against Sheejan. That's when the police took Sheejan into custody. Sheejan has since been lodged in jail under judicial custody. A few weeks ago, the Palghar court rejected the bail, arguing that the actor did not cooperate with the police during interrogation and also deleted some WhatsApp chats. In such a situation, after being released on bail, Sheejan Khan can threaten important witnesses.

Source: navbharattimes.indiatimes.com
: Language Inputs
This post is sourced from newspapers, magazines and third-party websites. For more information please check NewsDay Express Disclaimer.